We have from poco given the release in Europe of the Xiaomi Mi Band 5. While many are still undecided as to whether or not she is the new queen of smart bands, there are some really cool things that can be done with her. She and also the previous one of series 4. In particular it is possible read notes on the screen, notes that however must be sent compulsorily from the smartphone. Let's say it right away: this guide it is not for taking notes, but only for read them. Definitely it is impossible to write with a digital keyboard on the Xiaomi wearable.
Here's how you can send yourself a text file and read it on your Mi Band: useful for many occasions
This type of feature can be used through a third party application, conveniently downloadable from Play Store. As anticipated, through a sort of text message it is possible to send a virtually unlimited number of characters to the smartband to be read at any time. We tried one Mi Band 4 and a 5 and there seems to be no problem with either. Please let us know, just in case, if you encounter any concerns. So, let's see what the requirements and how to proceed.
the first step is have Mi Fit installed on your device, Xiaomi or any other brand: this application is necessary as it serves to give a particular permission which we will then see;
the second step is install the "Notification Creator" app from the Play Store on our device: it is through this that we will send the text message to the smartband.
Download these two applications we just have to proceed with the guide.
first of all you have to go to your smartband under "I my device"; once done tap on "App notifications"And then go to the bottom of the screen; press on "Manage applications"; in this screen you must give consent to the management of applications to "Notification Creator"That we downloaded earlier;
having done this, all that remains is to close everything and access the application "Notification Creator"By tapping on the icon on the home page of our device. The interface is very simple. There are two spaces to fill in: one for the title of the note / note and one for the text itself.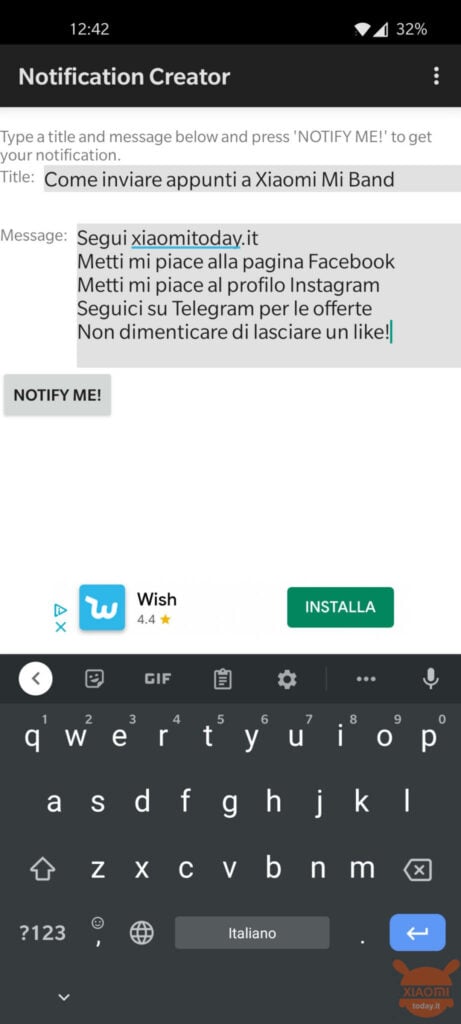 If we have done all the steps as indicated, tap on "Notify me"Will match a text message on our Mi Band. Clearly, once it appears, the smartband display will turn off automatically based on the timer set by the user. The note, however, will remain in memory until it is deleted by us. To read it just go to "Notifications"Through the menu and we will find it there. To remove it you will need to click on the arrow and that's it. The usefulness of this feature? There are many: perhaps an alternative way to take notes that are useful for the university. But not to copy during exams, please!
Download Notification Creator for Mi Band
Xiaomi Mi Band 5 Global from Europe (select Spain / Belgium / CZ warehouse)
🇪🇺FREE Fast Shipping from Spain (No Customs) ✈
Are you interested in OFFERS? Follow our TELEGRAM Channel! Many discount codes, offers, some exclusive of the group, on phones, tablet gadgets and technology.