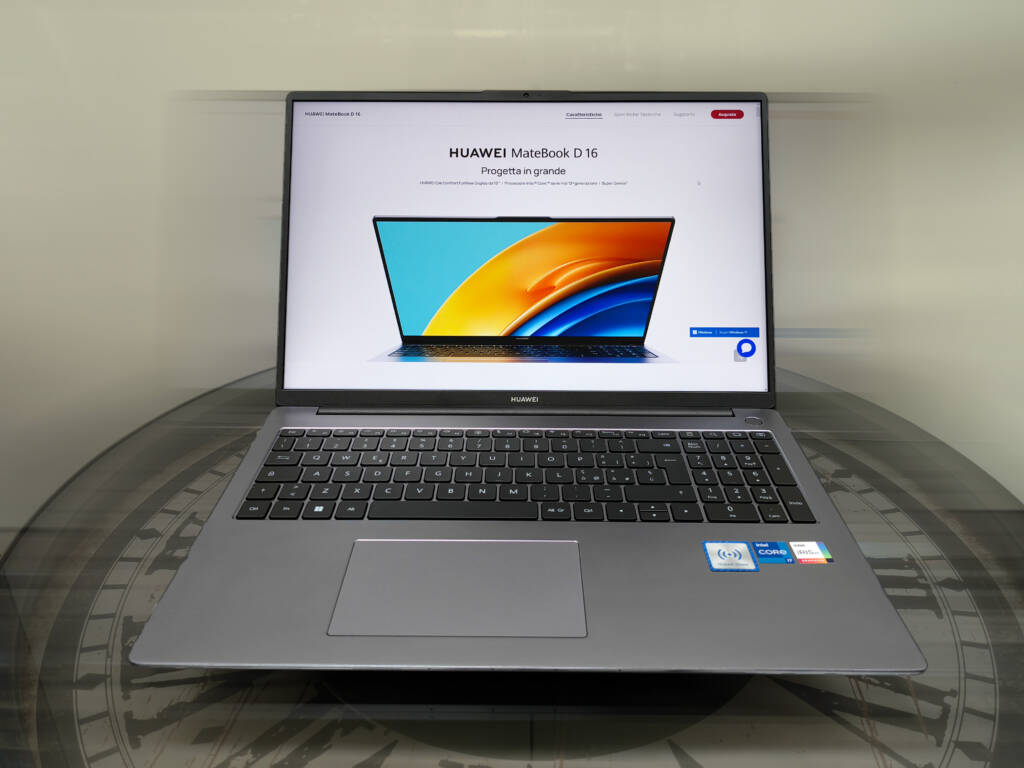 Are you interested in OFFERS? Be smart and subscribe to our Telegram channel! Lots of discount codes, offers, pricing errors on technology from Amazon and the best online stores.
In the last few years, Huawei has presented its laptops on the market distinguishing them for excellent build quality and good performance. In poco time, they spread rapidly having a good response from users who immediately appreciated them. Today we have the pleasure of talking to you about one of the latest arrivals, a mid-range that gives a nod to its older brothers: slet's cover it together with our Huawei Matebook D16 review.
Unboxing
In the brownish cardboard box, bearing the Huawei logo and a drawing of the product, we find:
Huawei MateBook D16
65w Type-C charger, max output 20V 3.25A
USB Type-C / Type-C cable
Huawei Matebook D16 – Design and materials
Huawei MateBook D16 it's a laptop by 16″ from the dimensions 248.7 356.7 × × 18.4mm, metal alloy (probably aluminum).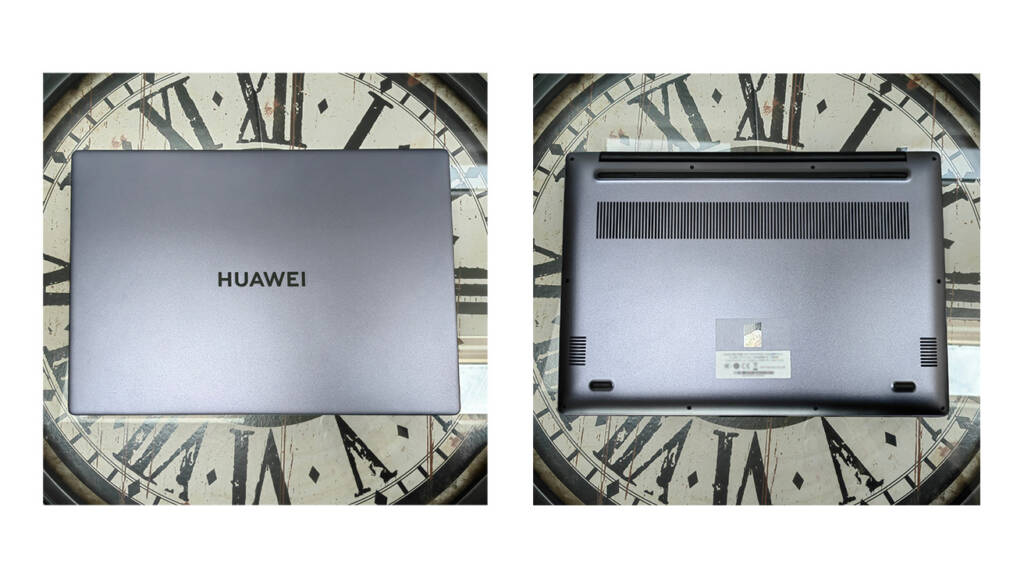 Above we find the characteristic the elegant writing of the brand clearly evident and glossy, on the sides the doors, on the back a nice grille stands out in the upper part to be able to dissipate the heat while on the sides two smaller grilles for the speakers. Above the grid to dissipate the heat, we find the support support which, compared to the lower ones, is slightly higher thus allowing both not to plug the grid and to slightly incline our Huawei MateBook D16 for better typing.
As with the previous series, also with the Huawei MateBook D16 the company has not distorted the aesthetics of the product, maintaining a good construction and touch and feel that I personally appreciate; the weight is contained if we consider it to be a laptop with a 16 ″ screen and in metal alloy, that is 1.7kg.
I really like the Space Gray color because depending on the light, it takes on a color that tends almost to air force blue.
Screen and Webcam
Equipped with a 16″ IPS screen, with 1920×1080 142ppi resolution and maximum brightness at 300 nits, Huawei MateBook D16 it stands out for its 16:10 aspect ratio and 90% screen-to-body ratio. From a strictly operational and usage point of view, I find it to be the best combination: I really appreciate this slightly taller format, rather than flattened and wide. Then we find the Certification of low blue light emission ("Low Blue Light" - Hardware Solution) issued by TÜV Rheinland and a wide color range, 100% sRGB.

Just above the screen Huawei MateBook D16 instead, we finally find the webcam in its rightful place! Set in the small frame, with resolution up to 1080p and 88° wide angle lens.
Keyboard and Touchpad
Huawei MateBook D16 it is equipped with a full-size backlit keyboard including a numeric keypad. This aspect is totally personal, you can like it or not. Out of my habit, I find the numeric keypad extremely convenient and finding it again doesn't cause me any trouble, on the contrary I find it an added value.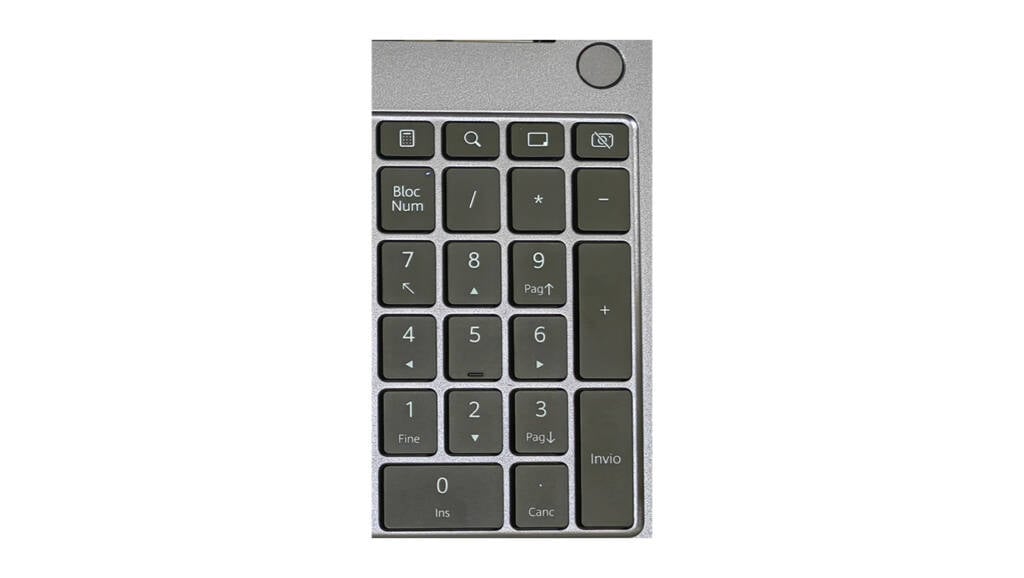 Furthermore, above the keypad, Huawei MateBook D16 offers 4 additional function keys: shortcut to the calculator, dedicated key for AI Search, key to reduce the window until returning to the desktop (very convenient) and a dedicated key to be able to quickly deactivate the camera at any time to safeguard our privacy where necessary . As I said above, the keyboard has 3 levels of backlighting: off, light and strong. The duration of the backlighting is easily set via PC MANAGER (which I will discuss later).

All the keys have the new Key Travel soft touch design with 1.5mm travel for better typing: there is no need to hit the keys violently, on the contrary, a light pressure is more than enough! Losing a command imposed on the keyboard is almost impossible! Super responsive and also silent so as not to annoy the other people with whom we share the environment.

Regarding the touchpad, I found it very pleasant: centered with the keyboard (excluding the keypad) therefore decentralized with respect to the layout of the Huawei MateBook D16. The pressure on the two physical keys at the bottom leaves no way out for the doubt "but will I have pressed?" while the touch sensitivity on the rest of the touchpad seems to me to be of a good standard. I would have preferred to have it in a bit bigger and centered than the pc, but it's a mere personal taste.
Overall, an excellent comfortable and silent keyboard with clearly identifiable keys: pressing one key for another is difficult even for bigger fingers as the available space has been well exploited without skimping on the size of the keys.
Very good also for the function keys at the top (main function of the key that can be set via PC MANAGER):

​From left to right we find: Esc, brightness controls, keyboard backlighting, volume controls, voice dictation, microphone, screen projection, WiFi control, PC MANAGER, Stamp, Insert and Del.
Huawei Matebook D16 – Battery
Aboard Huawei MateBook D16 we find a 60 Wh lithium polymer battery with 65w fast charging. Currently I have reached 6 hours of use without having to recharge it with normal office / home use; if we start to carry out more demanding and long operations, the duration can decrease but at the same time I recommend connecting it to the power supply to have the full potential of the processor available and then use the performance mode. Recharging this laptop won't worry you too much: from off, it will be fully charged in an hour and a half.
Huawei Matebook D16 – Ports and connectivity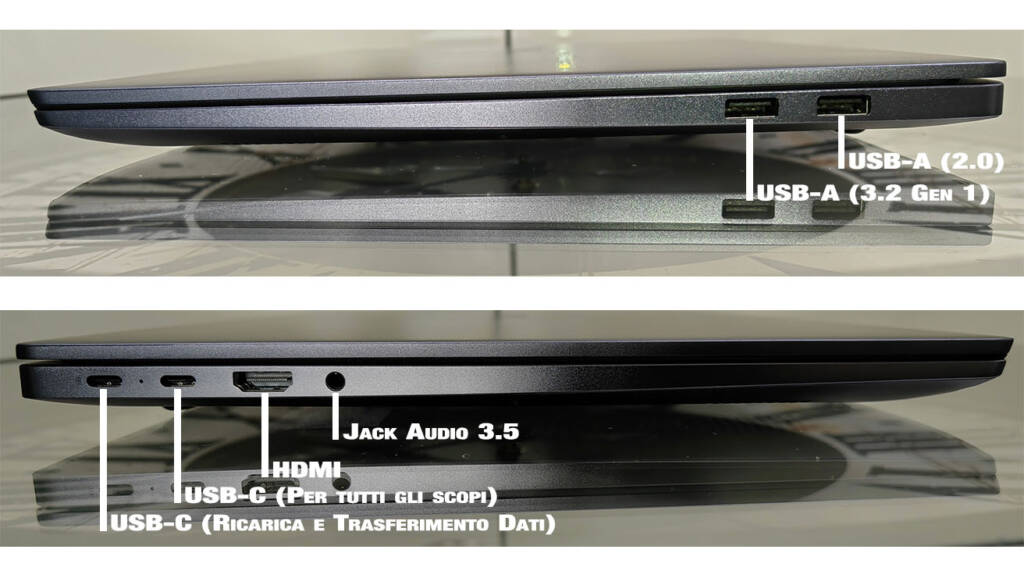 Huawei MateBook D16 it has a decent set of doors:
On the left side we find:

Two USB Type-C ports: one for charging and data transfer and one for all purposes
One HDMI port
Audio Jack from 3.5mm

On the right side we find:

One USB-A 2.0 port
One USB-A 3.2 port
Instead, absent the card reader and Thunderbolt that could fit well on this type of configuration.

As for connectivity, we find on board Huawei MateBook D16 Wi-Fi connection 802.11a/b/g/n/ac/ax dual band 2×2 MIMO and Bluetooth 5.1. Particular mention to WiFi: the new Huawei Metaline antenna allows a more stable and faster connection even when the signal is weaker. To give an example: walking away from home, where the smartphone signals a reduction in the WiFi signal, causing the data connection to intervene, Huawei MateBook D16 maintains a strong and stable connection.
Absent an ethernet port which I do not miss as, used for a fixed location, I find myself in the docking station.
Finally, there is also a fast and precise fingerprint reader, positioned at the top right above the numeric keypad, integrated in the power button: turning on the PC by pressing the button, the fingerprint is immediately recognized (if you have registered it) and login will be automatic.
Huawei Matebook D16 – Multimedia
From a multimedia point of view, Huawei MateBook D16 it defends itself well: the two speakers positioned on the back emit a pleasant but not exaggerated sound suitable for business use. Being positioned on the back, I remind you that if you were to place the laptop on a soft surface, this could plug the grilles and limit the reproduction of sound. If instead, as it would always be advisable to do, you use a stand to raise your laptop for a more ergonomic working position, the sound emission will be much more adequate.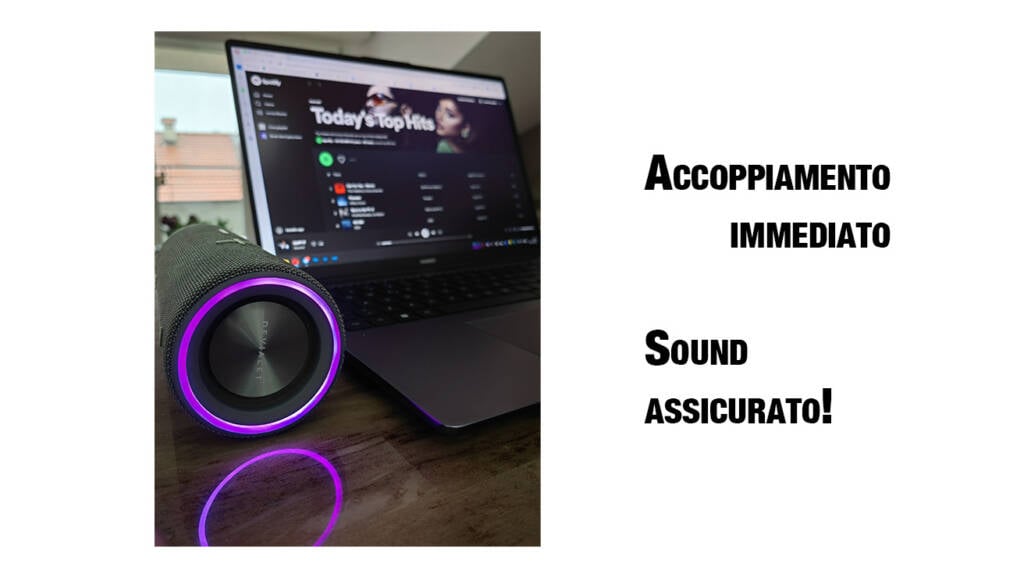 By combining it with a Huawei Sound Joy instead, as in my case, you will have all the quality and power of a truly amazing bluetooth speaker, created in collaboration with Devialet.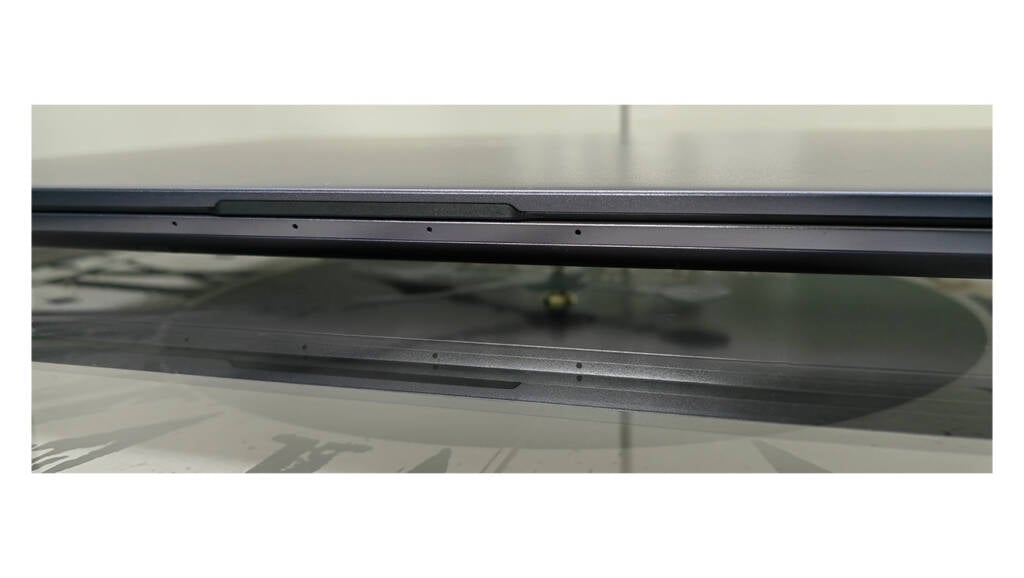 Microphones side instead, we find on the front of Huawei MateBook D16 4 microphones: Huawei has done a great job on the design here too, suitable for not blocking the sound but rather capturing it better, and then processing it through AI for noise cancellation.
Huawei Matebook D16 – Hardware Configuration
In this configuration, Huawei MateBook D16 it is equipped with a powerful 7th generation Intel® Core™ i12700-12H processor with Intel® Iris® Xe integrated video card, flanked by 16GB of LPDDR4x RAM and a 512GB PCIe NVMe SSD.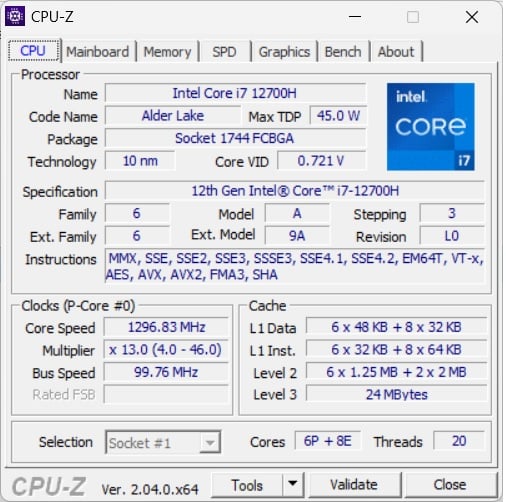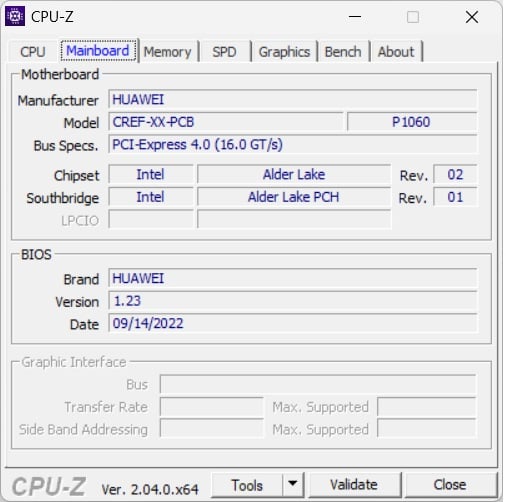 I would like to dwell on the processor for a moment: this generation, called Alder Lake, renews the hybrid architecture, through the use of E-core and P-core or high-efficiency cores and high-performance cores. This solution allows for better performance management by safeguarding the battery where high-level performance is not required. The result is surprising. An almost difficult power to keep at bay: we find a strong heart made up of 14 cores, 8 E-cores and 6 P-Cores. The generational leap is felt, and how: general performance has significantly increased! On the laptop front, this architecture makes it possible to make the best use of our processor to safeguard autonomy, using the E-cores for less intense uses, and then releasing all the necessary power with the P-cores when actually necessary. Here is the link to the Intel specs: LINK
The choice of the type of RAM, LPDDR4x, allows for further energy savings at the expense of a little power which, however, does not affect the perfect overall functioning of the system.
Huawei Matebook D16 inside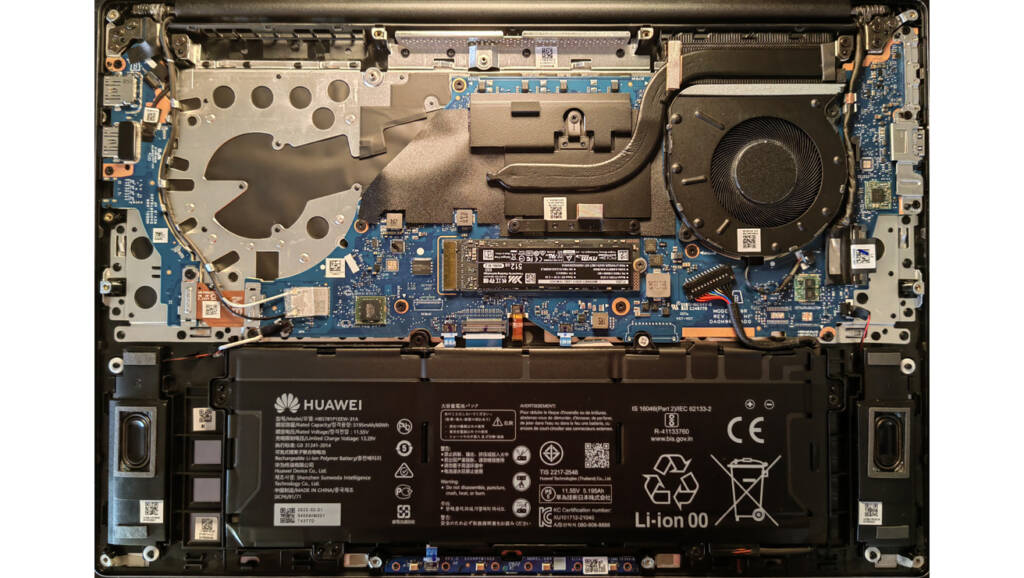 As we can see in the photo, we find a single heatpipe with a single fan for CPU cooling: it is evident that the double could have been installed, but at the same time the optimal performance management of the Huawei MateBook D16, thanks also to a slight underclock of the CPU, ensures that the temperature is kept under control without problems while also maintaining a good level of silence. For more demanding and prolonged operations, as temperatures rise, the fan will be heard to do its job very well.
Our Customers poco room for maneuver, as the components are all welded, except for the easily replaceable SSD and battery.
Huawei Matebook D16 – Benchmarks
Huawei MateBook D16 subjected to various benchmarks: Cinebench R23, Geekbench 5 and Geekbench 6, DiskMark and finally Heaven for the graphics card.
CINEBENCH R23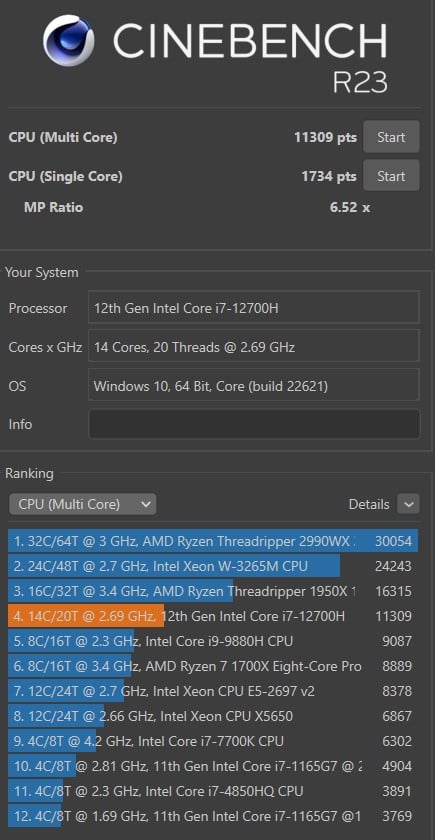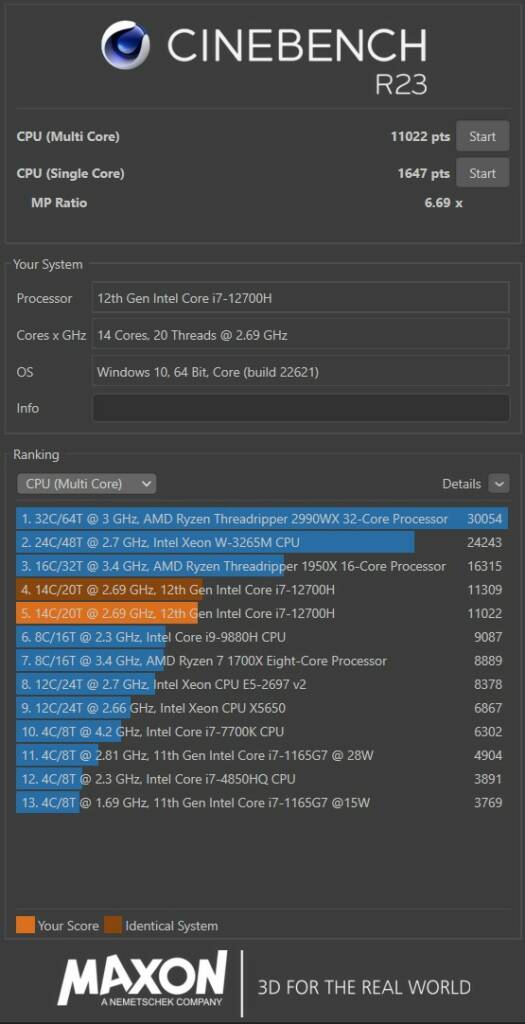 As we can see, the scores achieved by the processor are top notch! It goes fast, in all situations it always behaves great, limiting waiting times, loading times and lag. The tests with cinebench R23 were all done in performance mode.
Geekbench 5 and Geekbench 6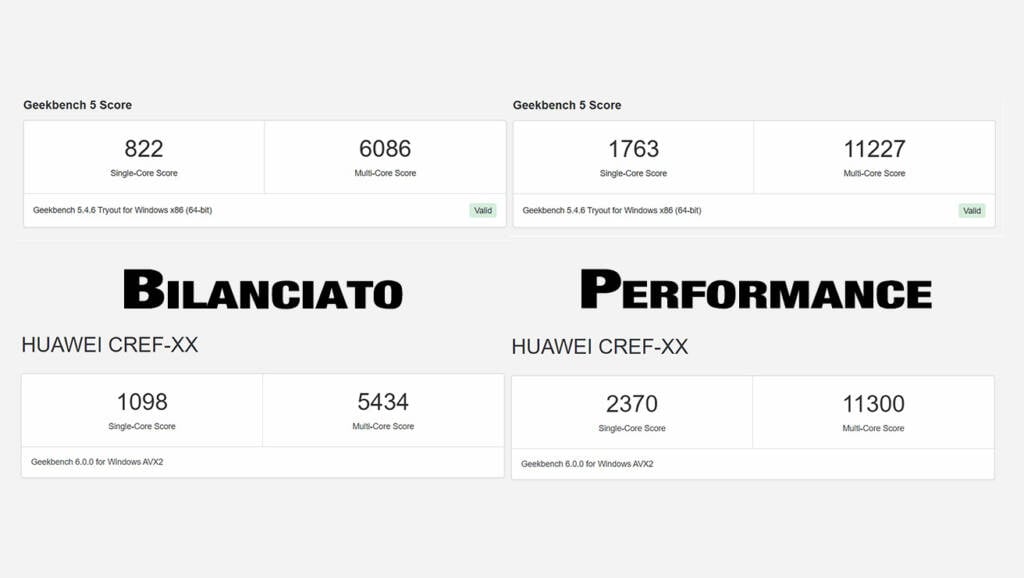 With the two versions of Geekbench instead, the 5 and the new 6 from poco released, I show you the differences between Balanced mode (no charger connected) and Performance mode (power adapter connected and at least 20% battery): a huge difference! For more complex operations, I definitely recommend using Huawei MateBook D16 connected to its power supply.
CrystalDiskMark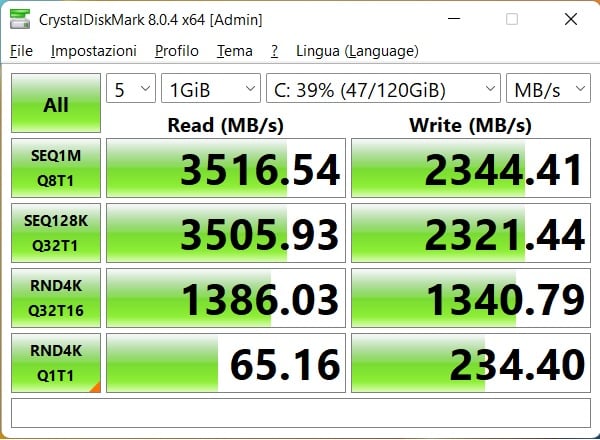 On the SSD side, I am satisfied: absolutely average performance. An SSD that has good read/write speed is essential for the proper functioning of the Huawei MateBook D16. The SSD can be easily replaced with one of greater capacity and performance.
Heaven Benchmark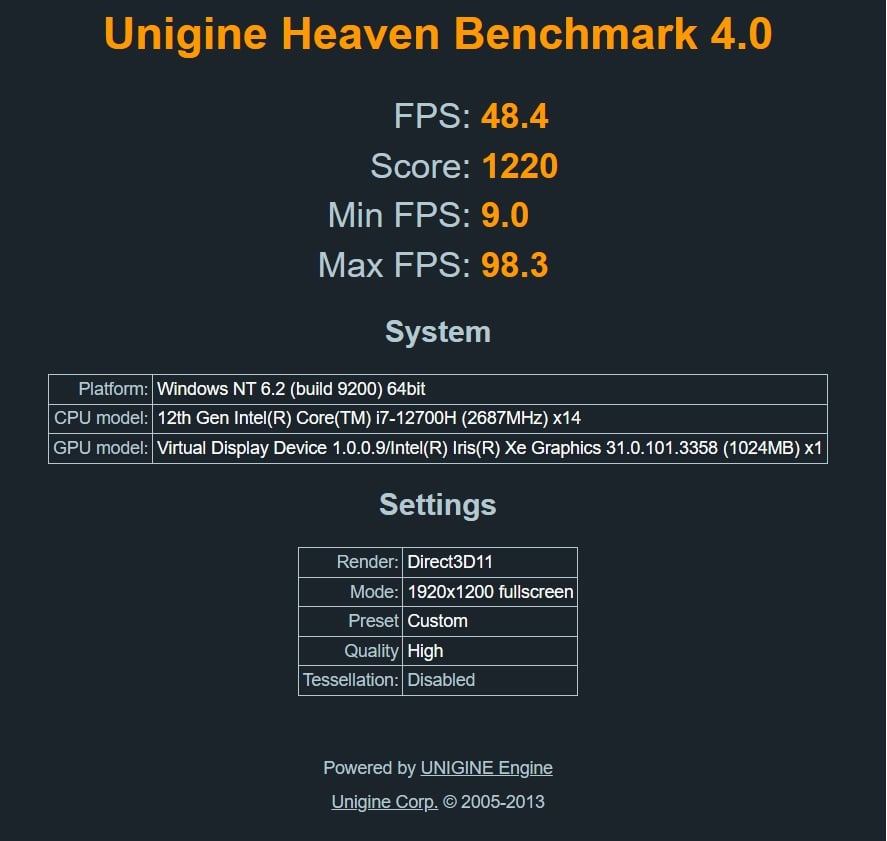 The performance of the integrated video card is normal for this type of card, Huawei MateBook D16 it is not a gaming laptop (it is evident) but it works very well. However, you can play light titles with good performance without sacrificing too much detail; to name one Fortnite, with medium details, has always remained around 60 FPS.
Operating System and Software
Huawei MateBook D16 arrives equipped with Windows 11 Home: with this version of the operating system, Microsoft has improved the management of the processor cores and the dear Intel i7-12700H thanks! The system is always very responsive, without lag and without jamming.
Up until now, the user experience has been flawless. But the beauty comes now: when you start using the proprietary features, the user experience changes radically: welcome to the Huawei ecosystem.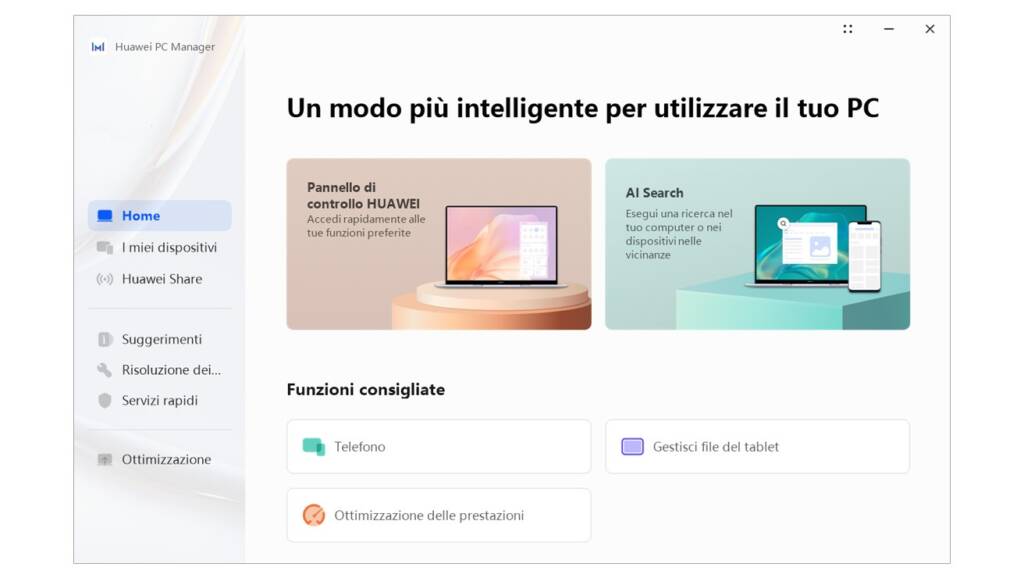 With Huawei PC MANAGER we have a real control center at our disposal. at 360°. PC driver management has never been so simple, system optimization, diagnosis, services and finally the spearhead: SuperDevice.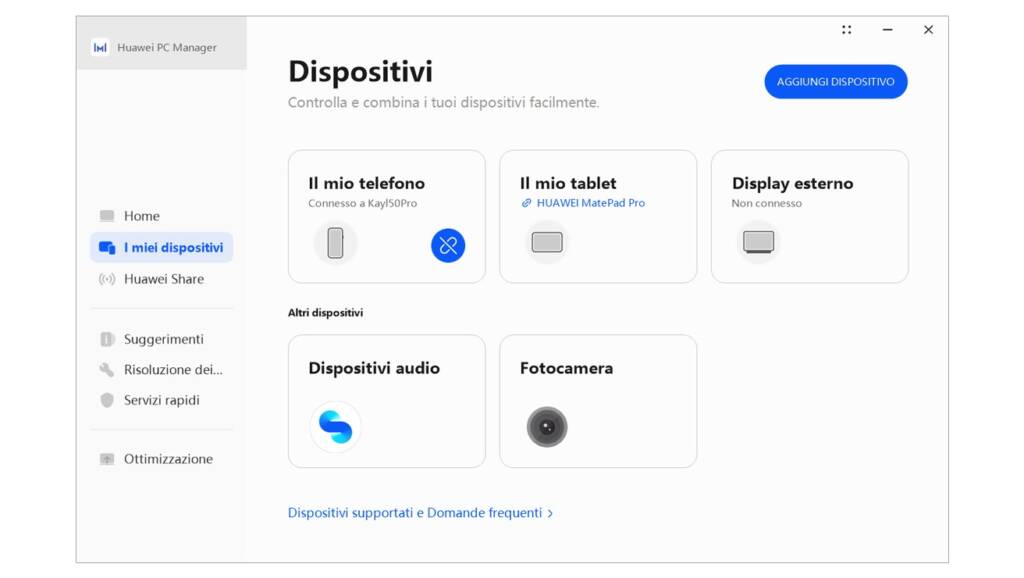 Once our Huawei devices are connected, with simple gestures we can use them in various ways directly from Huawei MateBook D16. Not to mention the ease with which they connect!
Connect our smartphone in multiscreen collaboration? Well let's put the smartphone up Huawei MateBook D16, a popup appears on the smartphone, we press connect: done. In a few seconds we can use our smartphone on our PC in comfort, opening up to 3 apps in 3 separate screens on the screen.
A gem that I really liked: once we connected our smartphone to Huawei MateBook D16, even without using multiscreen collaboration, it is detected as an external disk: just turn on the PC and they will be connected. This means that we can access our smartphone bidirectionally as if it were a trivial USB stick. You can understand how convenient it is to transfer data without cables, special apps or specific programs.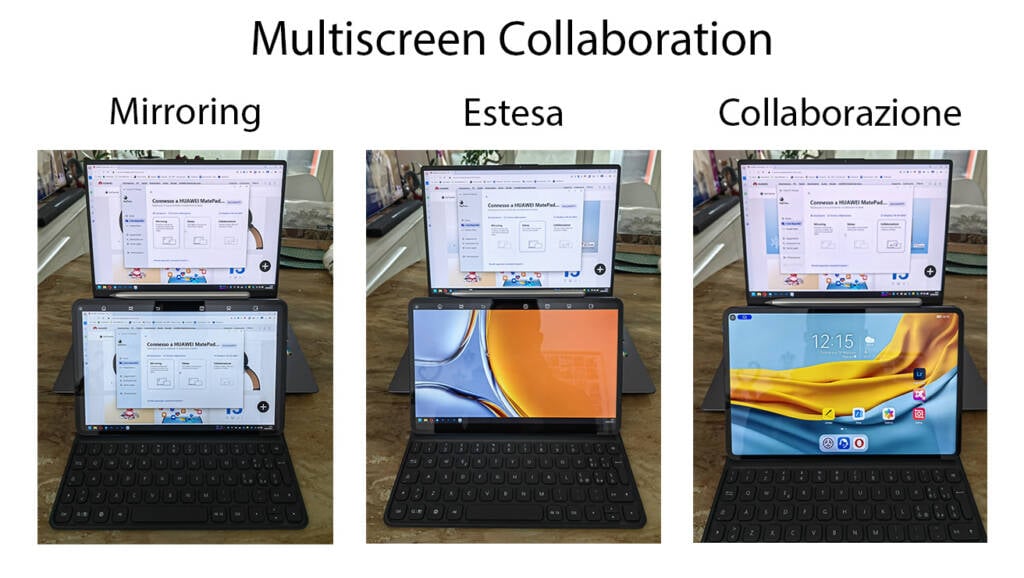 You need a second screen for yours Huawei MateBook D16? No sooner said than done! You can use your Huawei tablet as a second screen (extended or duplicated), for example to read a text, or to easily transfer files from the tablet to the PC and vice versa: really convenient!
But it's not over yet! Thanks to PC MANAGER, connecting other Huawei peripherals becomes extremely simple and immediate: Freebuds Pro2? Open and connected: done! Huawei Sound Joy? On, confirmation pop up, connected: Done! All extremely simple. Quite another thing.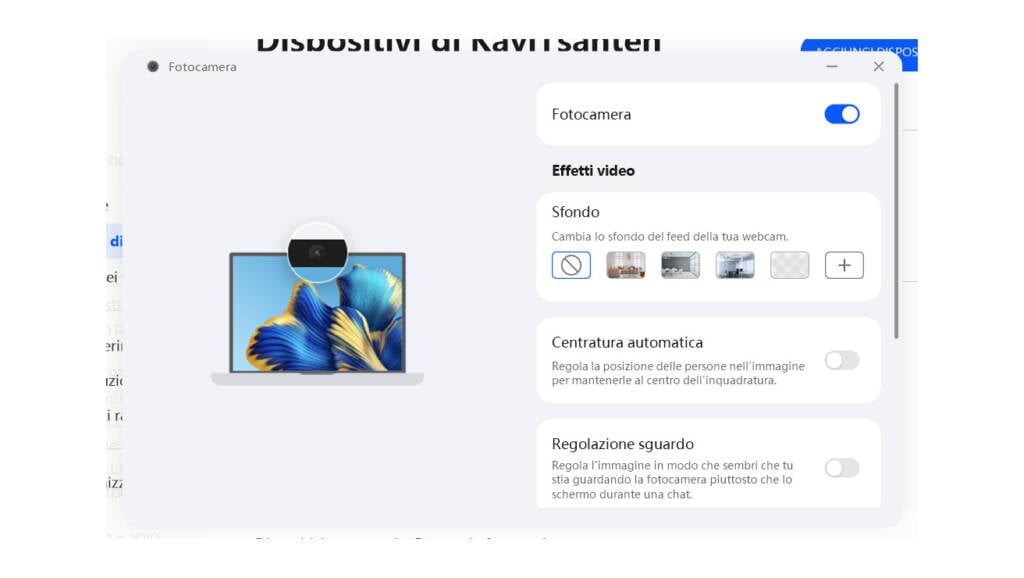 Again via PC MANAGER, we can also manage the excellent 1080p webcam of Huawei MateBook D16 which thanks to AI can automatically adjust the viewing angle and the EyeControl function which allows you to automatically orient the direction of the gaze to maintain eye contact with the other participants in the video conference.
We also have a convenient smartphone-style control panel available for quick access to other very convenient functions, such as the "Rectangle" and "Record" functions to capture or record the screen and save the content directly to Huawei Share or SuperDevice for Quickly access our devices or Camera to change webcam settings on the fly.
Huawei Matebook D16 – Price and conclusions
Huawei MateBook D16, configuration with i7-12700H – 16 GB RAM – 512 GB SSD, was presented with a list price of €1299, currently discounted at €1099. Keeping an eye on the bundle offers and coupons you can find excellent opportunities.
Huawei MateBook D16 it is a laptop that is definitely valid, far above my expectations: excellent construction (which distinguishes the entire Matebook range), ease of use and excellent performance.
As a lover of fixed, self-assembled workstations, using a laptop has never been the first choice for me, let alone the second. This time I had to change my mind.
There are some little things that I would have preferred different (first of all, at the hardware level, the double heatpipe and the double fan or the connection ports) but if I look at the practical side today I mainly use only Huawei MateBook D16 instead of my fixed location.
The user experience is fantastic and complete, right from the start: in a few seconds the PC is ready for use, responsive and fast in all circumstances. Truly top-level touch and feel, screen of perfect size and format, all made even more precious by the Huawei ecosystem which, let's face it, makes the difference both in terms of productivity, speed and ease of use (a non-obvious aspect, which I believe be fundamental).
Amazon offers
€1.299,00
available
2 used starting at € 949,60
to March 24, 2023 2:02
Last updated on March 24, 2023 2:02