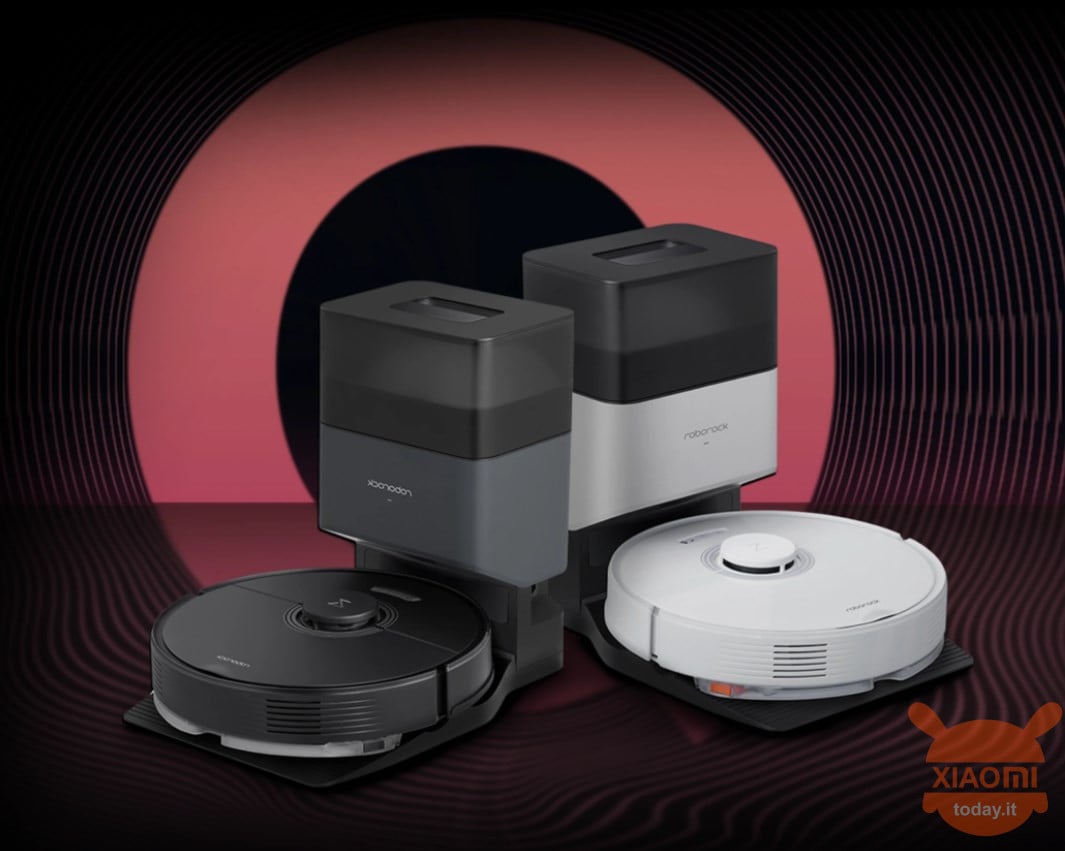 The evolution of robot vacuum cleaners and floor cleaners, in recent years, has really been crazy. We started with only the vacuum cleaner option and then moved on to the more complete washing option. The next step was to also introduce the automatic emptying of the dust into a special bag. This last feature I must tell you that it is really essential and allows us not to have to get our hands and house dirty as when, in previous models, we had to empty the dust container.
Today I am talking about two very complete products, among the top floor cleaning robots of the 2 best brands on the market: Roborock and Dreame, both born as an ecosystem Xiaomi.
ROBOROCK Q7 MAX+
Let's start with this Roborock model that allows us to vacuum and wash with self-emptying. The technical characteristics are really crazy, in fact we find a suction power of 4200pa, an autonomy of 3 hours (in balanced mode), 3 modes of use, control via application, LiDAR navigation, 350ml of water, 370ml of powder , capacity of the self-emptying bag of 2.5L (equivalent to about 7 weeks of work).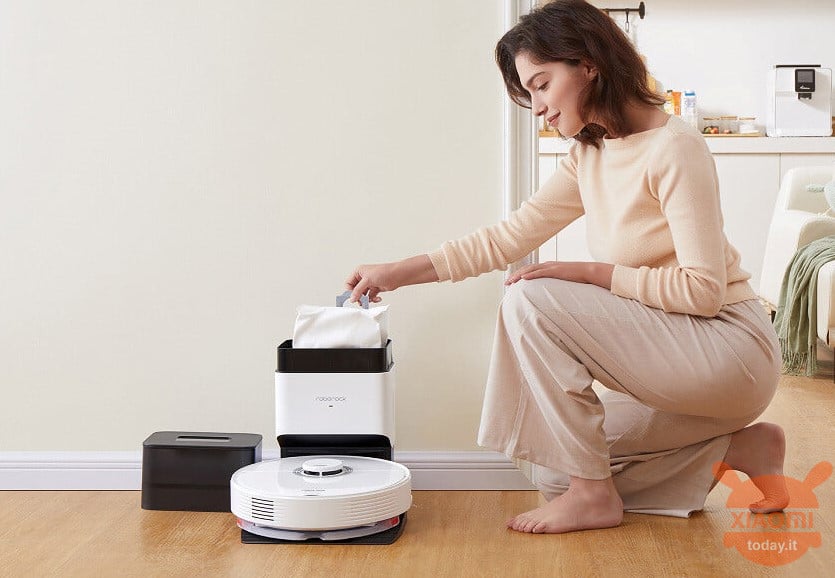 Suction power
With a maximum suction power of 4200Pa, you will eliminate dirt in your carpets and in the crevices of your floor.
Double cleaning power
Vacuum and wash at the same time to capture the fine dirt that would remain if you just vacuumed. The Q7 Max + is equipped with an electronic pump and offers 30 water flow settings so you can customize cleaning according to the type of floor.
Precise navigation with PreciSense LiDAR
Roborock's PreciSense LiDAR system is the brains behind your robot's exceptional ability to always find the most efficient way to clean your home. The maps it creates offer numerous functions that can be controlled through the Roborock app.
3D mapping
Explore your home from a whole new angle and get a better overview with 3D mapping. You can also add furniture and flooring to get a more accurate representation of your home.
Seven weeks without emptying
Clean often, empty rarely thanks to Auto Empty Station Pure. Automatically empties the contents of your robot into its 2,5 liter dust bag every time you clean, up to 7 weeks. When the bag is full, it can be replaced in a few simple steps without even getting your hands dirty.
DREAME D10 PLUS
Even the Dreame D10 PLUS allows us to vacuum and wash with self-emptying. Here, too, the technical characteristics are really TOP always considering the final price (which I will talk about later). In fact, we have a suction power of 4000pa, a 5200mAh battery (like the Q7 Max +) that allowed us to clean a 120sqm apartment, with maximum power, consuming only 2%, 40ml dust container, 400ml water container , application control, LiDAR navigation, five-layer noise reduction system (145db), sound-absorbing cotton, suction duct made according to fluid dynamics, mechanical optimization for vibration reduction, 80L emptying bag (about 2.5 days of use).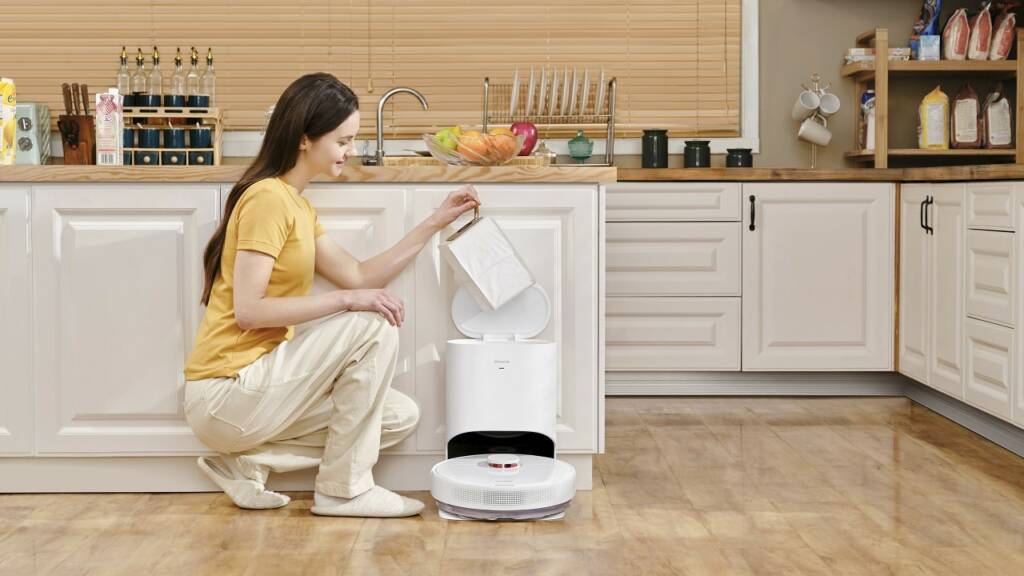 Self-cleaning system
With a capacity of 2,5L, there is absolutely no need to think about emptying and cleaning the dust for 45 days. During the process of vacuuming, cleaning the container and placing the waste in the bag, users do not have to come into contact with the dust, everything is done in an airtight way, without causing bad odors.
Application and noise
Compatible with Mi Home smart home control application, so you can build a work map, create virtual walls, set separate rooms / areas for the device, work fully automatically.
Another strong point of Dream D10 Plus is the ability to work in an extremely quiet and not annoying way, since the noise emitted by the engine only reaches 65dB, therefore it can also be used during rest times.
Suction and washing
Inheriting the technology and design of other high-end Dreame robot models, the D10 Plus has a suction force of up to 4000 Pa, which is far superior to other products in the same segment, making it easy to remove any dirt, hair loss or pet hair on the floor. Equipped with a 17cm long suction brush, the V-groove design makes it harder for the mop to get stuck, especially when working in households with pets such as cats and dogs. The D10 Plus has a strong suction but also a large capacity water tank, which guarantees optimal floor cleaning and time savings. The 150ml water tank with 3 water drain levels can be adjusted via the app, allowing the user to customize the floor technique and humidity to their liking.
Dynamic mapping and intelligent route planning. precise positioning with LiDAR
Dreame D10 Plus uses a laser positioning technology called LiDAR, which helps the device determine the cleaning space with extremely little error, as long as you maintain the position of the furniture in the room. On the other hand, if there is a change in the layout of the interior, the device will quickly update its memory and work properly.
This system is known to help analyze the environment in real time, overcome obstacles and more, create an efficient work path, save battery and clean perfectly.
Given the excellent technical characteristics of these two models, now let's talk about prices. Today you can find them both on offer on our partner site EDWAYBUY, with expedited shipping (about 3-5 business days) and FREE SHIPPING from warehouses located in Europe. No problem for payments that, to protect your purchases, you can make through PayPal and no risk of incurring annoying customs taxes. Here are the links, with any discount code, for the purchase at very interesting prices.
🛒 Floor cleaning robot Dream Bot D10 Plus with emptying station
🌐 For sale on #EDWAYBUY
💰 Drops to € 379,00 from € 499,00 (-24%)
🎟 Discount code: D10PLUS
📌 Buy http://shrsl.com/3of0a
🇪🇺Fast Shipping from Europe Included (No Customs)
🛒 Floor cleaning robot Roborock Q7 Max+ with emptying station
🌐 For sale on #EDWAYBUY
💰 It goes down to € 569,00 from € 799 (search our channel Telegram an additional discount coupon)
📌 Buy http://shrsl.com/3of0c
🇪🇺Fast Shipping from Europe Included (No Customs)