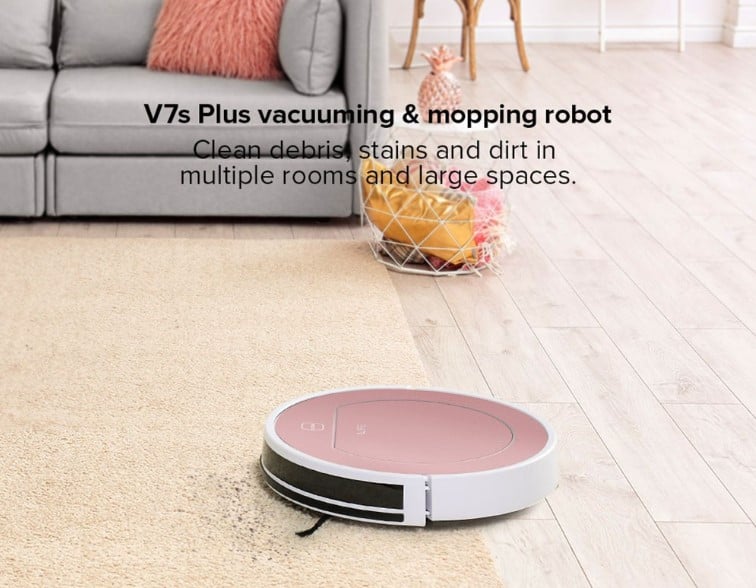 Are you interested in OFFERS? Be smart and subscribe to our Telegram channel! Lots of discount codes, offers, pricing errors on technology from Amazon and the best online stores.
The ILIFE V7S Plus is a standalone robotic vacuum cleaner that comes with many advanced features that make it a popular choice for automated home cleaning. This robot vacuum cleaner is capable of cleaning carpets and hard floors, thanks to its powerful suction, side brushes and intelligent navigation and mapping technology.
One of the most interesting features of the ILIFE V7S Plus is its built-in water tank, which allows the robot vacuum cleaner to also wash floors. This means that the ILIFE V7S Plus can vacuum dirt and clean floors at the same time, making cleaning even more effective and efficient.
The ILIFE V7S Plus has a compact and unobtrusive design that allows it to easily reach hard-to-clean corners. In addition, intelligent mapping and navigation technology allows the robot vacuum cleaner to avoid obstacles and accidental falls from stairs, making it safe to use.
Battery life is also very good, allowing the ILIFE V7S Plus to clean for up to 150 minutes on a single charge. Furthermore, the robot vacuum cleaner is easy to control thanks to its included remote control, but can also be controlled via an app on your smartphone.
In conclusion, the ILIFE V7S Plus is a great choice for those looking for a self-contained and functional robot vacuum cleaner that offers effective and efficient cleaning. Its advanced technology, floor scrubbing capability and long battery life make it an ideal choice for automated home cleaning.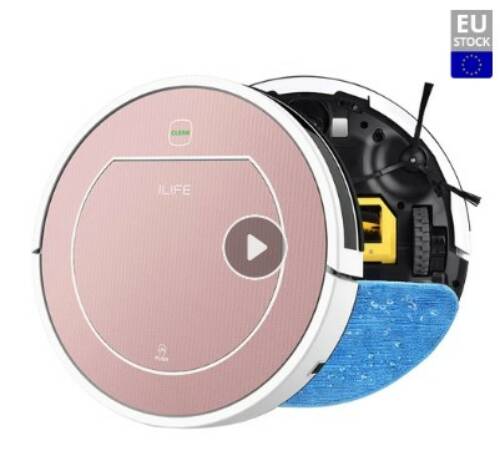 €80 €189
GEEKBUYING
🇪🇺Fast Shipping from Europe Included (No Customs)
The compact design of this vacuum cleaner allows cleaning even in confined spaces, without however affecting the capacity of the two compartments (water and dust). The battery is powerful enough, 2600mAh, to allow the cleaning of 150 m2. With less than 60db of noise generated you can sleep while he cleans and can be used on different types of surfaces. Smart features control device movements, preventing falls from elevated surfaces and collisions with furniture.
Small Parts
General
Brand: ILIFE
Type: Robot Vacuum Cleaner
Model: V7s Plus
Color: rosa
Small Parts
Main material: IML filtration system
: high efficiency filter + cotton filter
Host rated voltage: 14,4V Rated power
host: 22W
Dust container capacity/material: 0,3 L/ABS
Water tank capacity/material: 0,3 L/ABS + 0,06 Integrated waste bin/ABS
Mop area: 230 square centimeters
Suction strength: Conventional ≥400Pa
Survey System: OBS All Terrain Survey System
Button Type: Touch Screen Keys
Battery capacity: 2600mAh
Charging time: 250-300min
Working time: 120min
Fully charged cleaning area: 120-150 square meters
Working Volume: Conventional <68dB
Type of refill: manual/automatic
Working Modes: Random, Fixed Point, Edge, Reload, Appointment, Wet Drag
Auto Escape Function: Yes
Washing mode: Wet cleaning
Automatic obstacle avoidance function: Yes
Height difference detection: Yes
Scheduled appointment function: Yes
Roller Brush/Suction Port: Rotating Brush
OBS Obstacle avoidance sensor (assembly): 11
Height difference sensor (assembly): 4
Sensors along the wall (units): 1 (left along the wall)
Charging sensor: 5 pieces
Universal wheel sensor (assembly): 1
Movement speed: 15m/min
Remote control range: more than 4 meters
Gradeability (lean angle): 10 degrees
Obstacle Crossing Capacity: ≤150mm
Applicable terrain (do not bring the mop and water tank to work on the carpet): tile floor, wooden floor, carpet
Power adapter input voltage (AC): 100-240V AC (50/60Hz)
Power adapter output voltage/current (DC): DC 24V/0,5A
Charging Stand Rated Output Voltage/Current (DC): DC 24V/0,5A
Weight and size
Product weight: 3 kg
Package weight: 5,24 kg
Product dimensions (L x W x H): 340 x 340 x 84 mm
Package dimensions (L x W x H): 430 x 160 x 370 mm
Package Contents
1 x ILIFE V7s Plus robot vacuum cleaner
1 remote control
2 AAA batteries
1 high performance filter
1 power adapter (1,5m long)
1 charging base
1 cleaning brush
1 side brushes
1 water tank
1 broom
2 AA batteries
1 x user manual