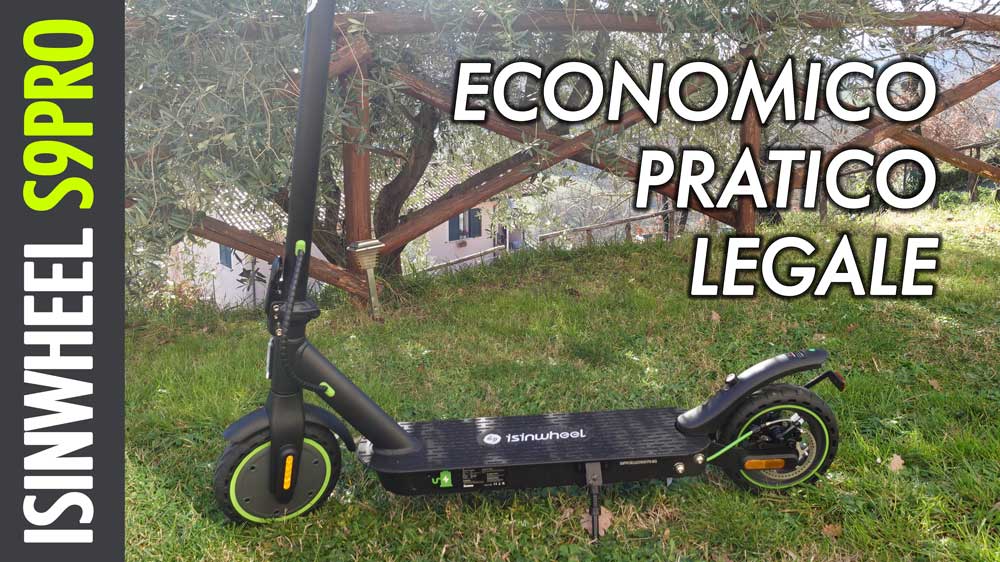 Are you interested in OFFERS? Be smart and subscribe to our Telegram channel! Lots of discount codes, offers, pricing errors on technology from Amazon and the best online stores.
I tried iSinwheel S9Pro, one of the electric scooters that has already adapted to the new highway code. It is a mid-range product with an attractive price and which deserves a thorough test to evaluate its quality.
iSinwheel i9Pro Datasheet
| | |
| --- | --- |
| Motor power | 350 W |
| Battery | 42V 7,5Ah 270Wh |
| Charging time | 4/5 Hours |
| Waterproof certification | IP54 |
| Tire size | 8.5 " |
| Tire type | Honeycomb filled |
| Weight : | KG 13 |
| Dimensions when closed | 115 x 43 x 115 cm |
| Dimensions when open | 115 * 43 * 49 cm |
| Shock absorber | posteriore |
| Heavyweight | KG 120 |
| Max speed | 20 KM / H |
| Front brake | Electronic |
| Rear brake | 110mm disc |
Technical Sheet
What's in the box of the iSinwheel S9Pro?
iSinwheel S9Pro electric scooter (pictured at the beginning of this article)
Front bag
Charger
User manual
Warranty certificate
Four mounting screws
Two hex wrenches: one to install the screws and the other to adjust the brake
iSinwheel i9Pro arrives already partially assembled. We just have to fix the handlebar with the screws and the supplied hex key.
Design and features
The Design is simple, clean and very similar to that of Xiaomi electric scooters. It has small dimensions (when open) of only 115*43*49 cm but above all the weight of only 13,5 KG which makes him a faithful friend to the city. In fact it can be closed and transported very easily in public transport or loaded in the trunk of the car.
Let it be a robust product this can be understood immediately from the welds and from the general quality that allows him to withstand a weight up to 120 Kg, which is not always common on this category. There is also the certification IP54 which ensures waterproof sprayed with water for 10 minutes, but it is always better to run away in case of rain.
La footboard from 60×14,5cm it is not wide enough to accommodate two feet in parallel, but thanks to the rubberized surface, it offers a lot of grip and stability.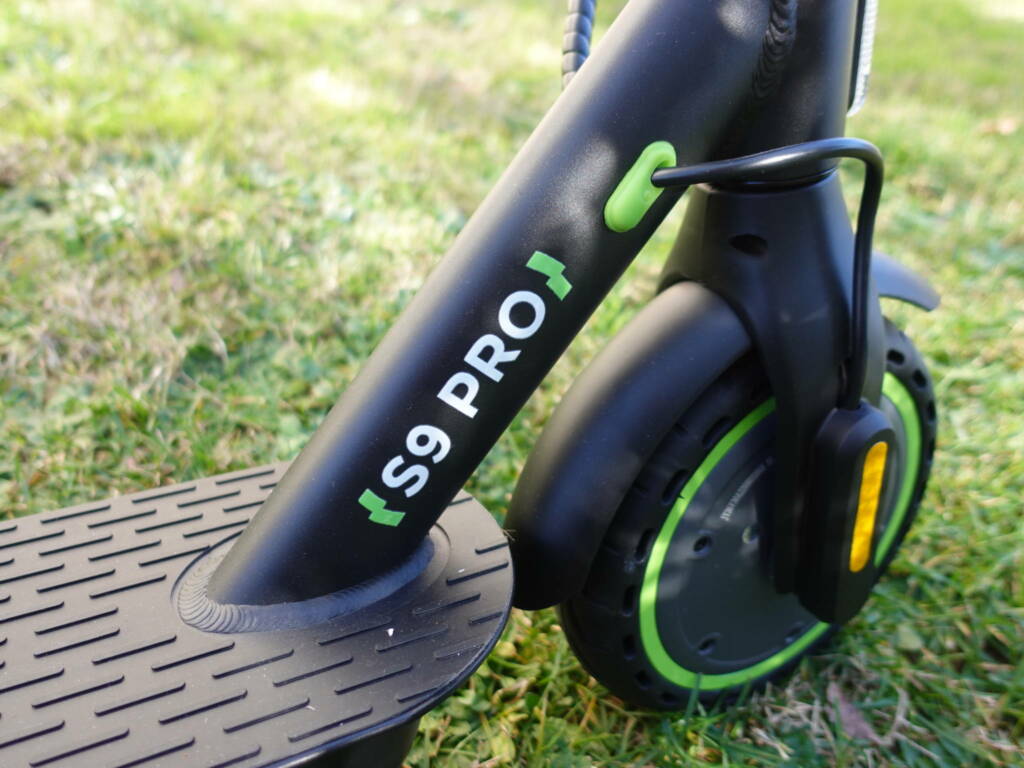 Il handlebars measures 48,5cm and is arranged as follows. The knobs are covered in rubber and offer a good grip; the direction indicators are mounted at their ends. On the side left we find the control for the latter, as well as a mechanical bell and the disc brake lever (rear). On the right, however, there is the hook to unlock the scooter when closed, the accelerator and the lever for the electronic brake (front).
Il it is monochromatic, small but easy to read, placed centrally and shows the current speed, the total kilometers travelled, the remaining battery and the chosen driving mode. THEThe control button is located just below the display, it is a little inconvenient to change the driving mode or turn on the lights when you are driving.
Safety and compliance with the civil code
Electric scooters have had a great diffusion and from an object of fun they have become the protagonists of electric mobility. As is normal, new regulations have also arrived to guarantee the safety of those who buy and drive, but also for others.
From this point of view theiSinwheel i9Pro has adequate features to have fun legally and safely.
La braking it is managed by two independent brakes. Frontally we find the electronic brake which also takes care of recovering kinetic energy. Later, the disc brake mechanical with 110mm disc offers decisive and effective braking.
Il front headlight LED is not directed but has a good yield and allows you to move around safely in the evening. There rear light acts as both a position light and a flashing brake light when braking. To increase visibility (passive) at night, there are ben 6 reflectors scattered on the scooter.
There are the direction indicators (the arrows) both on the handlebar and incorporated in the rear light. They also issue a acoustic signal until they are turned off.
I 8,5 ″ tires inches are of type full which certainly sin from the point of view of comfort but have the great advantage of being free from the risk of punctures and do not need to be inflated.
Luckily in the back, under the footboard, there is an effective double cushioning system which absorbs bumps very well and generally improves driving comfort. Given the choice, I would have preferred to have it on the front where rough terrain is typically more affected.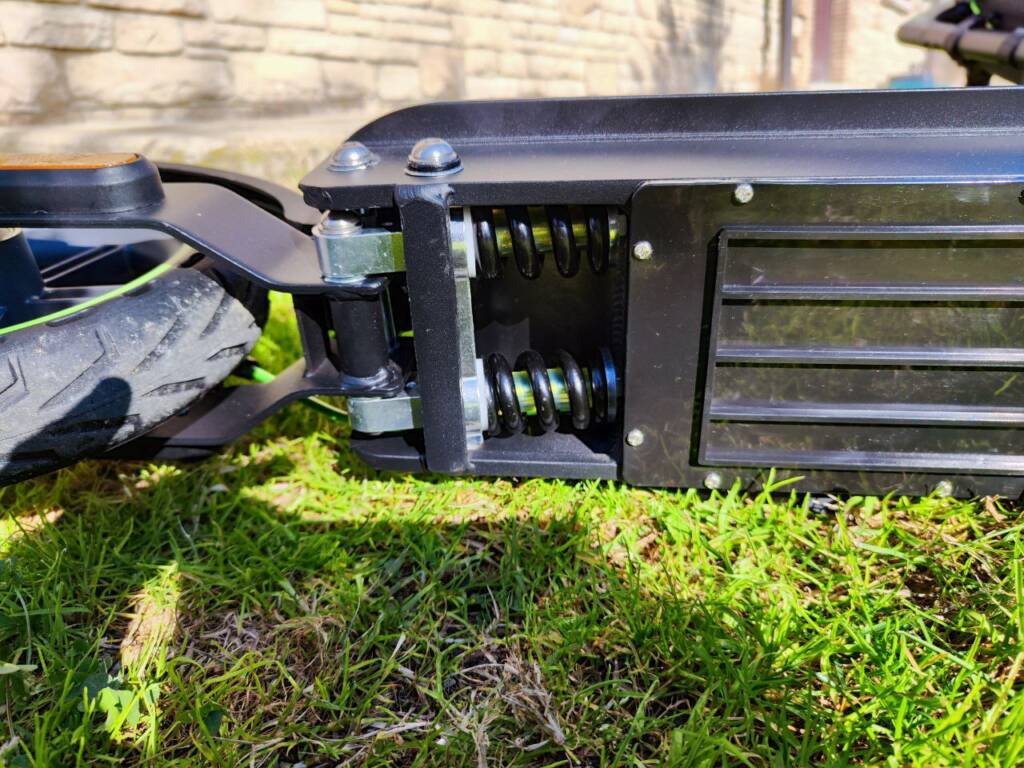 Performance and autonomy
The iSinwheel S9Pro electric scooter features a 350W brushless front motor. Obviously it is not a "racing" scooter but it offers something more than the classic 250W.
THEacceleration is good and makes the ride fun. The maximum speed, as required by the highway code, is limited to 20 km/h but could even reach 30 km/h after an appropriate release which, however, I was unable to do.
In addition to the "walk" mode designed for pedestrian areas, we have 3 possible driving modes: ECO with limits at 10 km/h and attenuated acceleration; D (drive) with limit at 15 km/h; S (sport) limited to 20 km/h
As the slope increases, speed and fun go hand in hand but it's all in all normal. It also defends well on slopes of 15% and it is important to be able to tackle at least the most common slopes.
Autonomy declared is 25-30 km but it is definitely too optimistic, unless you use only the ECO mode. I weigh 76 KG and in the tests I've done these days, with normal ascents and descents all done in S mode, with difficulty I got close to 20km range which is still a good result considering the battery of only 7,5 Ah which takes about 5 hours to fully charge.
Application for Smartphone
It is possible to connect our smartphone via bluetooth to the app KQC Scooters available for both Android and Apple. Connecting via bluetooth is simple: just turn on the scooter for the app to detect it.
In the application we find two sections. There dashboards showing a speedometer, elapsed time and kilometers since power on, total kilometers. It is also possible to turn on the headlights, change driving modes and turn off the vehicle.
There is also an anti-theft device but it has poco sense, because while blocking the wheels and activating a sound signal, it forces the scooter to stay on, attracting the attention of some bad guys.
In the settings we can change the unit of measurement, enable the start without push (zero start), activate the cruise control and enable the rear light to always remain on.
iSinwheel S9Pro Price and Conclusions
The iSinwheel S9Pro electric scooter is a compact and lightweight product, ideal for use in the city.
It is among the legal products, even compliant with the latest regulations, therefore it does not excel in performance but in safety. Shock absorber and disc brake are features that are difficult to find in this category.
Il price it is also interesting. At the moment is available on Amazon for €329 by applying the €70 discount on the current price of €399 or HERE on iSinwheel official website at € 379 using the discount code S9PRO
If you are looking for something more powerful and with greater autonomy, I advise you to fall back on the older brother iSinwheel S9Max which costs €429 on Amazon applying the discount of 40€.
26 March 2023 22: 06

Amazon.it
26 March 2023 22: 06

Amazon.it
Price updated on: 26 March 2023 22:06
iSinwheel S9Pro
The iSinwheel S9Pro electric scooter is a compact and lightweight product, ideal for use in the city. It is among the legal products, even compliant with the latest regulations, therefore it does not excel in performance but in safety. Shock absorber and disc brake are features that are difficult to find in this category.
PROS
GOOD POWER
IN COMPLIANCE WITH THE ROAD CODE
DISC BRAKE
SHOCK ABSORBER
LEGGERO
PACKABLE
CONS
DISPLAY POCO SUN READABLE
REAR SHOCK ABSORBER ONLY
Add your review