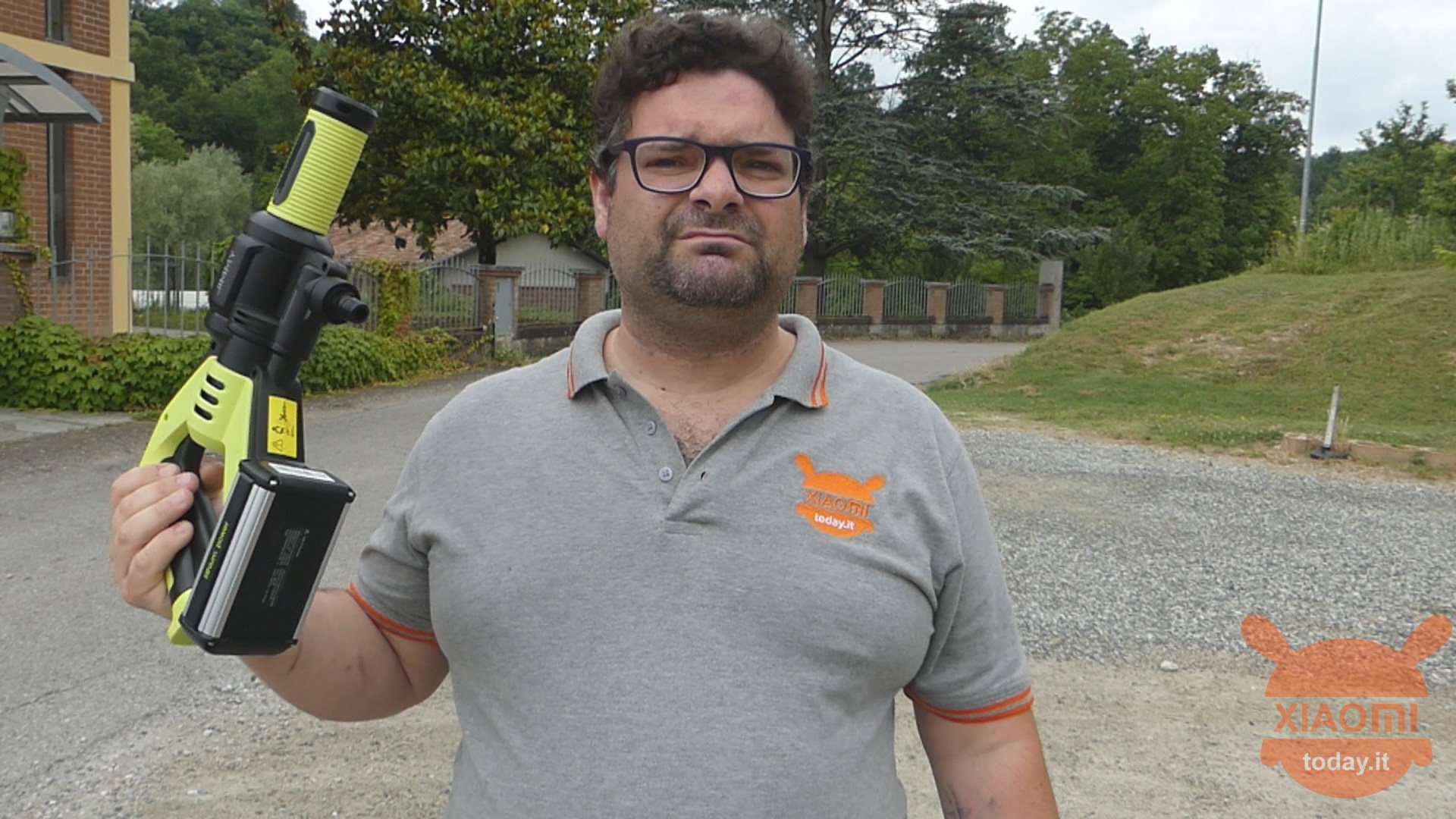 Jimmy is a Xiaomi sub brand, famous for a series of Dyson style wireless vacuum cleaners from the excellent quality / price ratio, but in the catalog it has seen fit to include also a rather unusual product to see on the virtual shelves of technology stores. It is a battery-operated water cleaner that does not require direct electric current, let alone a continuous water source: its name is Jimmy JW31 and I'll tell you in our full review.
Jimmy JW31 stands out for its bright color, an acid green that personally surprised me because in the promotional photos of the product it appears in a sunny yellow similar to the German Kärcher products, but color aside this portable pressure washer is really compact in size somewhat resembling a Nerf pistol.
Eh already the compact dimensions are one of its strengths (535 x 85 x 195 mm and a weight of 1,8 kg including battery) so that Jimmy JW31 can be stored inside the carrying bag supplied, this in black color made of resistant fabric typical of school backpacks. Inside the bag we find two pockets in which to store sponges, cloths and detergents but also outside we find two practical pockets in which to store whatever else may be useful for washing our cars, motorcycles, bicycles and much more.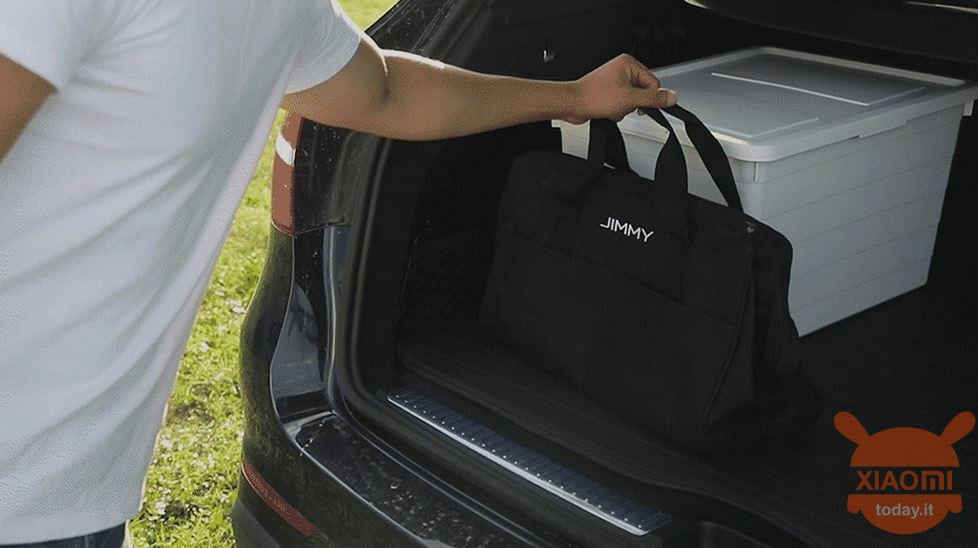 Extreme portability is guaranteed by the transport bag that will allow you to always keep the Jimmy JW31 high pressure cleaner with you in the trunk of your car. if necessary it can be used anywhere without electricity, but a bucket of water will suffice to imprison you.
Inside the package we naturally find the battery pack lithium ion battery from 2500 mAh which can be recharged through his loader with owner attack (European socket) from 21W / 1A, in about 2,5 hours allowing a duration of about 45 minutes. I personally managed to do 3 complete washes and around 9 rinse without completely draining the battery, so I would say more than excellent the general autonomy that can be further increased thanks to the ECO button placed on the upper part of the body of Jimmy JW31, which will limit the power of the water jet (0.8Mpa), also useful for soft rinsing of the car or for watering flowers and plants.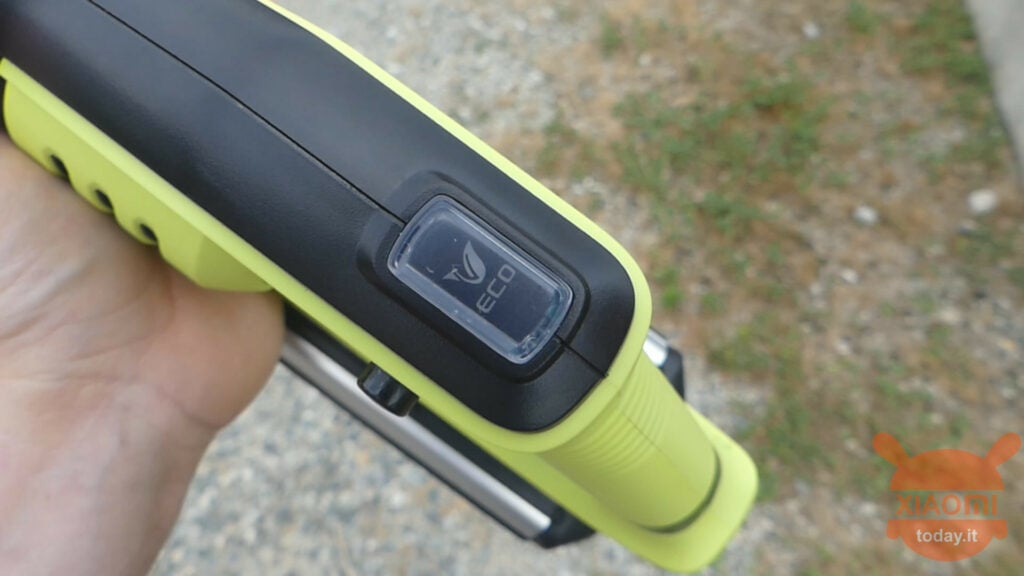 Jimmy JW31 exploits a engine from 180W able to generate a pressure of 2,2 Mpa / 22 bar for a supply of 180 liters per hour (3L / min). Of course there is no lack of i various useful accessories for washing, like a precision lance with which you can adjust the pressure of the water blade fan, through a valve positioned on the head of the lance itself.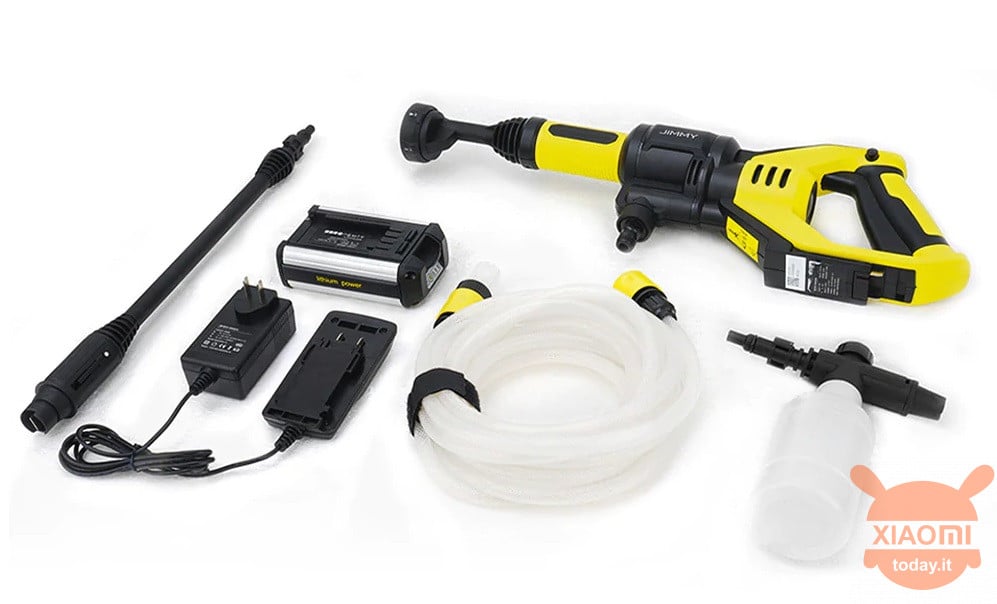 We also find one launches multi function, with which to adjust the water jet in 4 different angles: 0, 15, 25, 45 degrees and finally the rain jet. Depending on the angle chosen we could perform targeted washes towards bicycles, grills, windows, irrigation or take advantage of the jet in a precise manner to better remove encrusted dirt.
In the Jimmy JW31 kit there is also a tank for soap which in the upper part incorporates a valve to regulate the intensity of the soapy jet. I don't know the flow of the tank well, but a full charge will suffice for soaping a generously-sized MPV from top to bottom.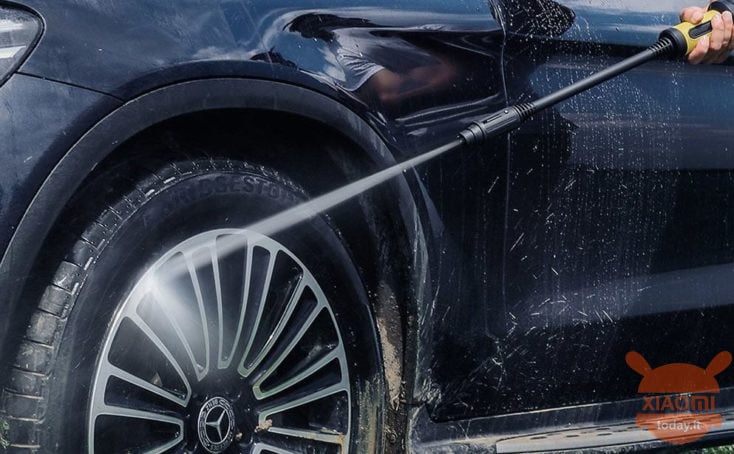 Finally we have a tube of length equal to 6 meters, which at one end houses a filter for impurities with which to go and draw water from a basin, a bucket or any other container, thus allowing small objects that could obstruct the nozzles of the lance to be sucked. The possibility of fishing water from a source that is not continuous is a great thing that combined with the fact of not having to use electricity, increases the possibilities of use in all areas of our high-pressure cleaner Jimmy JW31. But if you have the possibility to exploit the direct attack of water, then you just need to remove the filter and hook the end of the hose to a tap.
For operation and a field test, I invite you to view ours video review and don't forget to subscribe to the channel and leave a video like.
CONCLUSIONS
I am certainly not an expert in the car wash and related sectors, but I can certainly state that Jimmy JW31 by virtue of the excellent price / performance ratio has turned out to be a purchase that we do not regret. Unfortunately I have no direct comparison terms with which to compare this Xiaomi high pressure cleaner but the versatility of use is one of the strengths of this automotive gadget, which combined with the extreme portability and endowment of accessories makes it almost unique. In short, whether you are a passionate lover of your car or simply want to water your favorite flowers with Jimmy JW31 you will not be disappointed.