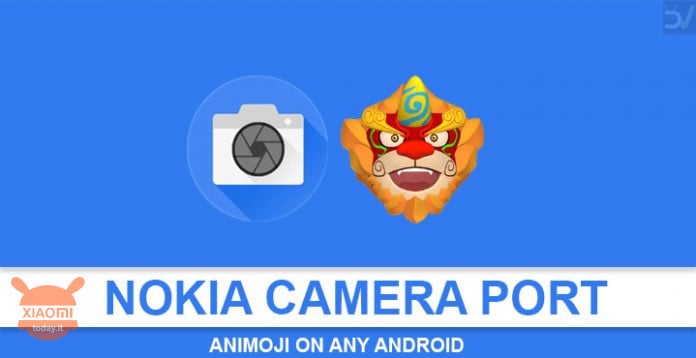 We are not crazy if we talk about it Nokia, the famous brand that is experiencing a second youth despite the spotlight on Apple and Samsung. Nokia, what time is owned by HMD Global, is cutting a good slice of users in the Android world thanks to a good photographic sector that has always accompanied the terminals of the company and that now thanks to some goodies, like the introduction of Animoji, conquers even more attention.
Xiaomi Redmi 7 Global
ATGRATIS Shipping from Italy 24 / 48h - Cover and Film free
I will not tell you the story of the brand, nor the successes and failures, but I will focus on the fact that on some of their smartphones, Nokia has introduced the functionality of the 3D Personas which integrates with the software of the Nokia Camera. And on this they started working the various modders, getting porting Nokia Camera, which can now be installed on all Android terminals, and therefore also Xiaomi, provided you have like Oreo operating system (26 API level architecture CPU ARM 64 bit).
ALSO READ: HOW TO USE MIMOJI ON ALL DEVICE XIAOMI | HOW TO INSTALL THE GCAM CAMERA GOOGLE ON MI A2 AND MI A2 LITE
Nokia Camera Animoji are also available for Xiaomi devices
Among the other functions of interest to the Nokia Camera, there is the Pro mode really well complete, integration with Google Lens but also for example the fact that on some terminals enables for example the registration in 4K (see Xiaomi Mi A2 Lite) and finally the possibility to perform some Live YouTube and Facebook direct from the app. The port of Nokia Camera was made possible thanks to the work of the member of XDA, such @linuxct, the same that allowed to bring the Huawei Live Wallpapers on other Android devices.
Changelog Nokia Camera 91.9.1130.40:
Pro mode unlocked
New AR section in the top menu with the possibility to choose a series of facial stickers, Animoji and effects
Fixed the crash of the Settings menu in OnePlus (and probably in other) devices
New Slow Motion and TimeLapse options (does not work on all devices: on Mi A2 Lite yes)
The Nokia Camera application is not designed to work on devices of other brands, so you may encounter some bugs or not, but in any case we suggest you to check the development of the project from the official page by clicking here. The installation is done as a common APK file, so you do not need root or other permissions, but just download the Nokia Camera app (148,86 MB weight) by clicking on the button below and proceed with the installation.
DOWNLOAD NOKIA CAMERA PORTING FOR ALL DEVICE ANDROID