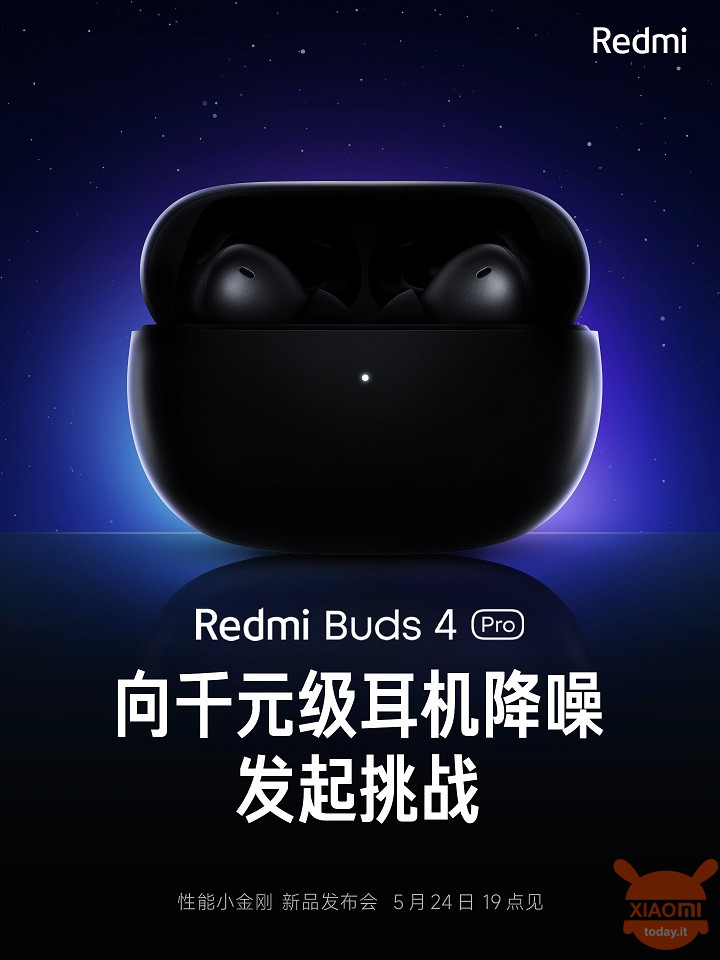 In addition to the series Xiaomi Band 7 e Redmi Notand 11T, Xiaomi will also launch the new TWS earphones in China on May 24 Redmi Buds 4 Pro. They will be equipped with better noise reduction and the Bluetooth support 5.3. Let's find out all their technical characteristics and functionality in detail.
Redmi Buds 4 Pro: technical sheet
Xiaomi is planning a big event for May 24 in China, during which it will debut the new Redmi Note 11T series and the Xiaomi Band 7. In addition to these offers, the company also plans to launch new earphones: the Redmi Buds 4 Pro.
The company has now confirmed that the devices in question will make their debut together with the Redmi Note 11T series and the Xiaomi Band 7. As is typical of Xiaomi, the next earphones have already been presented with a very effective marketing language, aimed at advertise performance.
The Redmi Buds 4 Pro is said to offer "the strongest Redmi noise reduction ever achieved". Of course, this is unlikely to actually mean active noise cancellation. The Redmi Buds 3 Pro offered a "deep noise cancellation of 35 dB" and the later ones will go further with a noise cancellation of 43 dB, in addition to "intelligent wind noise reduction" and "broadband noise reduction. at 3000 Hz ".
In addition to the fact that Xiaomi has found interesting ways to declare better passive noise cancellation than that offered by the Redmi Buds 3 Pro, the Redmi Buds 4 Pro will actually be equipped with Bluetooth support 5.3. Most phones on the market are limited to Bluetooth 5.2, but this shows Xiaomi's willingness to equip even its cheapest products with new technologies.
So all that remains is to wait for tomorrow's event to take a look at these new earphones too.
Xiaomi Redmi Buds 3, Bluetooth 5.2 Earphones, Up To 20 Hours Battery, Water Resistant, ...
16 used by 27,20 €
30 November 2022 6: 57

Amazon.it
Price updated on: 30 November 2022 6:57