This morning we started with one official news that we have been waiting for, that is theevent to be held in Shenzen (of which the exact date is not yet known) in which Xiaomi should debut the expected top of the range Mi 7 and Mi 8. Oh yes because apparently there will be two devices that will attend the event, but not only, in fact the CEO of Xiaomi, Lei Jun, through her Weibo social profile, reveals to us that other products will also be presented on this occasion, making it clear that at a numerical level these will be decidedly many.
Xiaomi Redmi Note 6 Pro 4 / 64Gb Global
FREE Shipping from Italy 2gg - Italy Guarantee 🇮🇹
198€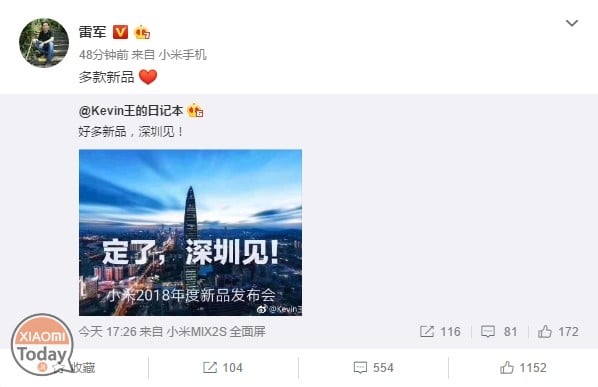 Someone speculates that along with the two top of the range the Mi Band 3 will also be presented, renewed in the display with support for gestures and software, which for some time we began to admire at the wrist of the same Lei Jun, although, we remember the main actors of the event will be the Mi 7 and Mi 8, which though does not appear with a particularly original design, we will propose one hardware conformation of all respect, not only for the excellent Qualcomm Snapdragon 845 processor clocked by 2,8 GHz, the Adreno 630 GPU and 8 GB of RAM memory LPDDR4X, which we could already appreciate on the 2S Mi Mix, but from the fact that the new smartphone will integrate a sophisticated facial recognition system concealed by the Notch, hated by many, but I personally do not despise.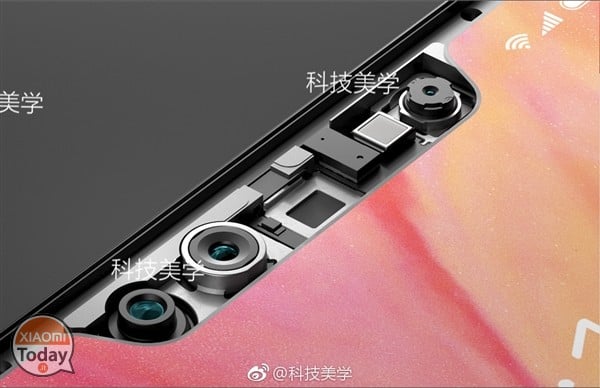 Lei Jun reveals that in addition to Xiaomi Mi 7 / Mi 8 many other products will be presented
However we could also see new smartphones presented, because in recent weeks we have witnessed a real one invasion into the Geekbench database, which is now enriched with two new probable terminals of the Chinese brand. Let's talk about the Bittium and StRaKz models which respectively are equipped with the Snapdragon processor 710 and Snapdragon 625, therefore a top of the range and a mid range. Bittium could identify the Mi Note 4, also one of the long-awaited devices, while in reference to the StRaKz model we could also think that the test is a forgery, since the zero value is reported in the CPU clock entry. Maybe a bug or forgetfulness? The fact is that both models are basic 4 GB of RAM memory, even if we do not exclude the possibility that it is instead the We are Max 3 one of the protagonists of the event.
We are waiting for you on ours
Facebook Group
dedicated to the 7 Mi in all its glory.
Are you interested in bidding? Follow our Telegram Channel!
A lot of discount codes, some exclusive offers from the group, phones, gadgets and gadgets.