The advent of 5G technology on our smartphones will not bring changes only in the field of download and upload speed usable by the end user, but the way in which this device is created will also change.
The presence of an 5G connection means in fact an increase in consumption and therefore requires an increase in the size of the batteries. This obviously not to return to the times in which arriving at mid-day autonomy was already a goal.
Lu Weibing: Smartphones with 5G will weigh 200 grams or more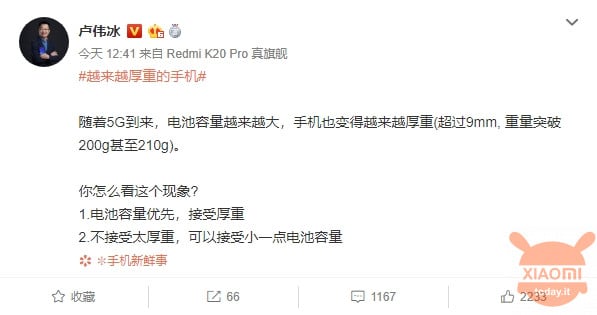 Well, to confirm just said the words of Lu Weibing, the vice president of Xiaomi Global and general manager of the Redmi brand, arrive. Weibing has indeed published a post on the famous Chinese social network Weibo in which he states that "With the arrival of the 5G, batteries are increasing in size. The smartphone then becomes heavier and thicker (more than 200 grams and thickness over 9 millimeters). "
Lu Weibing then went on to ask users what they thought of this phenomenon, giving them two options: "1. Better a bigger battery at the expense of weight "and" 2. Better thinner even if with smaller battery ".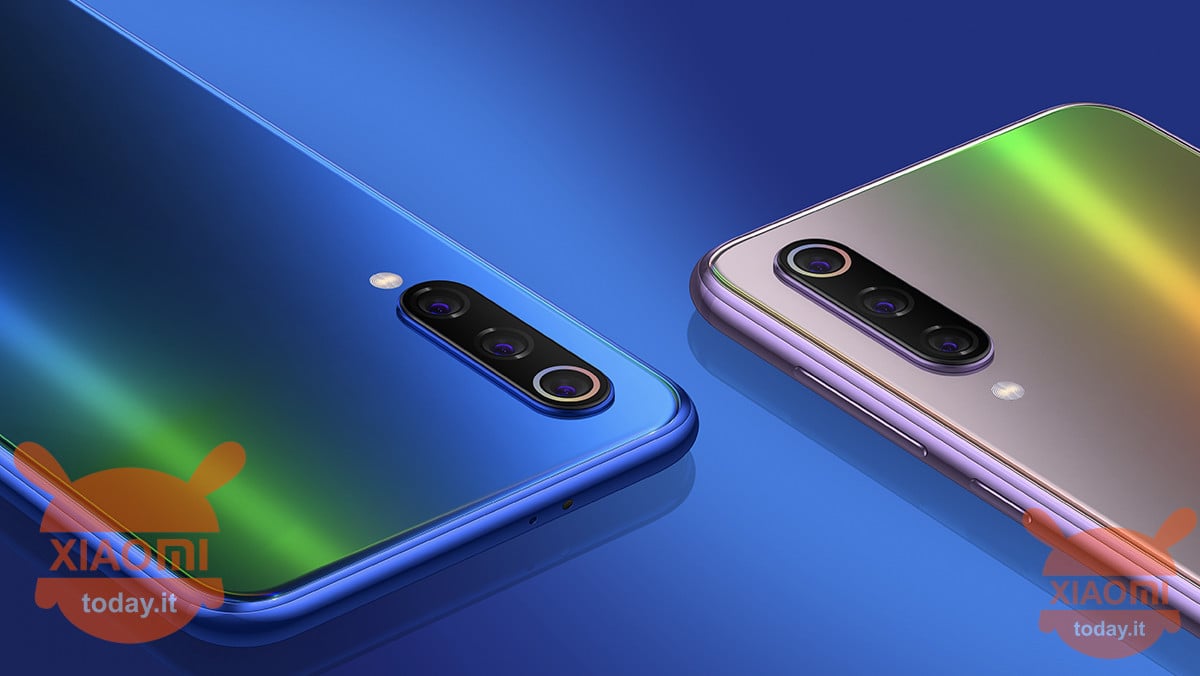 Chinese users have responded perhaps as we would have answered, choosing the 1 option, so with a larger battery and better autonomy even if sacrificing lightness.
In any case, Lu Weibing's post arrives after the various leaks that partially confirm the arrival of a new version of the Xiaomi Mi 9. As some of you may know, the Chinese giant is in fact intending to launch the 5G edition of this year's flagship under the name of Xiaomi Mi 9S. In addition to the 5G module, the smartphone would have a larger 4000mAh battery (against the 3300mAh than before), a thickness of 8,95mm (against the 7.6mm of the Mi 9), and a weight of 196 grams (the Mi 9 weighed 173g).
We have to admit that they all look like improvements that we would have liked even without the presence of the 5G. What do you think instead? Do you agree with us? Let us know in the comments section below!
Are you interested in OFFERS? Follow our TELEGRAM Channel! Many discount codes, offers, some exclusive of the group, on phones, tablet gadgets and technology.