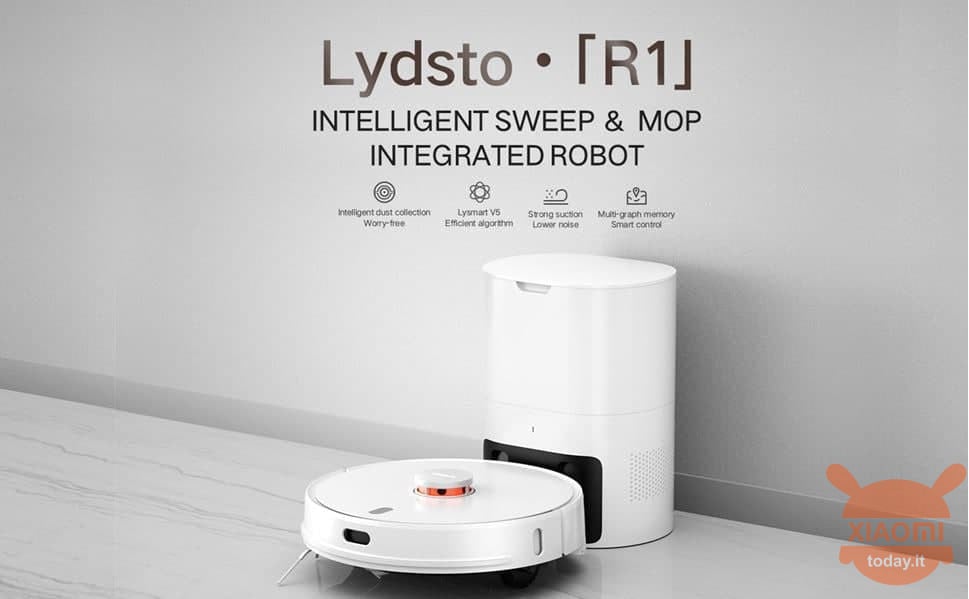 Before they were just vacuum cleaners, then they became vacuum cleaners and scrubbers, today a new "piece" has been added, that is the basket in which the dust will automatically be emptied, so as to give you less and less effort even just in cleaning your appliance. In this article we talk about the floor cleaning vacuum cleaner List R1, an emerging Chinese brand that amazed me with the maturity of the software that manages its product. But let's see it in detail.
⭐AMAZON PRIME
✨ Lydsto R1 robot vacuum cleaner and self-cleaning floor cleaner
💰 Price: 335 €
🎁 FREE Redkey Body Bluetooth Fat Scale
📌 Buy https://amzn.to/3sBM68J
🇮🇹 FREE AMAZON PRIME Express Shipping
✨Spare parts https://s.click.aliexpress.com/e/_A4WcJN
CONFEZIONE
The vacuum cleaner will be delivered to you in a double pack, an outer brown box that contains the actual product box. Inside you will find:
Floor cleaning vacuum cleaner
Automatic dirt collection bin (which doubles as a battery charger)
Disposable cloth holder
30 pieces disposable mop cloth
7 pieces dust collection bag
2 in 1 dirt collection tray and 250ml water container for washing (already installed in the vacuum cleaner)
Instruction Manual (in English)
TECHNICAL FEATURES LYDSTO R1
The technical data sheet of this Lydsto R1 is of absolute level, even superior to some similar products of more famous brands:
DUST BASKET
Suction power of 30Kpa
Engine rpm power 50000rpm
Dust collection capacity for each bag: 3L, equivalent to 30 days of collection (about 2000m2)
7 bags supplied that will give an autonomy of about 7 months
ROBOT VACUUM CLEANER
5200mAh battery (about 80 minutes of autonomy)
Suction power 2700Pa
Engine rpm power 17000rpm
250ml water tank (for washing up to 150mq2)
LDS version 2.0 laser navigation: High precision radar laser sensor, 6 revolutions per second scan rate, vision up to 8 meters away
Through the application it is possible to exclude areas and rooms from cleaning
Automatic recognition of carpets not to wash with water
Overcoming obstacles up to 2cm in height
Noise absorption coefficient equal to 0.94
PRELIMINARY OPERATIONS
In reality, our device will already be beautiful and ready to use, few things to do before being able to use it. The dust / water tank is already mounted (to remove it, just press the white button in the center), the battery already charged (but giving it a full charge certainly doesn't hurt) and a bag for collecting the dust already present and mounted in the automatic bin. The support for the scrubbing cloth is instead inside a cardboard container. To connect it you simply have to fit it under the dust container, after attaching one of the 30 disposable cloths supplied
To start you will only have to remove 2 clips that are on the sides of the vacuum cleaner (they are clearly visible, impossible not to see them). Position the basket / charger so that it has about 50cm of space to the right and left and at least 120cm in front, connect it to the electricity and turn it on.
On the front of the vacuum cleaner we find 2 illuminated buttons: press the house symbol for one second to charge it, 3 seconds to set the cleaning start point. The on / off button one second to start and pause cleaning, 3 seconds to turn it off.
LYDSTO R1 APPLICATION
The application is really well done and will allow you to use our Lydsto R1 in a thousand ways. First we will have to install it and just look for it in the Google play store / IOS app store (you will also have the QR Code in the instruction manual).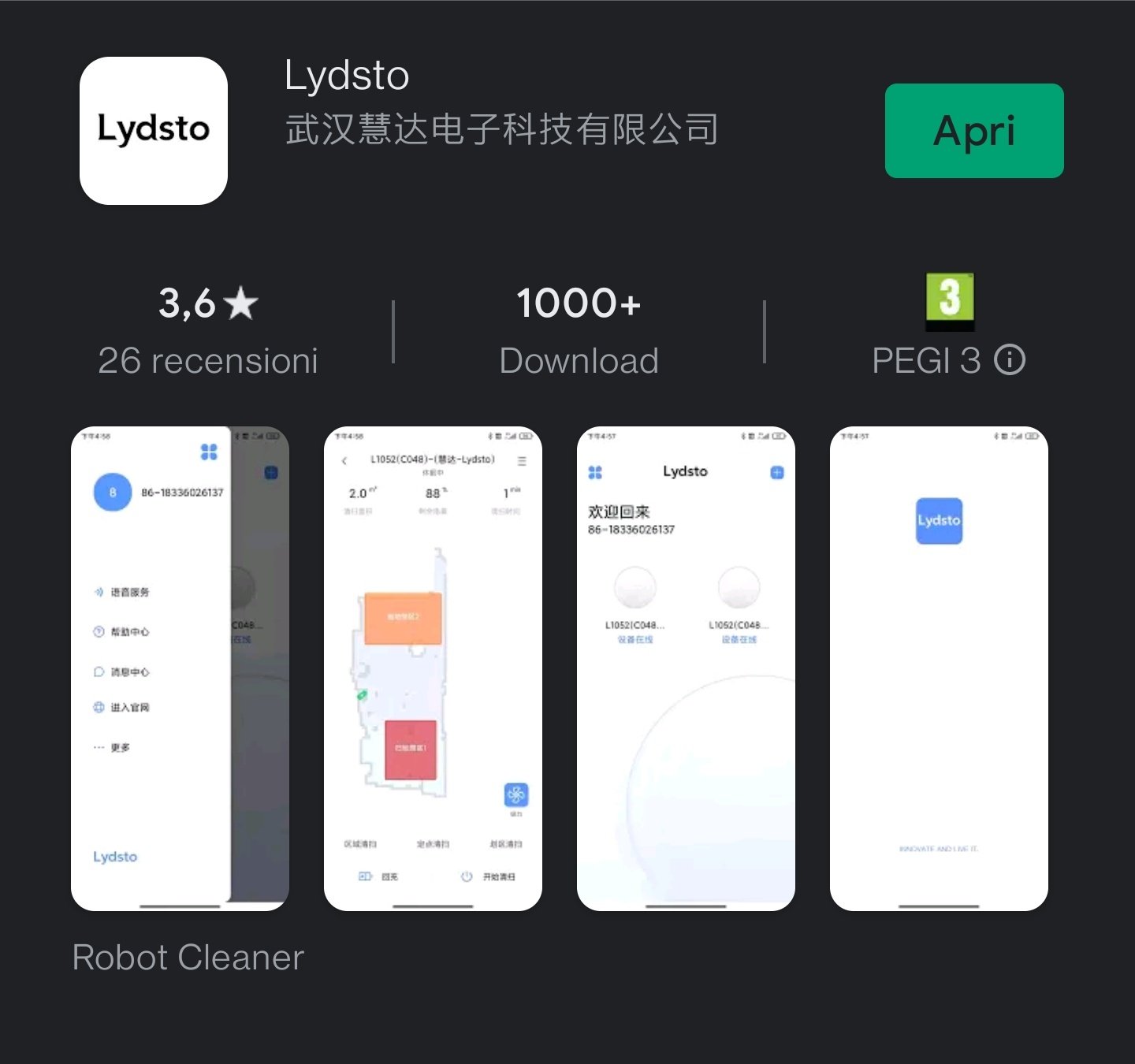 Once installed, it will have to be configured, and below I put all the necessary steps. My advice is to set it in English (you don't have to be a native speaker to understand the various menus) as some translations in Italian are not well done and some are even missing (so you will also have some written in Chinese). It is probably a "work in progress" and in some time the Italian translation will also be perfect.
Create an account (click create one now)
2. Add our Robot R1. To do this you will need to enable the location on your smartphone and proceed in this way
3. Update the product software
At this point you will be ready to use your beautiful new vacuum cleaner! The software is really very complete and here I will tell you the most important functions that you will then use.
In the Home of the application, which you will reach by clicking on the robot icon, you will find: information on the cleaning map previously used (graphic scheme), the% of clean area, the% of battery left, the washing time carried out, the " map editing "(possibility to edit your cleaning map)," mode setting ", charging status, start cleaning button.
In the menu "map editing"You will have the possibility to customize the map of your home and customize:
Forbidden zone setting: pull virtual walls to inhibit some even very small areas, add areas where not to vacuum and wash, add areas where not to wash
Edit: edit different zones, join them to create a single room, divide them, rename them
Custome mode: for each room previously saved and renamed it will be possible to set the suction level and quantity of water to be released for washing
Using the "setting mode"You will enter an important submenu where you can set the job in:
Vacuum cleaner - 4 different modes to set according to the dirt and noise you want to hear when cleaning: quiet-standard-strong-max
Washing - by enabling "mopping mode" you can proceed with washing only and select the amount of water to be expelled during the session (3 different quantities)
Custom Mode - you can choose the type of washing to be carried out for each room in the house (you must first have done a complete cleaning to allow the application to generate a complete map)
At the top right you will find 3 dashes (the classic menu symbol) and from there you can then reach an infinity of other menus from where you can fully customize your Lydsto R1.
Here is a brief rundown of everything these menus will allow you to set:
Cleaning reservations: basic menu, here you can schedule automatic cleaning operations. Repetition based on the individual days of the week, start time, cleaning mode (suction / washing and the various intensities), the areas to be cleaned or excluded.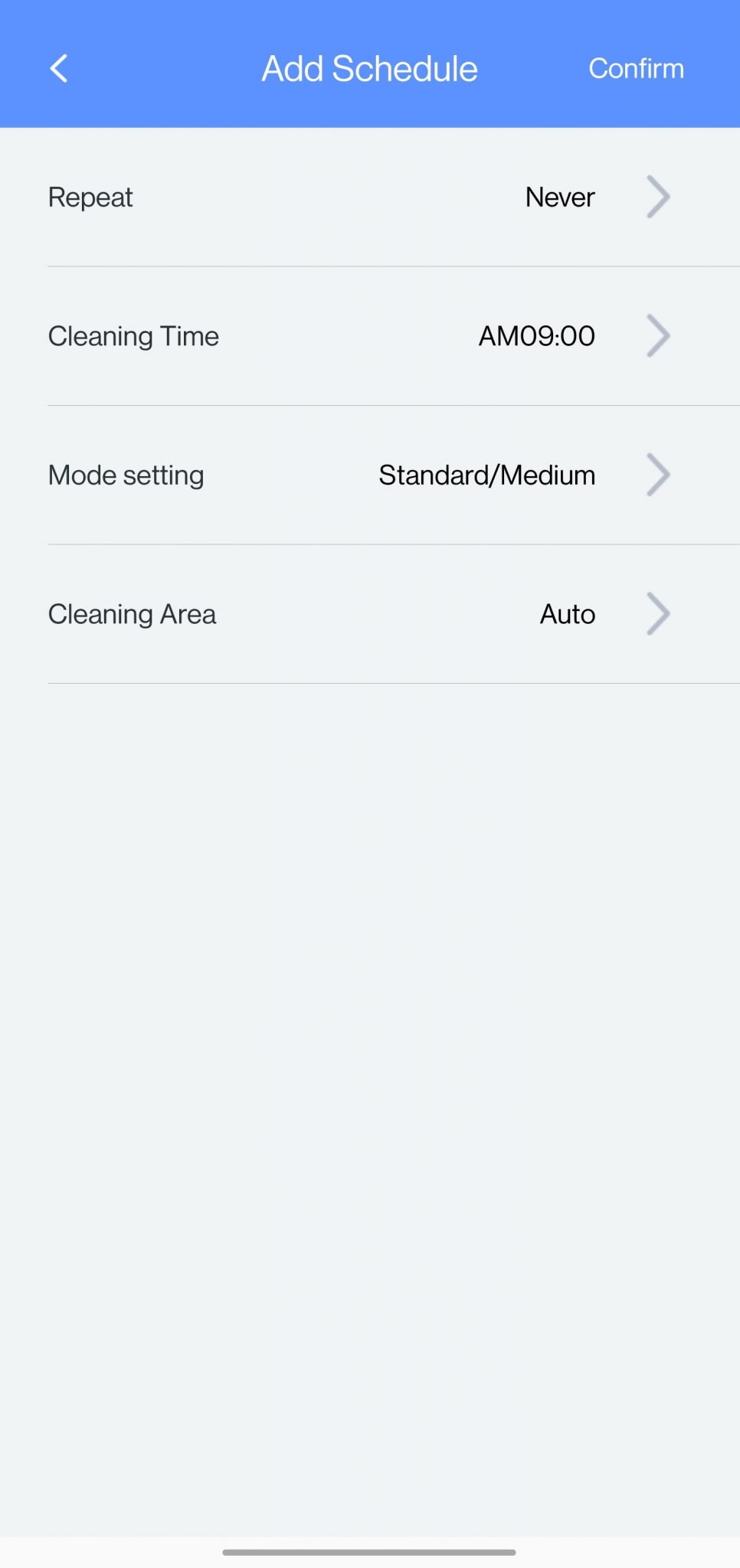 Remote controller: from here you can manually control your robot, thanks to a virtual joypad (do not show it to your children otherwise it will be the end .. 🙂
Voice & Volume: to set language and volume
Secondary Cleaning: to perform a second cleaning step
Edge Cleaning: enabling this option will clean only the perimeter of the house
Don't Disturb Mode: in this time interval the robot will stop, LED lights and voice messages disabled
Device Sharing: you will also have the possibility to share the control of the Robot with another account that can manage it for you
Auto Boost: if enabled it will automatically increase the cleaning power on the carpets
Dust Emptying Frequency: this menu is used to set how often the robot dust collector must be emptied. The options are: never (if you are going to do it manually), after 1/2/3 sessions, do it now
Reset Map: to delete all the stored house maps
Product Manual: here you will find the user manual that you will also have printed in the package
Cleaning Records: The chronology of the various cleanings, with detailed maps etc.
Consumables Maintenance: another very useful menu where you can see the status of your consumables and if it's time to clean the robot's laser sensors.
CLEANING
Now, after having done all the preliminary operations, we just have to start with the cleaning. So after deciding which type (dust extraction, washing or both), just click on the start button. In the "normal" configuration ours List R1 will proceed to vacuum and wash everything together. If, on the other hand, you only want it to vacuum the dust, you will have to remove the support with the mop, while if you only want to wash, just enable the "mopping mode" flag that you will find by clicking on the "mope setting" icon. I always use the suction and washing method together and the result is very good. Of course, you cannot expect to have the perfect floor, but considering the timing I must say that the result is absolutely in line with more famous models, such as Roborock, Viomi and Roidmi. In my apartment I clean about 50m2 in 40 minutes! The water container exactly cleans this surface with the selected maximum deliverable amount of water. No problem in overcoming the base of a couple of tables I have in the room, about 1cm high, as per the technical data sheet (which guarantees the overcoming of obstacles up to 2cm). Good cleaning even in the corners of the rooms and on the laminate I have in the room. Particularly satisfied with the removal of some stains, formed by drops of water, which I had in the bathroom. Wanting to be picky I found some imperfections right in the perimeter areas of the apartment, perhaps also for this reason there is a type of cleaning that does only these areas. Then you just need to make a second pass in the "Edge Cleaning" mode and these points will be fixed too. The noise is also in line with other products in the same segment, so I must be satisfied in this aspect too.
In short, to conclude, I must say that if instead of Lydsto (brand poco known in our latitudes) had I read Roborock surely I would not have noticed the difference between this and that product.
But now we come to the price, because everything that this devices offers you can be found in products that are around € 500. Thanks to our offer ed Amazon Prime, you can instead take this little gem home with you for yourself €320! As always, these promos are limited, so if you are interested we advise you to proceed with the purchase as soon as possible.
⭐AMAZON PRIME
✨ Lydsto R1 robot vacuum cleaner and self-cleaning floor cleaner
💰 Price: 335 €
🎁 FREE Redkey Body Bluetooth Fat Scale
📌 Buy https://amzn.to/3sBM68J
🇮🇹 FREE AMAZON PRIME Express Shipping
Here you can buy spare parts https://s.click.aliexpress.com/e/_A4WcJN
A good self-cleaning robot vacuum cleaner
Performance automatic dirt basket
8.5
PROS
Value for money
Speed ​​in cleaning
Extremely complete software
Excellent supply of washing cloths and dust bags
Aesthetically beautiful, fast and performing the automatic bin
CONS
No replacement of the rotating brush
Italian translation of the software not yet perfect
Add your review
|
Read reviews and comments