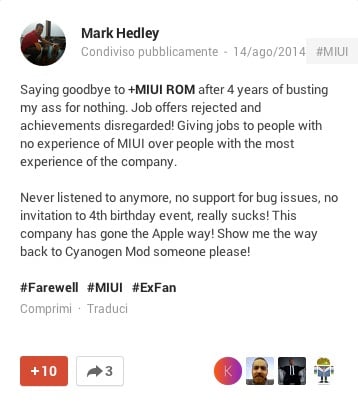 On the 4th anniversary of the MIUI where the new one was also presented mayor revision, echoes between social networks the heavy post of disapproval published by Mark Hedley, founder of MIUI UK and first true translator of MIUI from Chinese to English.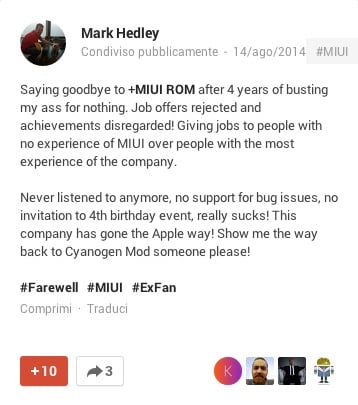 [Clear]
Say goodbye to (project) MIUI ROM after burning my ass for 4 years for nothing. Job offers rejected and successes ignored! Then hiring people with no knowledge of MIUI at the expense of others much more experienced. I have not been listened to, no support for the bugs reported, not even the invitation to the 4 anniversary of the MIUI, a real suck! This company (the Xiaomi) has taken the same road as Apple! Let someone show me the way to go back to Cyanogen Mod.
[Clear]
Xiaomi was born as a software house and has all its success at MIUI. At the same time the MIUI owes its success to the incredible work that fan sites spread all over the world they make them providing translations, support and advertising that has allowed them to go beyond the Chinese borders.
In particular, MIUI UK (miuiandroid.com now on xiami.eu), of which Mark Hedley is the founder, was the first fan site to make the translation from Chinese to English! You will understand the frustration of those who, after so much sweat and dedication, see their unrecognized work.
Mark's harsh words, which make us reflect on the path that Xiaomi has decided to undertake, or rather what it has decided to abandon.
Are the fan sites that have always been the fulcrum of MIUI's expansion perhaps becoming an obstacle for a company that has decided to expand on its own strength and means? Has Xiaomi really decided to take inspiration from the worst of Apple?
What idea did you do?