MediaTek Helio G96 and Helio G88 are the two new processors of the Taiwanese house that promise to bring the performances of the medium-high range at top levels. As we know, in fact, the Helio SoCs are a step lower than the Dimensity SoCs, which are instead integrated in high-end devices. With the introduction of these two new chips, the company promises stellar performance both from the point of view of the fluidity of the display and the performance of the cameras. Here are the details.
All the features of the new MediaTek Helio G96 and Helio G88 processors: up to 120 Hz refresh rate and support for 108 MP sensors
CH Chen, Deputy General Manager of Wireless Communication Products at MediaTek's Wireless Business Group said:
With the launch of MediaTek Helio G96 and Helio G88, MediaTek advances its position as a leading innovator of mobile chips, offering new SoCs to enhance viewing and photography experiences for the mainstream market. The company is continuously improving the performance, speed and reliability of the chips. These new Helio G series chips are at the heart of amazing mobile experiences

CH Chen of MediaTek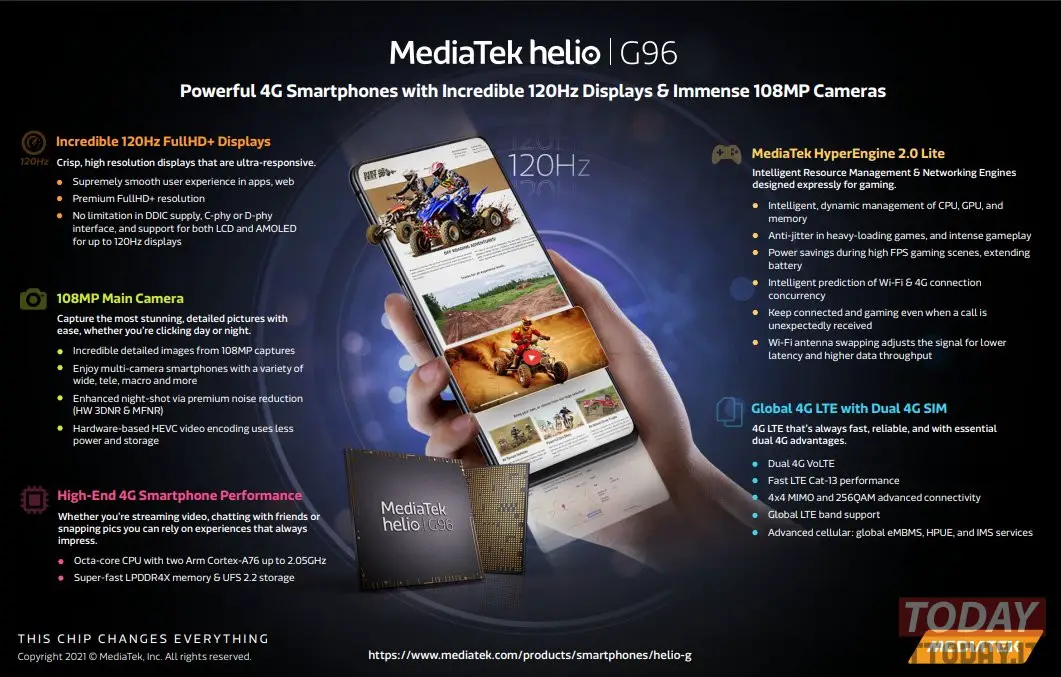 The SoC MediaTek Helio G96 ensures a daily premium user experience with its display support a 120Hz with resolution up to FullHD+. This leads to significantly smoother scrolling of web pages and animations in apps. Helio G120's 96Hz display support has no limitations in DDIC, C-phy or D-phy power supply and supports LCD or AMOLED display. In combination with the support for cameras up to 108 megapixels for more detailed images, rapid integration of the Cat-13 modem LTE 4G WorldMode, dual 4G SIM and VoLTE and ViLTE services, as well as the intelligent resource management engine and network engine, the SoC offers an impressive amount of features.
Read also: MediaTek among the first for 4 nm SoCs: Xiaomi, Oppo and vivo in queue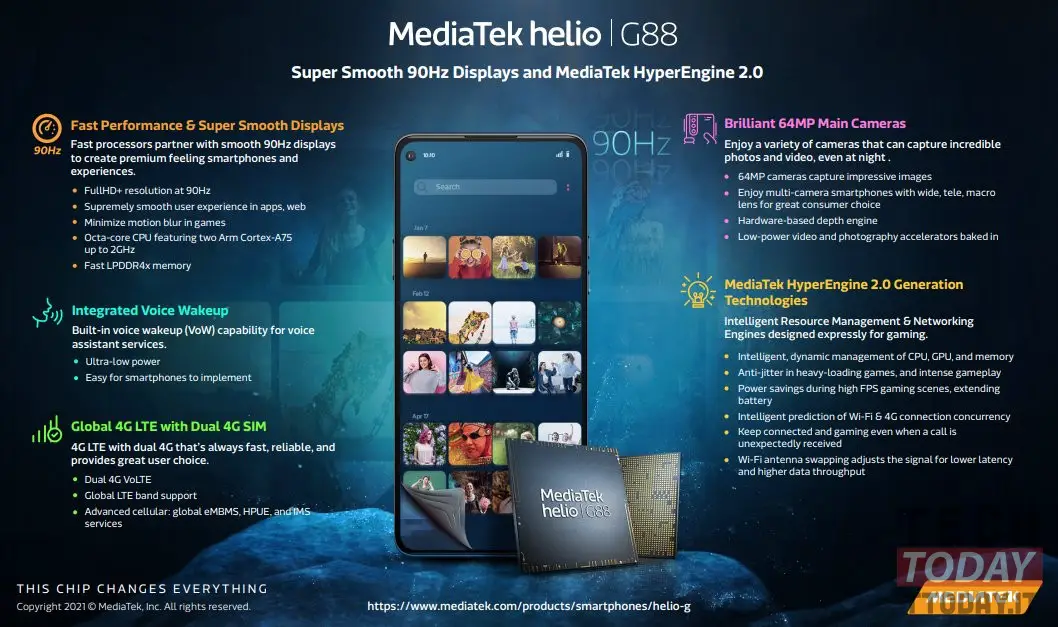 Announced in tandem, the SoC MediaTek Helio G88 supports displays up to 90Hz. Its octa-core CPU is equipped with two Arm Cortex-A75 CPUs that run at up to 2.0 GHz, enabling smooth and snappy reactions, fast app loading and camera captures. The Helio G88 is based on photographic excellence technologies with support for main cameras up to 64 megapixels, a hardware depth engine for dual-camera bokeh captures, a camera control unit (CCU), electronic image stabilization (EIS) and Rolling Shutter Compensation (RSC).
Let us remember that it is about 4G processors in both cases, they will therefore cost less and will be integrated into smartphones not of the latest generation.