We point you a mega sale on the Gearbest It site, where you can buy lots of products up to the 70%!
We remind you that all Gearbest It products enjoy a guaranteed 24 months Europe, 15 days of contract termination and free Shipping Italy Express.
So what are you waiting for, take a look at the promo page and good purchases to all! Here are some direct links of the most attractive products and the direct link to the event!
Xiaomi AMAZFIT English version at 100 €
Coupon: SaldiIT
Xiaomi Redmi 4a Global 2 / 32Gb (20 band) with 91 € (20 pieces)
Xiaomi Mi Drone 4k Wi-Fi to 451 €
coupon: MIdroneIT

LeTV LeEco Le Max 2 Global Version at 173 €
Xiaomi Mi 5 White 3 / 64Gb Rom Global
Jumper Ezbook 2 Ultrabook 4 / 64Gb for 152 € (50 pieces)
Xiaomi Yi II Action Camera International Version and 4K WiFi at 192 € (30 pieces)
Xiaomi Redmi Note 4 3 / 32Gb Global (20 band) to 146 € (50 pieces)
Xiaomi Mi Pad 3 Champagne 4 / 64Gb for 238 € (30 pieces)
Here the direct link to the promo: MEGA SALE BY GEARBES IT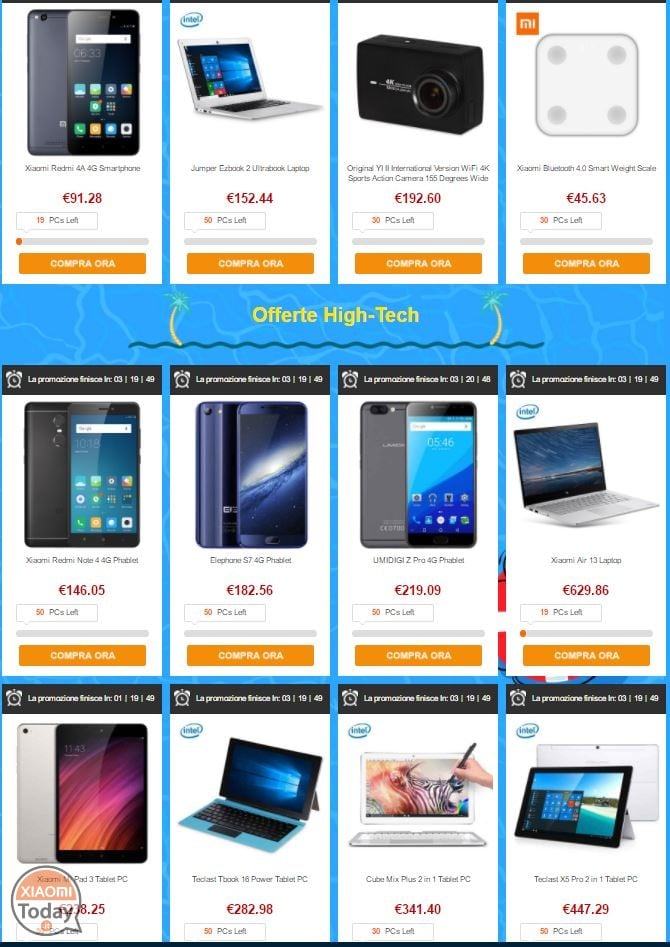 Proceed to purchase from PC and log in to the gearbest.com website, otherwise the code will not be valid. Put the product in the cart to view the CORRECT PRICE!

Are you interested in OFFERS? Follow our TELEGRAM Channel! Many discount codes, offers, some exclusive of the group, on phones, tablet gadgets and technology.