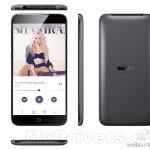 On the net, rumors of a possible launch of the 19 November by Meizu of an iPod Touch-style multimedia player.
Meizu does not only focus on smartphones after its latest achievements but wants to offer more and more to its users who are suffering from music and more.
For now, you have no other information about it except the leaked images that are on the Weibo Chinese social network, but it's fair to expect Meizu to be an excellent work in the audio industry!
So we just have to wait, in this regard what do you think? is it time to change your old iPod with an all-Android / Meizu player?

via | [email protected]