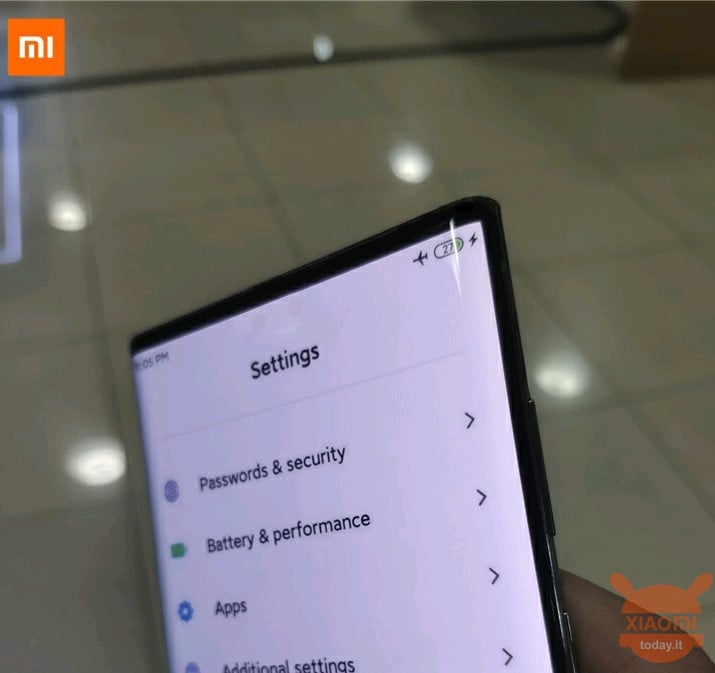 Without a doubt the Mi Mix 4 was among the most talked about smartphones of Xiaomi during the year together with Redmi K30, for which the presentation is scheduled in a specific week. However, while we have talked extensively about the latter in these days, the first has been lost ... at least until today. In fact it was immortalized a few hours ago and we see it in the photos below. The Mix series device that we are looking forward to will be the heir to the slider phone Mi Mix 3 and therefore we expect a certain level of design combined with the most advanced technologies. One of the new things we can really see will be the camera on the display, but not with the photo in plain sight but transparent: in this way the era of the much-hated as well-loved notch would end and that of the TRUE full screen.
I mix 4 the subject of new shots: will he really be this time?
In the photographs we post below, a possible appears I mix 4 with a super thin design it's one very high screen ratio: from reflections on the glass we also understand that a display is mounted waterfall type, that is with curved edges. But will he really be? At least this time?
But don't you think you've already seen it? To us yes: it looks like that of late last October and that we discovered to be a fake. How do we know that a fake? Here are the reasons:
above all it is decidedly difficult, if not impossible, that the Mi Mix 4 looks like this in preview and is proposed as a leak with written in English. As history teaches us, i leaks that know truthfully are those from China and therefore without writing and captions in English. But apart from this criticism of ours, which could easily be refuted by saying that the language can be set to "English" in any way, let us move on to the second point;
the similarity: this smartphone and what we talked about in October are virtually identical. In fact, let us suppose that the shots come from the same device and at the same time;
finally, above the word "settings" in the first photo we see how (also this time) there are the two cameras hidden by photo editing. Currently it does not exist no data that you confirm in reality that Xiaomi has managed to complete a technology that allows you to hide the sensors. We have known for some time that he is sweating it but not that he has managed to make it his own without any problem.
As we did some time ago always with the Mi Mix 4, we strongly advise you to be careful with the photos that run online and to analyze and compare well the data we have together with those we received some time ago.
-45%

Coupon
🇨🇳 Standard Priority Shipping FREE (8 / 10gg, No customs) ✈ 🎁 Tempered glass + Cover + FREE film
🇨🇳 Standard Priority Shipping FREE (8 / 10gg, No Customs) ✈
🇨🇳 Priority Direct Mail Shipping (Delivery 10 / 15gg, NO customs) ✈
Buy
Use discount codes:
BGM35G
Expired
Are you interested in OFFERS? Follow our TELEGRAM Channel! Many discount codes, offers, some exclusive of the group, on phones, tablet gadgets and technology.