The long-awaited day has arrived: la official presentation of the Mi CC9 Pro that will come to us tomorrow with the name My Notes 10. From what we know between the two there should be no differences, especially as regards the photographic sector. As we know, in fact, under the body we have well 5 cameras including amazing main sensor HMX supplied by Samsung with a resolution of 108 megapixel. But how does pentacam behave? Given the fact that numbers don't make quality, but only the use on the field and in everyday life, DxOMark helps us by giving us a new ranking that sees this brand new Xiaomi smartphone above all. Let's see together what are the points that allowed this to happen.
Mi Note 10 / Mi CC9 Pro at the top of the DxOMark ranking for photos and videos!
With an overall score of 121, the Xiaomi Mi CC9 Pro he was put in second place afterwards Huawei Mate 30 Pro, for the highest overall score of the camera, a score never reached before by any other smartphone. Despite the score in the category PHOTO be two points lower than the Mate 30 Pro (130 against 132), although it is still one of the highest scores ever, it is the category that amazes DEMONSTRATION VIDEO, equal to 102 points that is the highest ever seen, obliterating a point either Google Pixel 4 and Samsung Note 10 + 5G.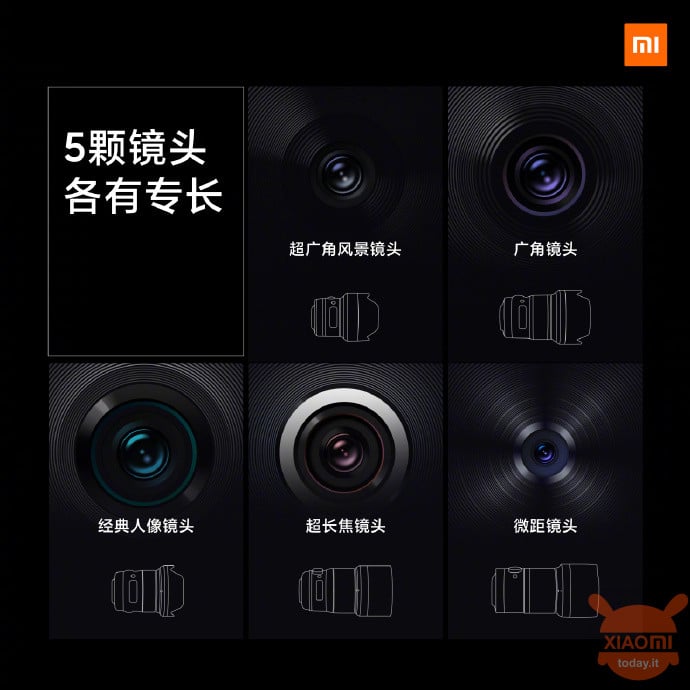 Setup pentacam Mi Note 10 / Mi CC9 Pro
Primary sensor: 108 megapixel from 1 / 1.33 ", lens with f / 1.69 aperture and OIS (effective resolution 27 megapixel;
Short telephoto: sensor from 12 megapixel from 1 / 2.6 "and lens with f / 2 aperture;
Long telephoto: sensor from 8 megapixel from 1 / 3.6 "and lens with f / 2 and OIS aperture;
Ultra-wide: sensor from 20 megapixel from 1 / 2.8 "and lens with f / 2.2 aperture;
Macro: f / 2.4 lens designed for one close focus from 2 to 10 cm;
Dual dual LED flash, one with bright light and one with soft light.
Thanks to its double cameras equipped with telephoto lens Mi CC9 Pro exceeds DxOMark tests concerning zoom: with one optical zoom up to 5X you earn a good price 109. The multi-camera tele helps the Xiaomi smartphone do a great job with the depth estimation, which results in a excellent bokeh effect e particularly pleasant shades.
According to DxOMark, when it comes to video the Mi CC9 Pro gives its best by getting the highest score of any smartphone tested so far: 102 points. Video recordings present vivid colors rendered excellently, together with fast and accurate autofocusing in all tested conditions. The exhibits are also very good, with well preserved details and well managed noise. In short, without getting lost in useless words here is a video which summarizes all the tests performed (obviously enjoy it in 4K).
Also with regard to theautofocus the jewel equipped with a Qualcomm Snapdragon 730G does a great job. It is fast, accurate and the focus is well repeatable even indoors and in low light conditions. His score is from 99, just a point behind the defending champion Huawei Mate 30 Pro. Unfortunately it has not reached the 100 points due to a couple of times when the focusing of the faces did not go immediately to good end, a problem that maybe will be solved with a software update.
In short, here is the summary PRO and AGAINST according to DxOMark:
PRO
Excellent zoom performance, thanks to two telephoto lenses;
Fast, accurate and consistent autofocus performance;
Good evaluation of bokeh and depth;
Wide-angle shots have low distortion and good detail retention;
Night shots have natural skin tones due to the soft flash;
Good details in most conditions, with well controlled noise;
Good exposure and adaptation of exposure to varying light levels;
Generally pleasant colors.
AGAINST
Loss of sharpness towards the edges of images;
Sometimes the violet is present in the sky;
Limited dynamic range compared to other smartphones;
Trembling visible during the overview;
The fringes of color are sometimes visible;
Limited dynamic range;
Are you interested in OFFERS? Follow our TELEGRAM Channel! Many discount codes, offers, some exclusive of the group, on phones, tablet gadgets and technology.