A leading sector of Xiaomi, in addition to smartphones, they are TVs and smart TVs. Conquering beyond the 40% of the market in India, his TVs have become the most used in the country and in China they have had the same success. Unfortunately in Italy, due to lack of infrastructure, smart TVs are not very popular but in any case you will be pleased to know that several models will receive Android Pie this September: in particular the Pro will take advantage of this update. Initially only the Mi Led TV 4A (32 ″ and 43 ″) received the ninth release of the operating system of the green robot, and only for very few users, but now it is also up to Mi TV 4 Pro, 4A Pro, 4C Pro, e 4X Pro to be up-to-date.
These Mi TV Pro will receive Android Pie in September
We see it from an exclusive on the site today XDA developers. The author of the thread informs us that he had a telephone conversation with Sudeep Sahu, Mi TV product manager for Xiaomi, and that he confided that the Pro series of the aforementioned televosiers will receive theupdate to Pie starting in September and therefore the release will begin in a few days. Obviously, emphasizes Sudeep, theupdate will first touch a small circle of users to then be usable by the mass.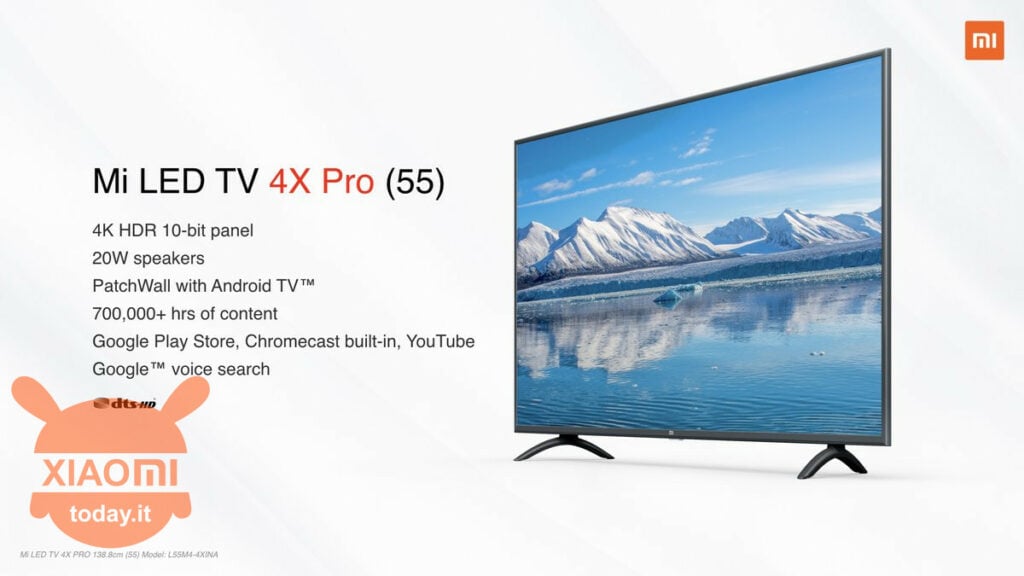 The Pro series has been launched on the market only in 2018 and therefore it is very young, but nevertheless it has brought a nice novelty in the TV market starting from India. Finally, they too, with a little delay compared to Xiaomi smartphones (but could not be otherwise), will see an upgrade from Oreo 8.1 to Pie 9.0. The manager is keen to let them know then other brands are still working on updates on their Oreo-based TVs while Xiaomi is already ahead.
"If [an Android TV update] is released in month X, we want to make sure we work on it immediately, anticipate and try to get certifications well in advance.
In other words, we are trying to establish a standard - as we have done in terms of prices, offers and even bring our Android TVs to even lower sizes and prices - to ensure that the latest updates are distributed to customers as soon as possible. ."
Finally Mr. Sahu will spoil us that le variants from 32 ′', or I TV 4A Pro and Mi TV 4C Pro, should be among the first to receive the update to Android Pie.
Are you interested in OFFERS? Follow our TELEGRAM Channel! Many discount codes, offers, some exclusive of the group, on phones, tablet gadgets and technology.