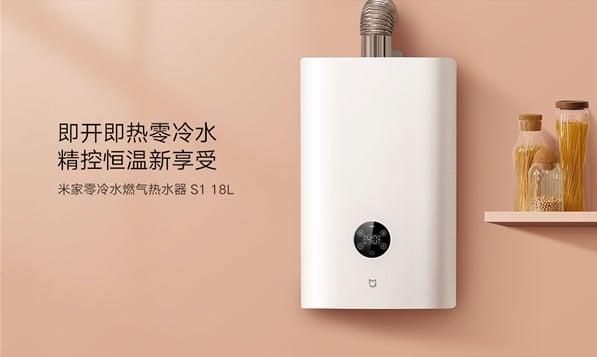 Are you interested in OFFERS? Be smart and subscribe to our Telegram channel! Lots of discount codes, offers, pricing errors on technology from Amazon and the best online stores.
Today, Xiaomi launched the Mijia Smart Zero Cold Water Gas Water Heater 16L S1 with crowdfunding starting on Xiaomi Mall China and Xiaomi Youpin website at 10:00 on February 8. The crowdfunding price is 1799 yuan (245 euros), while when the campaign is over the retail price will be 2299 yuan (315 euros).
Mijia Smart Zero Cold Water Gas Water Heater 16L S1 is the new easy-to-install smart water heater
According to official data, the installation of the Mijia Smart Zero Cold Water 16L S1 gas water heater does not require pipe modification in the home, and can be installed with or without a return pipe. The water heater adopts Mijia-developed 6-layer three-dimensional noise reduction technology, is equipped with air inlet silencer, noise reduction with sound-absorbing cotton, fan turbine optimization, 16 rows of broadband combustion components, joint surface sealing design and much more. The product has obtained CCLC and CQC level 1 certification of certified technical specifications.
Going into detail, the Mijia Smart Zero Cold Water Gas Water Heater 16L S1 adopts 16 rows of burners with four-section design, broadband constant temperature technology, ±0,5°C precise temperature control, DC inverter fan, wind resistance greater than 350 Pa and can withstand strong winds of level 9. The water heater is also equipped with a high-performance supercharged motor, with a lift of 9 meters and a water course of 100 meters, so it can be easily used in old houses and tall buildings.
In terms of functional experience, the Mijia Smart Zero-Cold Water Gas Water Heater 16L S1 supports four customized modes, including scheduled preheating, water-controlled preheating, one-key preheating and linkage preheating, and supports connections Mijia multi-device, such as Mijia smart lock, water temperature adjustment by Mijia app, status monitoring, etc.
Finally, the water heater also has a quadruple antibacterial purification system, capable of intercepting impurities present in the water, with an antibacterial rate of up to 99%.
Amazon offers
€336,00
€456,96
available
18 new from 336,00 €
to March 23, 2023 23:57
Last updated on March 23, 2023 23:57