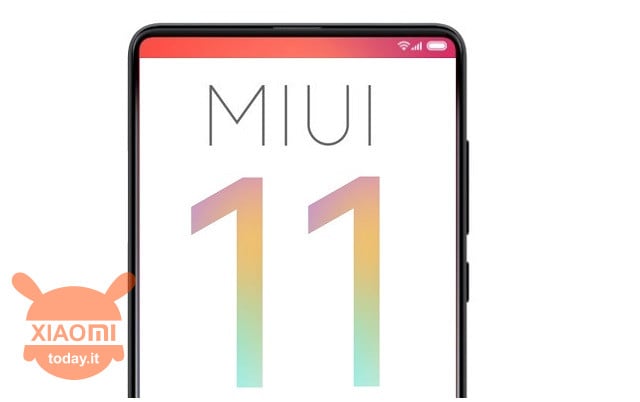 Yes, you read that right, the MIUI 11 is coming! Or so it would seem if we look at the last teaser released by the Chinese giant Xiaomi on the Weibo social network. As we can see in the image below, in fact, the company has just given us an appointment for 8: 00 of 20 Marzo 2019, or today, with the word MIUI on it.
So unless they're going to release an epic update of the MIUI 10, the teaser suggests that the new MIUI 11 is about to be unveiled.
MIUI 11: The release could be just around the corner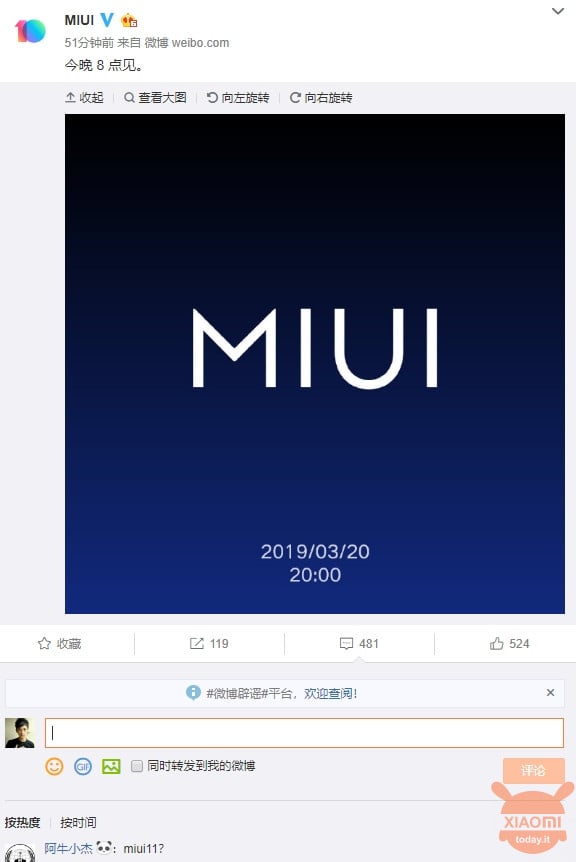 What can we expect to find in the MIUI 11? Good question! As usual, it is difficult to hypothesize all the features and the graphic part before the release, but we know that the motto will be "a new and unique OS", that is a new and original operating system. So we could have a fairly important change, especially when compared with the previous slogans, that is "as fast as lightning" in the case of MIUI 9 and "full screen AI" for MIUI 10.
Previously, the president of Xiaomi Group, Lei Jun, had also made it known that the MIUI 11 would have a more "elongated" design, which seems logical given that we have moved from the already long Xiaomi Mi 8 with an 19 aspect ratio : 9, still more streamlined Mi 9 with 19.5: 9.
The only detail that makes us doubt the launch of the new OS is the speed with which it would have been realized. The beginning of the R&D (research and development) for the new operating system dates back to January only, so a fairly short period if released today or in the weeks to follow.
In addition to this, the MIUI 10 was presented the 31 May of the 2018 and being today only the 20 March would mean that there was an acceleration in the development or that maybe it will be released officially in the future, even if revealed today.
What do you think about it? Does it seem a little early for the MIUI 11? Or are you waiting for it? Comment below with your opinion!
UPDATE:
The MIUI team seems to have made a mess, or at least they would have made it do to all those who reported the news of the arrival of the new MIUI 11. In fact, they have created an appointment with all the users and two developers to whom it will be possible to ask questions about the upcoming Xiaomi home OS.
MIUI has already apologized on Weibo for the general misunderstanding and we therefore refer to it in a few months, when finally we can finally admire the new MIUI 11. Hold on!
Are you interested in OFFERS? Follow our TELEGRAM Channel! Many discount codes, offers, some exclusive of the group, on phones, tablet gadgets and technology.