As we have seen on several occasions, the novelties of the MIUI 12.5 not only concern the aesthetics of the personalized interface but also and above all the new functions. The devices that mount the Xiaomi.eu ROM they can already anticipate the novelties of the interface as it is one Chinese ROM translated and supplemented by Google services. However, those who do not have this type of ROM still have to wait, potentially a few more months. Having said that, let's go see what the news in the photographic field of this new release.
News for MIUI 12.5: here's how some camera-related functions will change. New improved photo, VLOG and video filters
Veteran xiaomists will no doubt know that the brand's smartphones, with the proprietary camera, do not they shine for quality. In fact, a passage to the Google Camera which allows better photographs thanks to always fresh and updated algorithms. However, to make up for this lack Xiaomi has decided to insert a myriad of news in the MIUI 12.5 including different filters and modes. The ones we're going to see today refer to both the video and photo fields.
Grids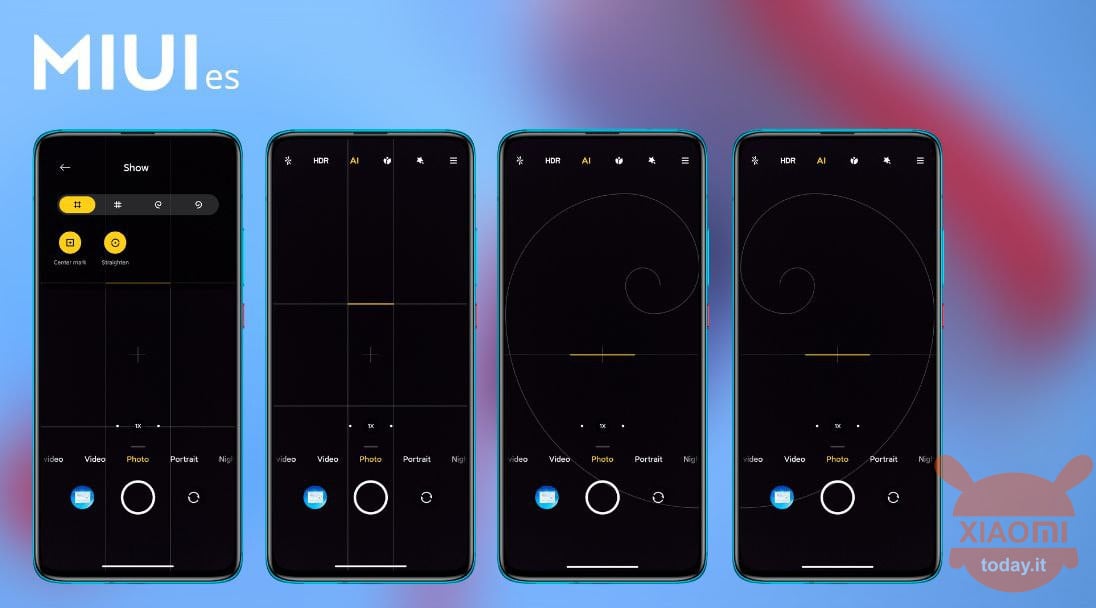 The first novelty that we see and that has been included with the beta update of MIUI 12.5 concerns the grids. Many of you probably won't use them but these are very useful for doing symmetrical and precise shots. There are already different types of grids but with this update we will be able to choose new ones: in particular the so-called "rule of thirds

"And the one with the Fibonacci spiral. With the first it will be possible to better adjust an object within one of the "thirds" (ie a box) for make the photo more dynamic. It is also possible add a central ruler (you see it in yellow).
Improvement in video recording on MIUI 12.5
The second improvement concerns the videos. They have been added several interesting features:
while recording a video, the screen will turn off after 3 minutes of inactivity to save power

the short video function supports recording longer than 15 seconds and thus will allow

record 30, 60 and 90 seconds

in the Time Lapse screen it will be possible to modify some parameters such as ISO.
Effects and filters in VLOG mode in MIUI 12.5
It is recognized in this update an improvement of the frame mode and theadded three new effects: Cool, AgedFilms and Moments. With these it will be possible to shoot videos in VLOG mode even more professional. Recall that this update has arrived on MIUI 12.5 with number of build 21.1.11. At the time of receiving this version of the skin also on global ROMs, it is not certain that we will immediately see these news.
Buy on Amazon
293,23 €
available
28 new from 288,90 €
3 used from 235,00 €
Via | MIUIes
Are you interested in OFFERS? Follow our TELEGRAM Channel! Many discount codes, offers, some exclusive of the group, on phones, tablet gadgets and technology.