It was almost foreseeable that once we entered the TWS earphone market, our beloved Xiaomi would get carried away (or it would be better to say the ear) and begin to produce a series of products for all budgets and needs, just as happened with the time in the smartphone sector. And so here are the recent rumors that lead us to say that the company is working on the release of a new pair of TWS headphones that revolutionize the previous generation by finally integrating the ANC technology, i.e. active noise cancellation.
Unfortunately we don't have an official date, but the rumors on what has been said are more and more insistent and according to previous similar situations, there shouldn't be much to miss at the debut. The Chinese serial leaker DigitalChatStation through a post on the social Weibo, he talks about a certification relating to a pair of TWS earphones of the Asian brand that have the ANC active noise cancellation technology as a gift, indicating the Xiaomi Mi Air 3 TWS as their possible product name.
New headphones with ANC technology coming soon. Imminent debut for the Xiaomi Mi Air 3 TWS?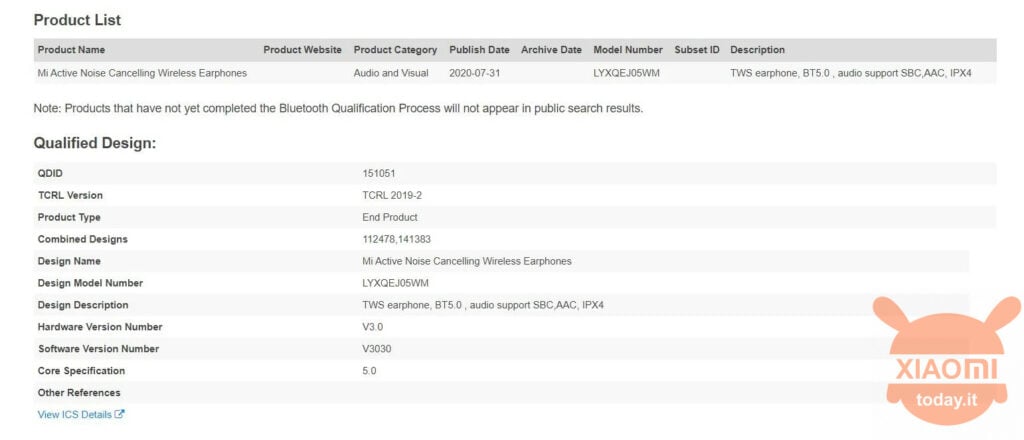 And it is the image above that underlines what we have said so far. We are indicating Mi Air 3 TWS as the likely product that will adopt ANC technology, but it could also be that Xiaomi prefers to launch a new, premium series in the TWS field. What will undoubtedly be confirmed will be a change of design since to better exploit the active noise cancellation, the probable Mi Air 3 TWS will have to adopt an in-ear design. In any case, the new headphones will offer Bluetooth 5.0 support with compatibility with AAC and SBC protocols as well as IPX4 waterproofing.
As said before, we will be faced with a premium solution and therefore the price will not be cheap. Indeed second DigitalChatStation the new Mi Air 3 TWS headphones will have a price that in the best of hypotheses will be around 60 euros at the current exchange rate to reach almost 100 euros in the worst hypotheses, but if the sound offered will be of high quality, the final price will be certainly digested by the appropriate audiophiles.
Are you interested in OFFERS? Follow our TELEGRAM Channel! Many discount codes, offers, some exclusive of the group, on phones, tablet gadgets and technology.