We have reached a point in the history of technology relating to the smartphone sector, where renewal is decidedly difficult. Patents are used for this: to give vent to ideas that are often too futuristic and unattainable, at other times they turn out to be true flashes of genius. So here is a patent filed by Xiaomi, which returns to the bet of folding smartphones, taking inspiration from some competitors, but completely revolutionizing what the photographic sector is.
Xiaomi still hasn't officially said its in this market, offering almost a year ago a video in which the brand president showed us a real device equipped with a folding screen, but then nothing arrived on the market. Perhaps there has been questioning about the actual usability or how successful such a device would have had, the fact is that the latest patent filed seems to be the ideal solution for every need.
The raised design recalls what Motorola Razr and Samsung Flip have already said, but in this case the attention is captured by a rotating camera module (Twisting Camera): 4 sensors arranged horizontally in a contained strip that further houses a room selfies. It will therefore be possible to switch from one chamber to another through a rotating mechanism.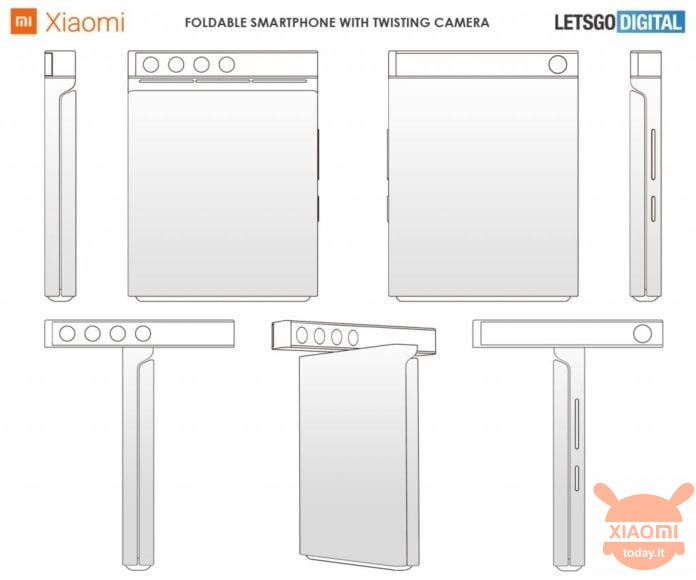 New Xiaomi patent unveils a folding smartphone with a rotating camera module
This mechanism would open the doors to new shooting modes, a bit like what happened with the flip camera of ASUS Zenfone 6. Having said that, the hypothetical smartphone of the patent should comply with frames reduced to the minimum necessary for the folding mechanism, while the rotating chamber should not affect the "hermetic" closure of the two segments of the terminal, given that the protrusion of the motor will be external to the chamber itself,
This allows the camera to rotate even with the device closed, suggesting that Xiaomi could equip the device with an external display, although the patent does not indicate a solution in this sense.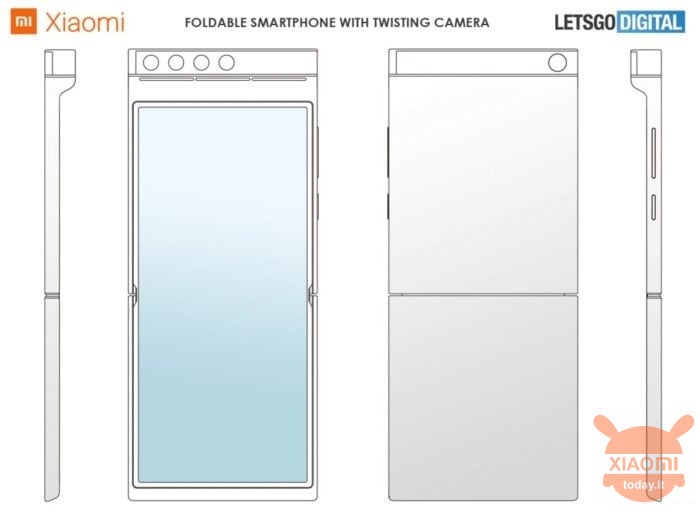 At the moment Xiaomi has not expressed itself in this regard, neither with denials nor with confirmations, but on the other hand we are talking about a patent, one of the many that Xiaomi could store in a drawer. And you cDare you think of the design of this leaflet? Would you use a smartphone with this mechanism? Have your say below in the comments.
-19%
Sale
🇨🇳 EU Priority Line Shipping (7 / 15gg, No Customs) ✈
Are you interested in OFFERS? Follow our TELEGRAM Channel! Many discount codes, offers, some exclusive of the group, on phones, tablet gadgets and technology.