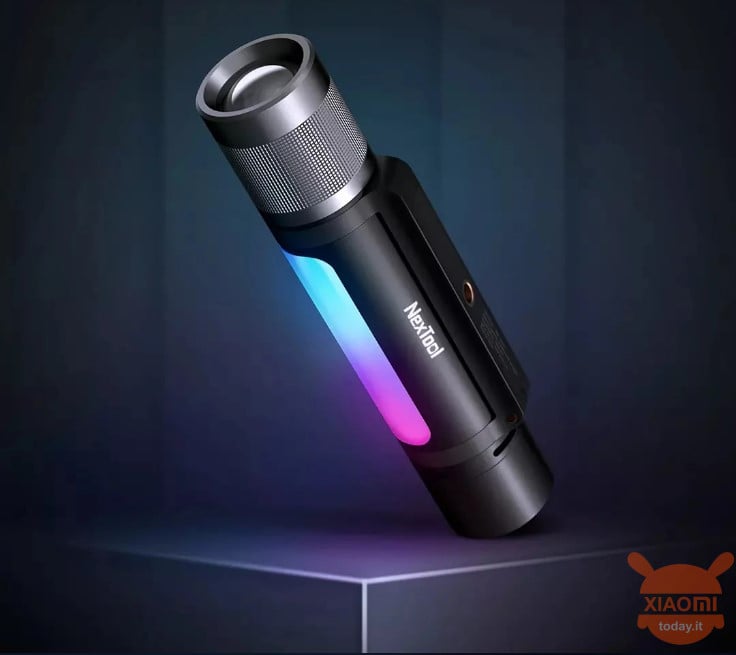 Does the title of this review seem risky to you? Yes, it can be .. but I assure you that after trying it, the doubts about it have been completely wiped out! The NexTool Thunder 12 in 1 flashlight (Xiaomi ecosystem) is an absurd device, which I never even thought could exist! But let's see why:
CONFEZIONE
In the package, well made, we find:
The torch
A USB-Type C charging cable
English-Chinese instruction booklet
FUNCTIONS AND DIMENSIONS
The functions of this beautiful flashlight are truly multiple, let's see them all then we will go into detail:
4-color LED flashlight: white, red, green and blue
Power Bank (1400mAh at 5V 1A)
BlueTooth speaker with controls included
RGB side light with preset programs (including emergency signaling)
Light + emergency buzzer
Magnetic and screw mount (for tripod mounts)
2600mAa battery (3.6V, 9.36Kwh)
The weight is approx 245Gr, The dimensions 173x36x43mm, made in aluminum alloy and polycarbonate has a waterproof rating IPX4 and a drop resistance of up to 1m. Excellent magnetic coupling that will allow you to attach it where it will be more comfortable, perhaps while checking for a malfunction of the machine.
USE TORCH
Let's say the main use! Well, really fantastic. The thing that really struck me, besides the power, is the possibility of using it with 3 different colors in addition to the classic white light.
To turn it on, just click for 1.5 seconds the power button (the central one) that you will find at the base, the same to turn it off. In my case, at the first start the RGB side light started if it were the same for you, you just need to press the same button twice quickly to switch from the side light to the front one. The intensity can be adjusted using the "+ and -" buttons that you will always find at the base, where there are all the controls to take advantage of all the functions of our NexTool Outdoor Thunder! At maximum power you can light up to a distance of 2m thanks to its 250lm! To adjust the size of the light beam you will have to pull in and out the ring that contains the LED. Below I summarize all the powers that can be supplied based on the various colors and relative autonomy:
White: 35lm-900lm, maximum autonomy 2.4h-40h
Red: 3lm-95lm, maximum autonomy 3h-32h
Green: 6lm-160lm, maximum autonomy 4h-48h
Blue: 0.5lm-20lm, maximum autonomy 4h-45h
To switch from one color to another, simply press the power button quickly.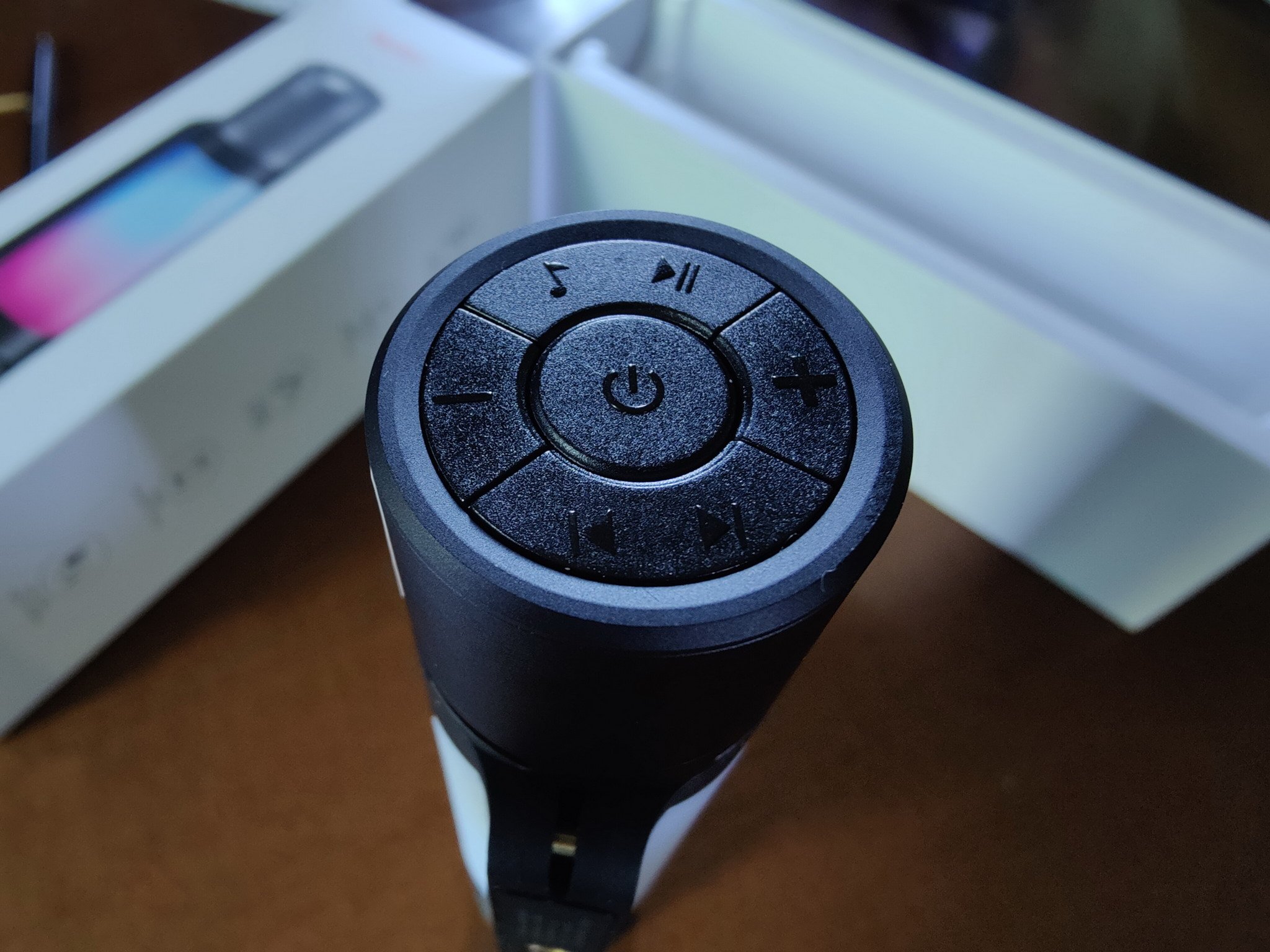 USE OF AMBIENT LIGHT
Surely the function that struck me most! In fact, we find on the side a surface of about 8x4cm used for ambient RGB light and signaling. Really useful if you find yourself in a breakdown with the car or for your evening / night walks. There are a series of preset programs that you can activate by pressing the power button for 1.5 seconds from off and 2 times quickly from the classic light mode. Once this mode is enabled, you can switch from one program to another simply by pressing the usual power button (quickly). The preset programs are as follows:
automatic color change
color change with background music (mood music)
red
flashing red
White
To increase and decrease the intensity of the light you can click on the "+ and -" buttons.
MUSICAL MODE
Well yes .. this flashlight will also act as a BT speaker. Of course the power is what it is, don't think about replacing a real BlueTooth speaker with this one .. but it can always be useful if you are in company and nobody wants to drain the battery of their smartphone. To connect it to a device, just press the button with the musical note / play-pause logo for 1.5 seconds (same procedure to turn off the BT). At this point the green side light will turn on indicating "BT active but disconnected", then look for a new BT device from your phone (it will find Nextool Thunder) connect it and you will see that the light will change from green to blue.
Now you can start your favorite song and listen to it through the speakerphone of the flashlight, at this moment the side blue light will turn off. When the BT is switched on and off, there will also be a guide voice that will tell you what happened, but in Chinese, therefore, a bit difficult to understand. If you also want to have the side light on during music playback, just click twice on the music note button or for 2 seconds on the power button.
ADDITIONAL FUNCTIONS
But our nextool outdoor thunder flashlight never ceases to amaze us and gives us 2 other interesting features:
ALARM: pressing the power button for 3.5 seconds will enter the alarm mode and then all the side and main lights will flash cyclically and emit an alarm sound. In this mode the autonomy will be about 3 hours.
POWER BANK: in case you run out of battery you can give your smartphone a small charge, you can in fact take advantage of 1400mAh at an output power of 5W.
FINAL considerations
As you have seen the possibilities of use of this beautiful NexTool flashlight, I remind you that it is part of the XIAOMI ecosystem, they are really many. It is really a tool that can prove to be very useful in many circumstances, so my opinion is absolutely positive! The list price is around 75 € but thanks to a fantastic offer of GOOD BANG (which we thank for sending the sample) together with our coupon you can take it home for yourself 42!!
I remind you that on Banggood you can make the payment, to protect your purchases, via PayPal and the shipping does not involve annoying customs costs.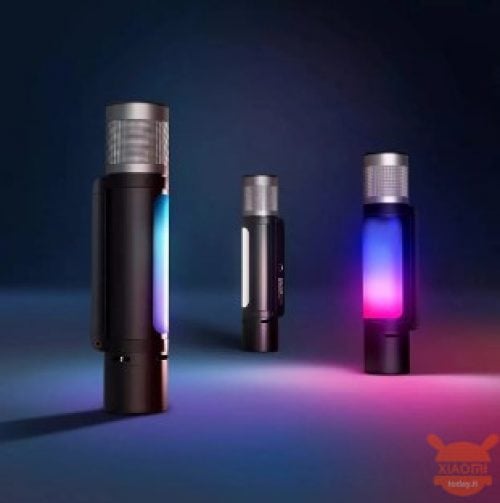 €42 €75
GOOD BANG
🇨🇳Fast Banggood Shipping Included (No Customs)