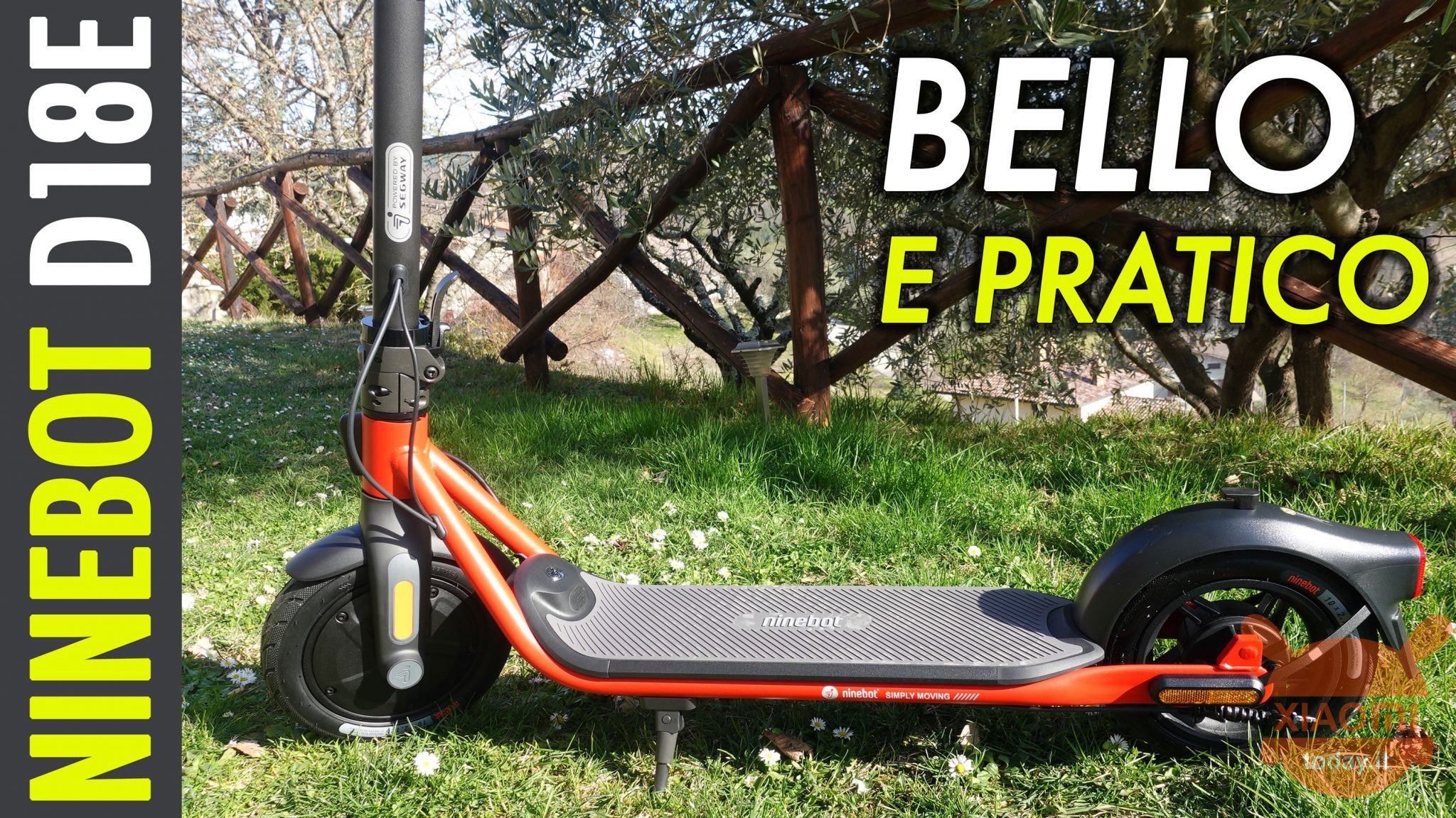 We tried the entry model Ninebot D18E of the new D series of Ninebot
If you present with a classic design, as always inspired by the timeless Xiaomi m365 but with some choices that characterize it as the red "visible" frame which gives it style but also aggressiveness. It is made in a single piece with a triangular shape to ensure a good strength such as support up to 100kg of weight.
Segway Ninebot Electric Scooter D18E
Free and fast shipping from europe
The support platform measures 50x15cm which offer good comfort and safety even when traveling with parallel feet, thanks also to the rubberized surface that covers it.
The tires supplied are 10 "x2,125" with inner tube and are printed with the Ninebot logo. They offer a pleasant ride even on slightly bumpy paths.
The first point in favor of this model is practicality. In fact, when closed it measures 114x48x50cm and above all weighs only 14,8 kg, therefore transportable quite easily. The operation of folding the scooter is so easy and quick which can be performed with one hand in 5 seconds.
The dashboard that integrates a color display is beautiful and practical clearly visible even in sunlight and warns of all the scooter statuses (speed, lights on, driving modes, any problems). Everything is controlled with a single button that allows us to turn the scooter on / off, change modes, turn on the lights.
Proper engine and fun driving
The Ninebot D18E is powered by a 250W brushless motor able to easily reach the maximum 25 km / h in the plains and to "climb" slopes up to 10% (with me weighing 75kg). The power is managed on 4 modes:
ECO mode up to 15km / h
D mode up to 25km / h
S mode up to 25km / h but more torque
Then there is the Walk mode whose limit is 5km / h and simultaneously activates the front and rear lights intermittently, therefore perfect for pedestrian areas.
In all situations the Ninebot D18E performed well and especially in the Sport mode it was able to give me moments of fun and great handling.
La available battery is 5100mAh, not many but sufficient to guarantee a maximum range of 18km thanks to the low weight and the engine poco energy-intensive. There charging is super-fast since it reaches 100% in 3 and a half hours.
Safety
La safety it is an important aspect in all vehicles, especially in scooters. In the Ninebot, in addition to the 10 ″ tires which offer good grip, we find a double brake which guarantees decisive braking even at maximum speed.
Il rear brake is drum and controlled by the lever on the handlebar. The front wheel, where the engine is also placed, acts as a electronic brake, anti-lock E-ABS and energy recovery under braking. The intensity of the electronic braking can be adjusted via the application.
There are no shortage of them luminous warnings, thanks to the 2.1W front LED headlight and the rear red LED light that acts as both a position and a warning (flashing) of braking. Large and well positioned, the 3 reflectors (1 front and 2 rear) also provide additional safety in the evening.
In conclusion, theexcellent application of the Ninebot / Segway (download here) which has been present for years as a compendium of the brand's products. Clear, simple to use, not only allows you to adjust some parameters and update the firmware, but also acts as a real dashboard that shows the trip data (speed, time, etc.) with GPS support to show and record your routes on the map.
Ninebot D18E is on offer
Definitely il Ninebot KickScooter D18E is a beautiful and well-made electric scooter that makes practicality and quality its best qualities. For those who live in the city it can become a faithful ally to avoid traffic or for short journeys.
Il Ninebot D18E is on offer on the well-known site goboo at the price of 234 € (instead of 359 €) using the discount code GOBOO99 which includes tax and fast shipping from Spain. 🎁 You will receive the Ninebot helmet as a gift.
Go to this page to purchase the Ninebot KickScooter D18E
Segway Ninebot Electric Scooter D18E
Free and fast shipping from europe