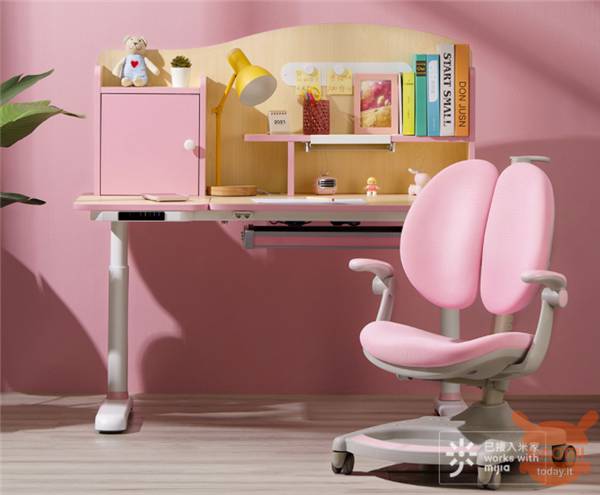 Xiaomi has just launched a new smart desk for children on its Xiaomi Youpin crowdfunding platform. The product is called Noc Loc Smart Children Lift Table and Chair and is now in crowdfunding at the crowdfunding price of 3499 yuan, about 430 euros at the current exchange rate.
Noc Loc Smart Children Lift Desk is the new electrically adjustable smart desk for children
As the name suggests, the Noc Loc Smart Children Lift Table and Chair is an electric lifting desk with its main features including: 0-40 ° electronic tilt, a recall memory, intelligent APP / voice control and much more.
The height of the Noc Loc smart children's desk can vary from a minimum of 52,5cm to a maximum of 78,5cm, and are suitable for children with heights ranging from 106cm to 168cm. So theoretically it can be used from elementary to middle school. As mentioned earlier, the product supports Mijia's app, with the height and angle of the desk being adjusted via it. In particular, the desk can be adjusted to an angle ranging from 0 to 40 degrees, therefore suitable for writing (0-15 °), reading (15-30 °), and drawing (30-40 °). While if you don't want to open the app, the desk also integrates a touch screen panel that makes the operation more convenient.
The product then adopts two motors to move the desk up and down, the left and right side can be synchronized and raised and lowered stably with almost no sense of vibration when lifting. In terms of speed, however, it only takes 11,5 seconds from the lowest point to the highest point. It will also stop when it detects an obstruction to ensure the safety of children.
There is also the multi-mode memory function, with a button to return to the last stored position, so as not to have to reconfigure it every time.
As for the desk top, this is made with 18 mm plywood solid wood panels, which maintain the original transparent maple structure, absorb moisture, breathable, ecological and resistant. The desk is available in pink and blue and can be used by both boys and girls.
Finally, we have the ergonomically designed chair which can also be adjusted in height. It also has three seating positions and a double backrest.
Xiaomi Band 5
1 used by 18,99 €
30 January 2023 18: 55

Amazon.it
Price updated on: January 30, 2023 18:55