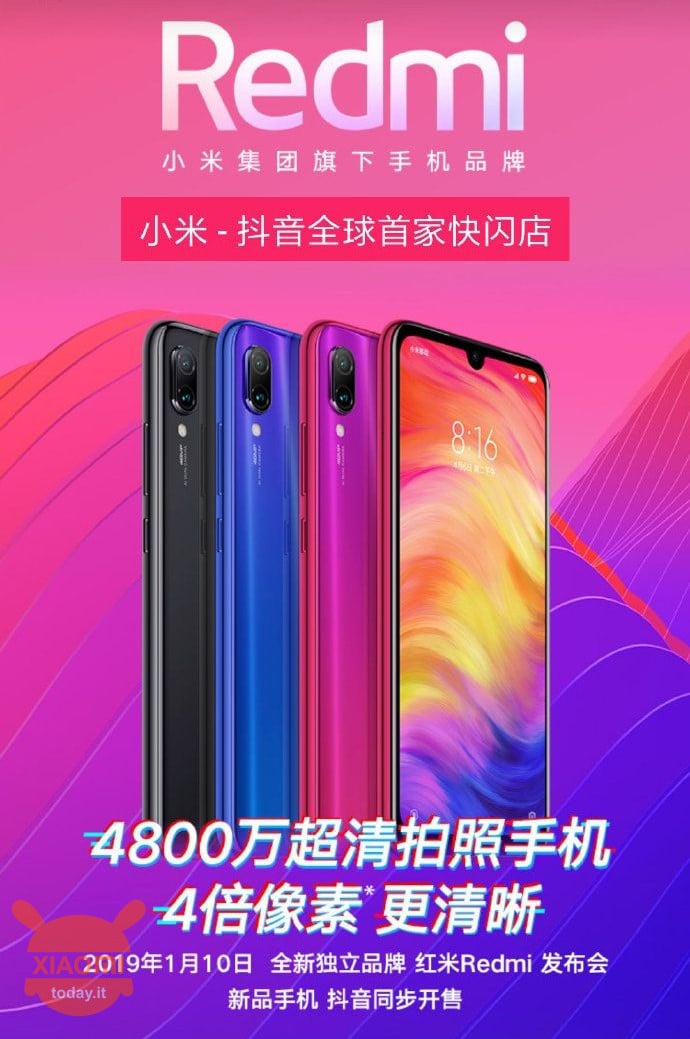 This historical period is characterized by continuous launches of new smartphones which translate into a cruel struggle between brands. Also Xiaomi (or better Redmi) is among these and does not let anyone's feet get on his head, on the contrary, he dares more and more. A video appeared on the morning this morning Weibo official channel of Redmi in which company employees there preview the new device of the now independent company headed by Xiaomi: the Redmi from 48MP appears in an unpublished video with a very curious name that derives from his construction features. Let's see what it is.
Xiaomi Redmi 7 Global
FREE Shipping 8 / 10gg - Cover and Complimentary Film - Italy Guarantee 🇮🇹
Redmi from 48MP appears in an unpublished video with a very curious name
The employee Redmi that we see at the beginning of the video presents the new device from 48 megapixel, first of the company since its independence from Xiaomi, and he does so by saying his nickname 小 金刚 (Xiaojingang) which literally means "Little King Kong". Now many of you will wonder why this device has been nicknamed so ... well, continuing to see the video we will soon have the answer: the employees want put the smartphone's resistance to the test and one after another, even brutally, they trample it repeatedly. The result? The device remained intact, practically unharmed!
From this we can deduce that, technically speaking, the Redmi which will be presented between 3 days Sara qualitatively excellent and this is very important as it will guarantee a premium experience that few medium-range smartphones have. Besides this we can easily deduce that the display, on which there is a notch a drop of water that we have nicknamed "gotch", it will be just as resistant. What is a new Gorilla Glass display? Nothing certain but we are also sure that now with this company you can not make predictions.
As we can see the back shell of the device is equipped with a double camera and a fingerprint reader: seems to be the same phone that has recently received approval from the TENAA certification authority in China. Regarding the design, a poster always appeared on Weibo, shows us how it is done both front and back (image that you find on the cover). Despite this, we still do not know what model it is because the company did not leak any name, but only images.

Are you interested in bidding? Follow our Telegram Channel!
A lot of discount codes, some exclusive offers from the group, phones, gadgets and gadgets.