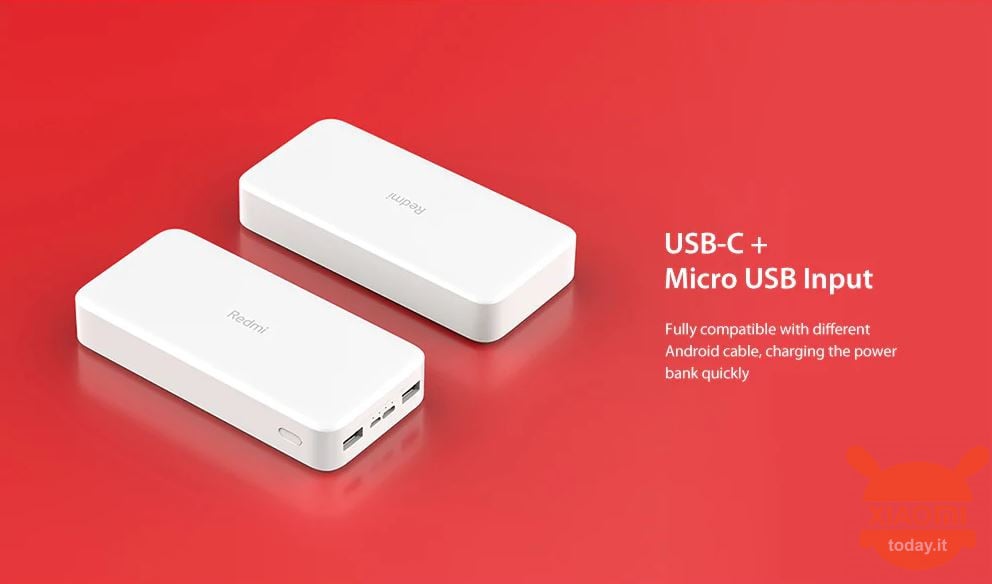 After the great success with its smartphones, Redmi has produced other truly excellent 2 products: Redmi Power Bank from 10.000 and 20.000mAh
Let's start parkando of the less expensive of the two, or the 10000mAh version. The power bank comes with a very minimal design and a white color. On the sides there are two type A USB ports (therefore the ordinary ones) that allow you to recharge two devices together with an output power of 5.1V-2.6A. While for charging the power bank, you can use either a USB Type-C port (the reversible one) or an old microUSB. The high density lithium ion battery has an official capacity of 37Wh.
As for the power bank from 20000mAh, we find two USB ports of type A but this time with support for fast charging to 18W; to be precise at 5.1V-3.6A. Then there are the USB Type-C and microUSB ports for recharging the battery, again with support for charging 18W. Its official capacity is 74Wh.
Here in detail the technical sheet of the 2 products:
10.000mAh version
General
Brand: Xiaomi
Model: PB100LZM
Material: ABS
Battery Type: Li-Polymer Battery
Capacity (mAh): 10000mAh
Current: 2,6A
Connection Type: Micro USB, Two USB Output Interface, Type-C
Product details
Power (W): 37Wh
Entrance: 5V 2.1A
Exit: 5,1V-2,4A (Single Door exit); 5,1V-2,6A (double Double-Door Output)
Dimensions and weight
Product Weight: 0,4000 Kg
Package Weight: 0,4500 Kg
Product Wise (W x D x H): 15,05 x 7,36 x 1,51 cm / 5,93 x 2,9 x 0,59 inches
Package Format (W x D x H): 16,00 x 8,00 x 2,00 cm / 6,3 x 3,15 x 0,79 inches
Content of the package
1 x Power Bank, 1 x Chinese Manual
20.000mAh version
General
Brand: Xiaomi
Model: PB200LZM
Material: ABS
Battery Type: Li-Polymer Battery
Capacity (mAh): 20000mAh
Battery Voltage: 3,7V
Current: 3,6A
Connection Type: Micro USB, Two USB Output Interface, Type-C
Specification
Power (W): 74Wh
Input: 5V 2,1A / 9V 2,1A / 12V 1,5A
Output: Single Door Output: 5,1V 2,4A / 9V 2A max. 12V 1,5A max. Double Door: 5,1V 3,6A
Dimensions and weight
Product Weight: 0,4200 Kg
Package Weight: 0,5000 Kg
Product Wise (W x D x H): 15,40 x 7,36 x 2,73 cm / 6,06 x 2,9 x 1,07 inches
Package Format (W x D x H): 16,00 x 8,00 x 3,50 cm / 6,3 x 3,15 x 1,38 inches
Content of the package
1 x Power Bank, 1 x Chinese Manual