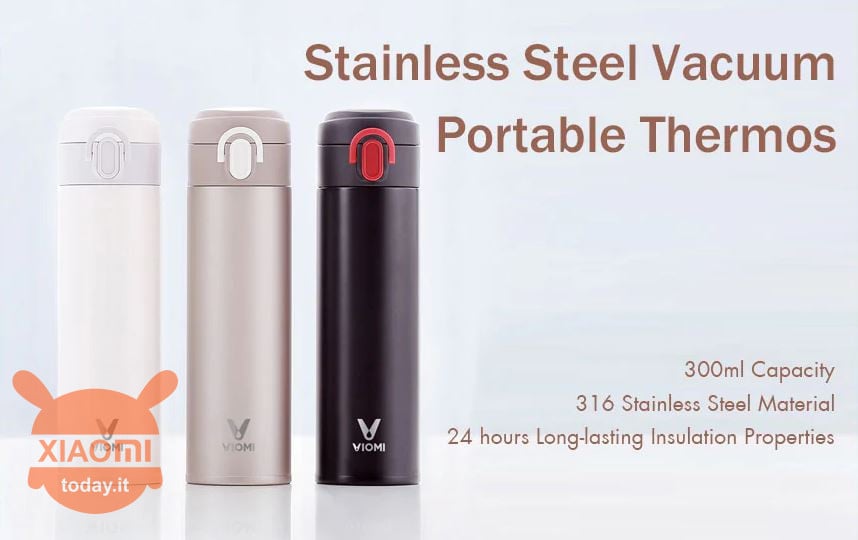 Often we would like to bring hot / cold drinks to work / walk and the problem is always the same .. I do not have the Thermos !!
From today Xiaomi Viomi takes away the umpteenth problem with these really top products!
This cup has a copper plated exterior with a gap between the walls. This means that the temperature of your drink has no means of passing heat or cold. Your drink will remain really hot or cold as science allows. Even filled with ice or boiling water, the bottle will never sweat or become hot to the touch! The VIOMI vacuum insulation cup adopts the advanced 316 stainless steel , which has acid and alkali resistant properties and is rust free. The integrated metal cup body that eliminates the redundant decor gives you the feel of the comfortable hand and resists friction. The lid adopts a detachable design, so you can easily clean the cup completely without leaving a dead corner for drinking health. Today also the new XIAOMI MIJIA version is available
Key Features:
316 stainless steel material
Resistant to acids, alkalis and corrosion
Tank covered in ultra-microwave copper
Improves the heat / cold storage effect
Isolated tankVacuum
High vacuum, long storage time, large effective volume
Spray-spot technique
Comfortable
Sealant imported to 360 degrees thick
BPA-free, non-toxic, preventing water leakage
Are you interested in OFFERS? Follow our TELEGRAM Channel! Many discount codes, offers, some exclusive of the group, on phones, tablet gadgets and technology.