Are you interested in OFFERS? Be smart and subscribe to our Telegram channel! Lots of discount codes, offers, pricing errors on technology from Amazon and the best online stores.
After almost a year of use (for me it is a huge amount) of the OnePlus 8 Pro as main smartphone, I switched to its successor, the OnePlus 9 Pro, and today I'd like to give you my point of view on how sensible it is today to upgrade from one to the other or which would make more sense to buy based on price.
AESTHETICS AND SIZE
The 9 Pro embraces the new philosophy with which many manufacturers have decided this year to enclose the optical group in a sort of lateral rectangle with generous lens dimensions. This is the only major aesthetic difference between the two models. As for dimensions and weight, we find a very small resizing of the 9 Pro that mounts a display of 0.08 ″ smaller (6.7 ″ Vs 6.78 ″) and slightly decreased dimensions: 163.2 x 73.6 x 8.7 mm Vs 165.3 x 74.35 x 8.5 mm. If this difference is imperceptible in terms of thickness, I must say that in terms of length and width it is appreciable. The weight remains practically unchanged at 197Gr (199Gr weighs the 8 Pro)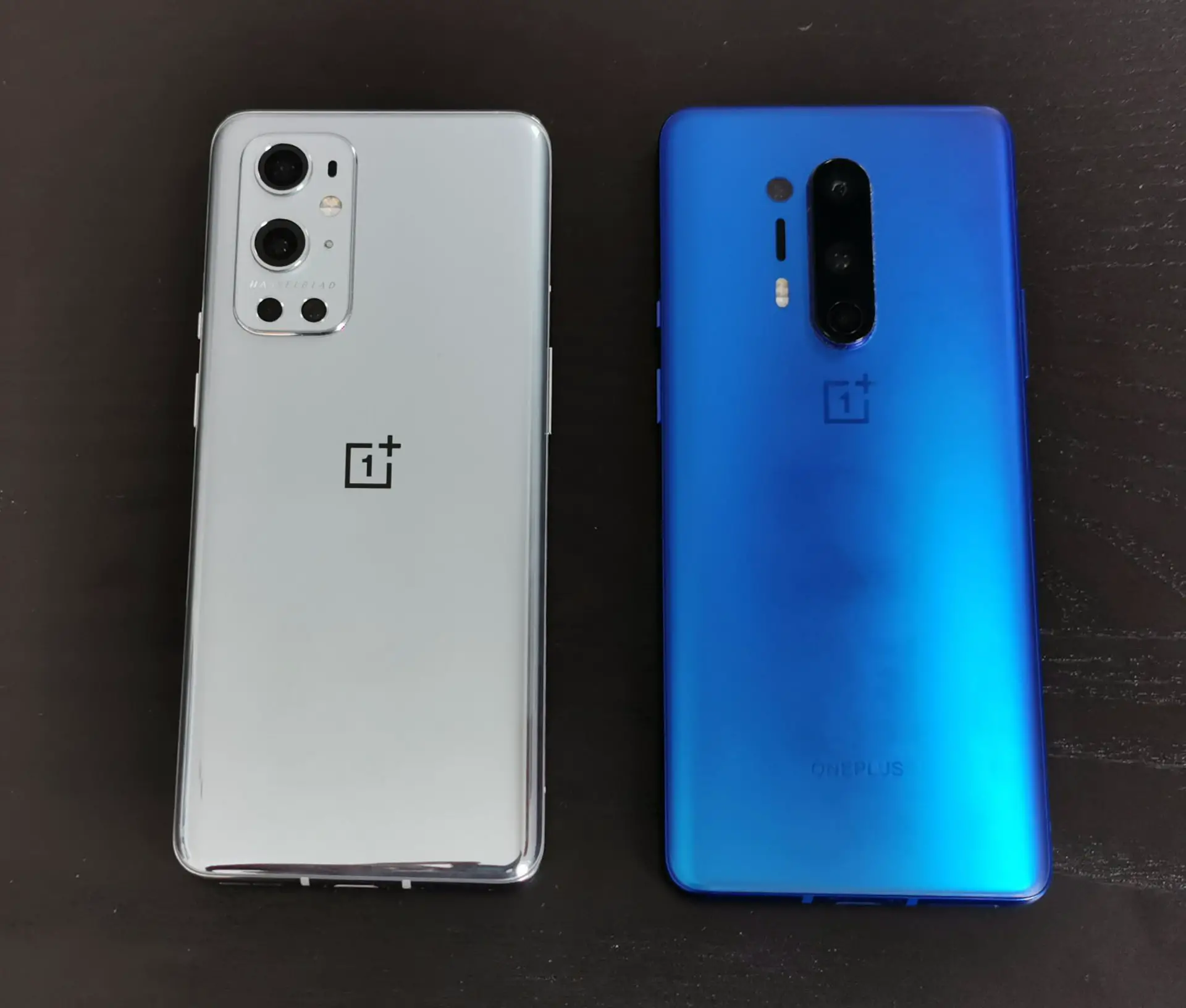 HARDWARE
From the HW point of view the differences are not very many, but some of certain relevance: The processor passes from the SD 865 to the SD 888, same type of RAM memory Lpddr5 and small update for the ROM memory that goes from UFS 3.0 to UFS 3.1. As it is easy to guess the performances remain practically unchanged, the only ones that we can notice are in the benchmark score where, obviously, the 9 pro does better but this does not translate into anything papabile during everyday use. The degree of waterproofing Ip68, the Dolby Atmos stereo audio, the weight (197Gr vs 199Gr), the USB 3.1 Type C output remain unchanged. Go from 5.1 to 5.2 the Bluetooth version. But now we come to what really differs from one to the other.
DISPLAY ONEPLUS 9 PRO VS ONEPLUS 8 PRO
Here we find the first big difference, which then perhaps is not even so evident, since the new panel used by OnePlus is of the type LPT extension (low temperature polycrystalline oxide). This is the new technology that will soon replace the old LPTS and should bring some energy savings to our devices. In fact, the great advantage of LPTS OLED panels is to be able to dynamically vary the refresh rate from 1 to the maximum available (in the case of OP 9 Pro 120Hz). The older generations of LPTS panels instead had the possibility to vary between predefined refresh rates, as in the case of the OnePlus 8 Pro 60 o 120Hz. Since there are many situations in which our smartphone offers static images (we think of the AOD, while we read an article, while we look at a photo), this technology will be essential in order not to waste unnecessary resources and take us to the evening with greater peace of mind. Now the question arises: have I noticed this advantage? Honestly no! The differences in terms of consumption do not seem so obvious to me, even considering the logical deterioration of the battery of my OnePlus 8 Pro after a year of use .. Perhaps the software will have to be optimized to take full advantage of this new Display, so I remain confident.
The other technical characteristics remain more or less unchanged, the only other noteworthy difference is the size that passes through 6.78" of the 8 Pro ai 6.7" of the 9 Pro, therefore a very small resizing which, combined with a small wire size (163.2 x 73.6 x 8.7 mm Vs 165.3 x 74.35 x 8.5 mm) makes it slightly more portable. Increase by poco the definition 3216 X 1440 pixels 525ppi against 3168 x 1440 pixels 513ppi, same maximum refresh rate a 120Hz, same form factor (from 19.8: 9 to 20.1: 9). Always gorilla glass the protective glass. It is therefore always a pleasure for the eyes to view multimedia content, preferably in high definition, on this screen. Sometimes, although with a click I can share videos with my LG OLED TV, I am dazed in front of the smartphone because I don't even feel the need to go to the big screen. The curvature of the EDGE edges remains unchanged and to my taste PERFECT. Here we could discuss for days, between those who appreciate curved displays and those who appreciate flat ones. However, I can confirm that since it is not too pronounced, it does not cause annoying distortions or involuntary touches while we hold the phone.
CAMERA
Every year, in the OP flagships, we expect a decisive step forward that can fill the gap that has always been there with the other Top Range (Huawei, Samsung, Apple, etc.) in the camera department. I must admit that with the 8 Pro there was a first important improvement and the gap, even if still present, was not too evident. In fact, I took hundreds of really excellent photos even in low light conditions. Removed the Huawei tops, I played with everyone, perhaps lost in measure but with my head held high 🙂 including iPhones. With the new 9 and 9 pro, OnePlus has announced a very important collaboration with a historical photographic brand such as Hasselblad (for those who do not know it, know that the first photos of the earth taken from the moon were made by HasselBlad cameras present in all the lunar missions) which should make a further leap forward in the quality of our shots. First, however, let's see the differences of the sensors:
OnePlus 8 Pro
Main sensor: Sony IMX 689 48Mpx, pixel size: 1,12 µm / 48M; 2,24 µm (4 in 1) / 12M, aperture: f / 1.78, Optical and Digital stabilization
Wide angle sensor: 48Mpx, aperture: f / 2.2, field of view: 120 °
Telephoto 3X: 8Mpx, pixel size: 1.0 µm, aperture: f / 2.44, optical stabilization
Lens with chromatic filter: 5Mpx, aperture: f / 2,4
Selfie Cam: 471Mpx Sony IMX16, pixel size: 1,0 µm, aperture: f / 2,45, electronic stabilization
OnePlus 9 Pro
Main sensor: Sony IMX789 48Mpx, sensor size: 1 / 1.43 ″, pixel size: 1.12µm, aperture: ƒ / 1.8, optical stabilization
Wide angle sensor: Sony IMX766 50Mpx, sensor size: 1 / 1.56 ″, aperture: f / 2.2, free forms lenses (for minimum distortion at the edges)
Telephoto 3.3X: 8Mpx, pixel size: 1.0 µm, aperture: f / 2.4, optical stabilization
Monochromatic lens: 2Mpx
Selfie Cam: 471Mpx Sony IMX16, pixel size: 1,0 µm, aperture: f / 2,45, electro stabilization
As for the videos, with 9 Pro we will be able to record in 8K is 30fps and 4K is 120fps, 2 resolutions that are not within the reach of the 8 pro that stops at 4K 60fps (which is of course more than enough, not to say excessive already). But the question is, are there substantial differences in the shots? So, in the video review you can see with your own eyes and judge. According to my point of view, completely subjective, I can tell you yes, but there is no abyss .. there is no difference that could make you recognize, without having a photo next to the other, with which smartphone has been taken.
Let's say that the potential is there, the software will have to be refined and therefore we are very optimistic for the future. I am certainly already satisfied with the zoom improvement, not because that of the OnePlus 9 pro is exceptional, but because that of the 8 pro just did not satisfy me. Obviously we are not talking about periscope optics, such as those mounted by Huawei, so the results cannot be comparable .. but an evident improvement here is and it shows.
As for the videos, which are already very good on the 8 Pro, I have to applaud OnePlus. Incredibly stabilized (I recommend the 4K resolution at 60fps) and with an audio capture to say the least poco crazy. Forget the external microphone and the gimbal, they will be absolutely useless devices. And this is not poco!
AUTONOMY
That of autonomy, together with the camera department, has always been (IMHO) a problem of all the OnePlus I have owned, but let me explain better .. We are certainly not talking about a smartphone that you will have to recharge at 18 pm, but we are not at levels of other products, let's call them battery-phones, which can guarantee you a day and a half of autonomy. I hoped that with this new technology of the LPTO display the performances of the 8 pro could be definitely improved, but unfortunately this has not been the case to date. Consumption remains almost unchanged, we await new firmware releases that may improve the situation. It must be said that in my tests, even on the 8 pro, I have never seen all this difference in keeping the refresh rate at 60 or 120Hz. So, perhaps consumption depends on something else. What I've always noticed, compared to Xiaomi / Huawei products, is that OnePlus always consumes me too much in standby. During use, the discharge is very linear and even sparing. The reality is that the autonomy of a phone is very complicated to measure it empirically, so it goes a lot to feel.
After this somewhat critical examination, however, I must say that there is also a "but" and not a da poco, namely warp reload a 65 . Well, I thought that with the 8 pro a limit speed had been reached, in fact I reload from 0-100% in less than an hour. But with the 9 Pro this limit has been disintegrated! In fact, the complete recharge via cable and original power supply has even dropped to 30 minutes! Yes you got it right .. in the time of a lunch / dinner, your OnePlus 9 Pro will be fully charged. At this point it would also seem out of tune to talk about autonomy not at great level, also because with 10 minutes you will get about 50% of recharge. Fast charging has also been greatly improved and with its original charger you can still get a full charge in about 45 minutes.
FINAL CONSIDERATIONS
Having said all this, let's get to the final considerations by answering the 2 questions that most often come to us in the editorial office:
Does it make sense to switch from 8 Pro to 9 Pro? To this question I answer without hesitation: no!
Does it make more sense to buy the 8 Pro or the 9 Pro today? Here the answer is more articulated: obviously if you do not have budget problems go to the 9 Pro, in addition to having the best hardware you will also have updates guaranteed for an extra year. If, on the other hand, you have to pay attention to savings, then you can go to the 8 pro while saving almost €400 (offers as soon as you arrive) and essentially losing only on the camera. If you are photo-maniacs I recommend the 9 Pro also because the conditions for having a top cameraphone are excellent!
Thanks again GOOD BANG to send the samples we link the articles that will always be updated and where you can find the best offers for these 2 splendid smartphones!