Road safety is a subject that is dear to many users, so technology is moving its steps in this area, proposing increasingly interesting solutions. Among the products that we can find in the network we find the dashcam, that is those apparatuses able to record short videos that in case of an accident can be used during the dispute with the insurance companies. Xiaomi is no less and today offers us the Mijia Mirror Dashcam, ie a rear-view mirror to be applied over the native one of the car, and which integrates a IPS touchscreen display from 5 inch, support for voice commands and double rear and front room, for a price of only 399 yuan (about 53 euros) on sale to date 16 June.

Xiaomi Mi8 Lite Global
FREE Shipping from Italy 2gg - Cover and Complimentary Film - Italy Guarantee 🇮🇹
249.99€
The front room is equipped with a Somy IMX323 image sensor with aperture f/ 1.8 and 160 degree shooting angle. They are used 9 glass layers that improve transmittance, ie the percentage ratio between the intensity of light passing through a sample and that of the light that emerges, reducing at the same time the annoying flare effect and improved night vision. Mijia Mirror Dashcam is able to record movies in HD 720p both from front dashcam that from the back, thus allowing viewing during parking (the rear camera is sold separately). When we are reversing, the display will automatically be switched to the rear dashcam. Of course, there is no automatic saving of the video in the event of a collision.

The new Mijia Mirror Dash Cam was presented
The rear room can be purchased separately at one cost of 99 yuan (about 13 euro) and among the features we find a '138 ° wide-angle lens, 720p HD video recording, night vision and above all IPX7 certification with resistance to external temperatures ranging from -20 ° C to + 70 ° C. Finally we can use this module not only on the new Mijia dashcam but also in the previous solutions proposed by Xiaomi.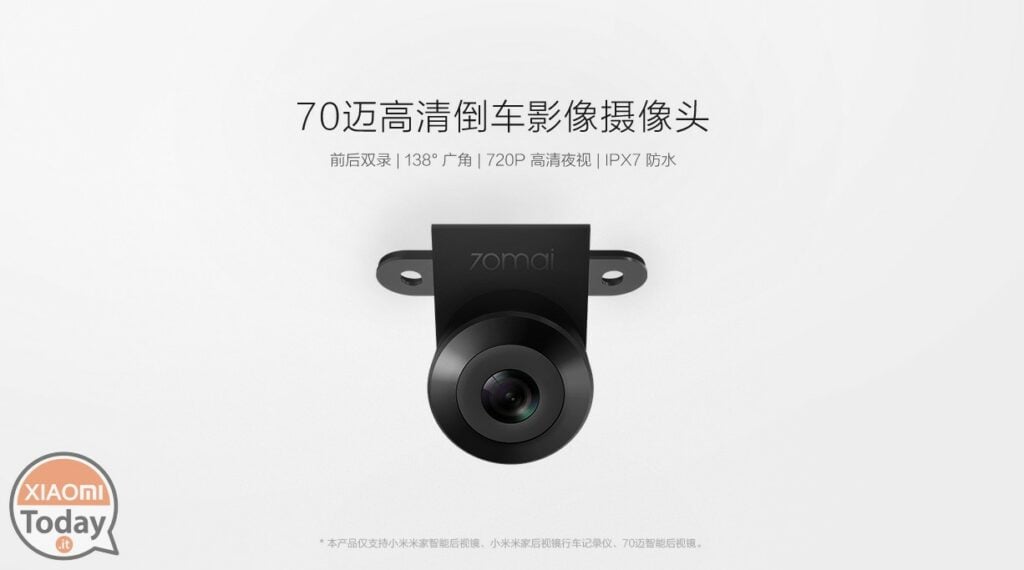 But the real news that makes this new dashcam interesting and above all almost unique in its kind is the support for voice commands through which it will be possible take a picture, start video recording, turn on the display, view videos and captured photos. As said before when we will be involved in an accident the Mijia Mirror Dashcam rwill automatically trigger an emergency video that will not be overwritten. Furthermore, there is no lack ofaccompanying application through which you can save the captured videos on your smartphone and share them for example via e-mail for a quick documentation of the insurance.
To realize the real use of a dashcam mirror we propose the our review relating to Yi Mirror Dash Cam.
Are you interested in bidding? Follow our Telegram Channel!
A lot of discount codes, some exclusive offers from the group, phones, gadgets and gadgets.