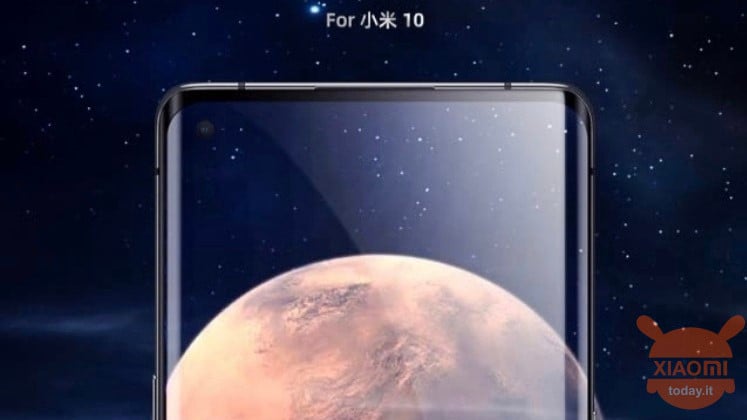 Are you interested in OFFERS? Be smart and subscribe to our Telegram channel! Lots of discount codes, offers, pricing errors on technology from Amazon and the best online stores.
The leaks (true or not) of the next flagship devices of our beloved brand continue unabated. We have been talking about for days Xiaomi Mi 10 e We 10 Pro and basically all of them are already known. However, one thing we lack is the price. Foreign players have feared an amount of around 1000 €: personally I find it somewhat improbable, indeed impossible. Nothing could ever increase the price of this device so much compared to the prices we know; just a bean happens a photo, received by the dear Xiaomishka, where the price of Xiaomi Mi 10 and Mi 10 Pro, in only two of the variants in which they will be presented.
Surprise the price of Xiaomi Mi 10 and Mi 10 Pro | Photo
Below you will find the offending shot. Obviously it's not about nothing official and therefore we recommend taking everything with due caution: it is certain, however, that not even the price of 1000 € is true, so don't be so alarmed.
In the shots on the left and right you find the price of respectively Xiaomi Mi 10 and Xiaomi Mi 10 Pro. The configurations presented are, for the same GB of RAM, or 8GB, those from 128 GB and 256 GB of internal storage. 8 GB of RAM is symptomatic of power a smartphone like this needs and therefore we are led to think that there will not be a version with less memory. In any case we can see how the price of the standard version is of 4200 yuan, at the current exchange rate approximately € 543 while that of the Pro version is by 5200 yuan, at the current exchange rate approximately € 673.
Figures far from the € 1000 that had been said and which, in our opinion for such a hardware sector, is more than acceptable. All in all it comes down to prices poco higher than the ones the Mi Note 10 had at launch. And considering that here we don't have a Snapdragon 730G but a Snapdragon 865, maybe these figures are not that bad.
Xiaomi Mi 10 specifications
6.57 'AMOLED display'with update frequency (minimum) at 90Hz and hole for selfie cam;
Processor Qualcomm Snapdragon 865;
Until 12 GB of RAM but still minimal 8 GB;
Up to 512 GB internal storage;
Rear photographic compartment consisting of four sensors: 108MP + 12MP + 8MP + 2MP;
Front photographic compartment consisting of two sensors: 32MP + 8MP;
Fingerprint reader integrated on the display;
Battery from 4.500 mAh with support for quick charge a 66W;
Android 10 with MIUI 11 out of the box.
SECURITY UPDATE TRAINING
In the last hours a new shot is shooting that, as before, would immortalize the alleged price of the Xiaomi Mi 10 and Mi 10 Pro. It is true that the prices vary very little, there is talk of 99 yuan per model, but it is also true that if before we could believe reliable that news at 50%, now we can no longer do it. According to the latter photo, which knows a little more true than before, the prices they would start at 3499 yuan at the current exchange rate of around € 455 (presumably for a version with less RAM and storage), to switch to 4299 yuan at the current exchange rate € 559 (for the standard version from 8 GB - 128 GB), up to 5299 yuan al current exchange rate 690 € (for the 8 GB - 256 GB Pro version).
Despite everything we can see that all in all prices, in both cases, are hovering around those figures. There variation of 99 yuan, about € 13 if we change the currency, shouldn't pose any problems for users who really intend to buy this smartphone. Maybe what is going unnoticed is that, over the years, the top of the range of the brand are rising with more and more prices. Are we going to get to a point where users decide not to buy?