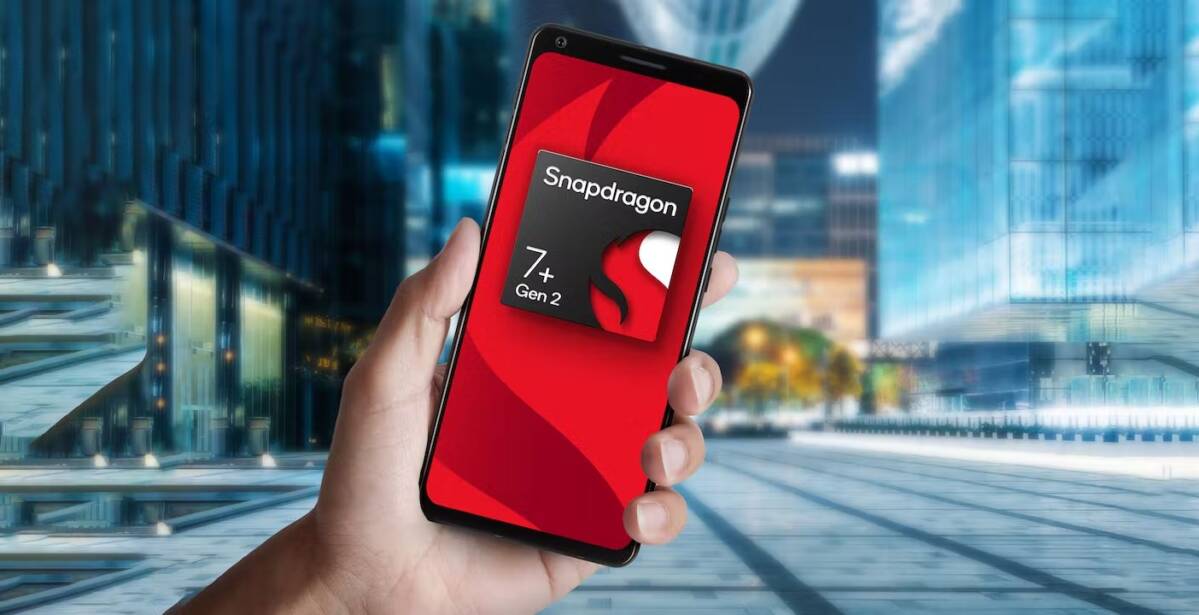 Are you interested in OFFERS? Be smart and subscribe to our Telegram channel! Lots of discount codes, offers, pricing errors on technology from Amazon and the best online stores.
Qualcomm's flagship chipsets are always the most anticipated of the year, however, the range of mid-range chips it is just as important. Indeed, most smartphone buyers do not opt ​​for high-end models, but still want a durable and sufficiently performing device. For this reason, the Snapdragon 7 series is a suitable solution, and today Qualcomm announced Snapdragon 7+ Gen2.
Qualcomm's Snapdragon 7+ Gen 2 appears to be a Snapdragon 8 Gen 1 at a lower price
The new Snapdragon 7+ Gen 2, produced with TSMC's manufacturing process, appears to feature slightly lower specs than the Snapdragon 8 Gen 1 from last year, but retains the same core layout, albeit with a slightly lower clock rate. As for the GPU, Qualcomm did not provide much information, limiting itself to declaring that it is an "Adreno" GPU. The company has only stated that the new chipset delivers up to twice the performance compared to the Snapdragon 7 Gen 1.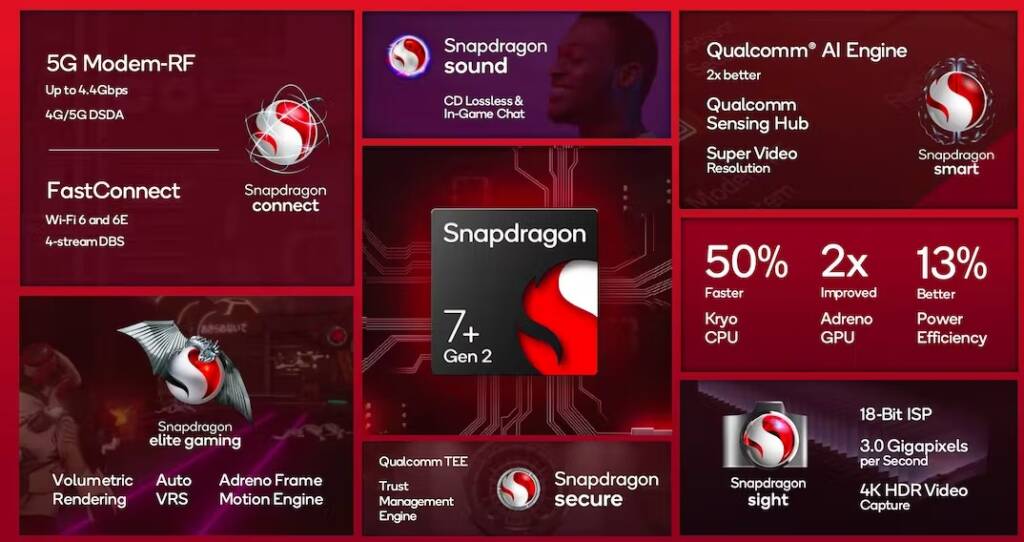 The Snapdragon 7+ Gen 2 processor is manufactured by TSMC using an advanced 5-nanometer process, which is actually commercially referred to as a 4-nanometer process. Compared to the previous Snapdragon 7 Gen 1 model, the new processor has 13% efficiency improvement and 50% CPU performance boost.
Important to note that the first time on the Snapdragon 7 series comes support for 5G / 4G Dual Sim Dual Active (DSDA).
Snapdragon 7+ Gen 2 specifications
Components
Specifications
Manufacturing process
TSMC 5sqm
CPU architecture
1x Cortex X2 @ 2.91GHz (Prime Core)
3x Cortex A710 @ 2.49GHz (Performance Core)
4x Cortex A510 @ 1.8GHz (Efficiency Core)
GPU architecture
Adreno GPU
Vulkan 1.1
Select Snapdragon Elite Gaming features
Adreno Frame Motion Engine
Video playback: H.264 (AVC), H.265 (HEVC), VP8, VP9, ​​4K HDR10, HLG, HDR10+, Dolby Vision, AV1
AI Engine
Double performance compared to the previous model
ISP module
Triple Spectra 18-bit ISP
recharge
Qualcomm Quick Charge 5
Video processing capabilities
4K HDR video at 60p
Camera support
Up to 200 megapixels
Modem
Snapdragon X62 5G, 4.4 Gbps download
Memory
LPDDR5 to 3200 MHz
Wi-Fi support
FastConnect 6900, Wi-Fi 6/6E up to 3.6 Gbps
Dual SIM support
5G/4G Dual Sim Dual Active (DSDA)
Which smartphones will use Snapdragon 7+ Gen 2
It goes without saying that for the moment we do not know which smartphones will equip this processor. However an idea we can make it. Xiaomi, realme, live e Oppo they will be among the first companies to use Qualcomm's new mid-range processor. Specifically, Xiaomi will allow Redmi to purchase this product. As we know, in fact, it is Redmi that deals with the medium and medium-high range. The only Xiaomi that we will be able to see with the Snap 7+ Gen 2 will be it Xiaomi 14Lite.
Amazon offers
€466,59
€499,90
available
11 new from 454,50 €
to March 23, 2023 17:13
Last updated on March 23, 2023 17:13