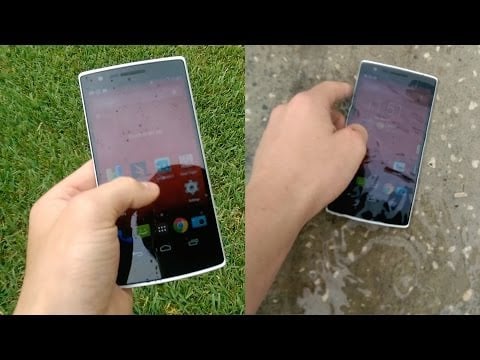 l OnePlus One is undoubtedly one of the most anticipated phones of this beginning of 2014, thanks to its attractive price we wonder if it is an excellent terminal, not only in the field of hardware or construction materials but also as it was designed to cushion the falls or behaves in contact with water.
So those of GadgetGuruHD did not think twice about doing a water test.
They tried to plunge it into a pool of water several times, after having soaked it with rain. The result is surprising the OnePlus One has passed the test without too much trouble and has failed.
This makes us wonder if the One ha a sort of waterproofing inside the device. Even if the company would not hide such an important characteristic concerning the phone it could also be that the One is built with a kind of nano-coating that allows it to last for poco time in contact with water. Although no one expected the One remained unharmed in contact with water, because only the certified devices IP 57 are water and dust resistant.
Below you will find the video of the water test:
What do you think? The editorial staff of Smartylife.net continues to be more and more surprised by this jewel.
via | [email protected]