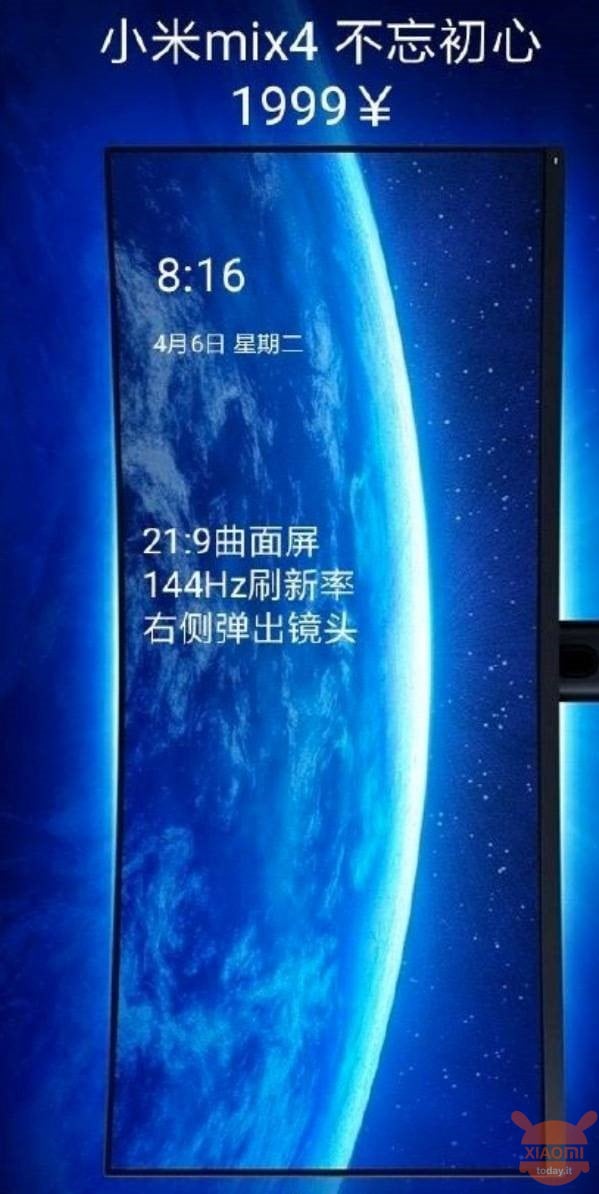 Let's face it: after seeing the Mi Mix Alpha with that his surround display it's hard to be amazed by watching other smartphones. They can also put 10 cameras and make them foldable like a piadina but 180% of display it's hard to reach and the WOW effect is nice than gone. But even if we can no longer surprise ourselves, because we await with great anxiety Mi Mix 4? Will it be only for the hardware that, from what the rumors say, will make the competition blush? Personally I do not think, indeed, I think that we expect a little bit that this device also surprises on the aesthetic side: and about this factor, what about this new leak that shows a display REALLY full screen?
This new leak of the Mi Mix 4 makes us dream: will it really be like this?
Let's start by saying that we do not guarantee the veracity of this photograph: they are said of all colors compared to him and in recent times the confusion is acting as sovereign. This leak but it shows us something that we have never seen and that goes out of all those speculations that give cameras under the screen. On Weibo we came across this photo and believe it is interesting from different points of view.

Main features
Based on what we see, there are many new features and it is not just a full screen display: in the upper side we find an inscription that reads a phrase that can be translated as "Xiaomi Mix 4 does not forget the original intentions". We don't really know what we can specifically refer to, but we have an idea: doesn't the silouhette of this device remind you of anything? It is just like that of first in the Mix series, well squared and forefather of an attempt by the Chinese brand to bring a near-full screen to the market.

The four-sided frames are reduced to a minimum by guaranteeing one screen ratio very close to 100%. On the screen of the device we see written three sentences that suggest the three fundamental characteristics of the alleged smartphone: the first tells us that the display will be 21:9, a format that we rarely see on smartphones and that would allow us to display videos on screen and more without precedent. Furthermore, the same sentence indicates that it screen will be curved: looking at it well, as it is squared the curvature does not seem to exist at all but the left side is

slightly convex. Initially we thought of an optical effect due to the lights sent from the planet behind (in full Apple style), but we are not sure.

The second sentence goes to address a speech we have taken several days ago, concerning the refresh rate of the display. If, however, a rate of 120Hz, today we see one a 144Hz. It seems excessive but never take anything for granted with Xiaomi.

The third and final point concerns what everyone is waiting for, or the photo gallery. It is clear that it is not there no holes on the screen and no notch, so it comes to itself that the camera will be of type pop-up, to trace the style of the Redmi K20 / Pro. Perhaps this feature will disappoint many of the users but if you want to have a real full screen this is the only solution for now. The surprises do not end here: the Charging cable would be accessible from the right side of the smartphone, to follow the style of the ROG Phone 2.

As we said, we do not guarantee the veracity of this image: if on the one hand we are led to believe it thanks to the website below, on the other the price written at the top leads us astray as a device of this series equipped with the design will certainly cost more than 1999 yuan (at the current 255 € exchange rate).

Now take everything you read and throw it in the trash can as the photo shows a monitor rotated. We apologize to all those who believed in it, but this article was born as a provocation: nowadays more and more rumors and leaks of devices are coming out which, although non-existent, feed hype and interest. What we wanted to do here is just to open our eyes and communicate that not everything that runs on the internet is true. As you can see, a little conviction and a few words are enough to create a colossal hoax.

EDIT: we congratulate Erasmus who was the first to realize that in reality it is a monitor on the contrary.
Are you interested in OFFERS? Follow our TELEGRAM Channel! Many discount codes, offers, some exclusive of the group, on phones, tablet gadgets and technology.