Are you interested in OFFERS? Be smart and subscribe to our Telegram channel! Lots of discount codes, offers, pricing errors on technology from Amazon and the best online stores.
It recently appeared on the site Geekbench what you think might be next Realme GT Neo 5SE, known as the model code RMX3700. Here is what emerged from the appearance of this model on the famous platform.
Will Realme GT Neo 5 SE have a weakened Snapdragon processor?
What is surprising is the inclusion of a chip Qualcomm Snapdragon 8 Gen1 underclocked, with an artificially reduced working frequency. However, the altered clock makes it difficult to tell whether it is Samsung's standard chip released in early 2022 or the Plus variant produced by TSMC's foundries in the summer.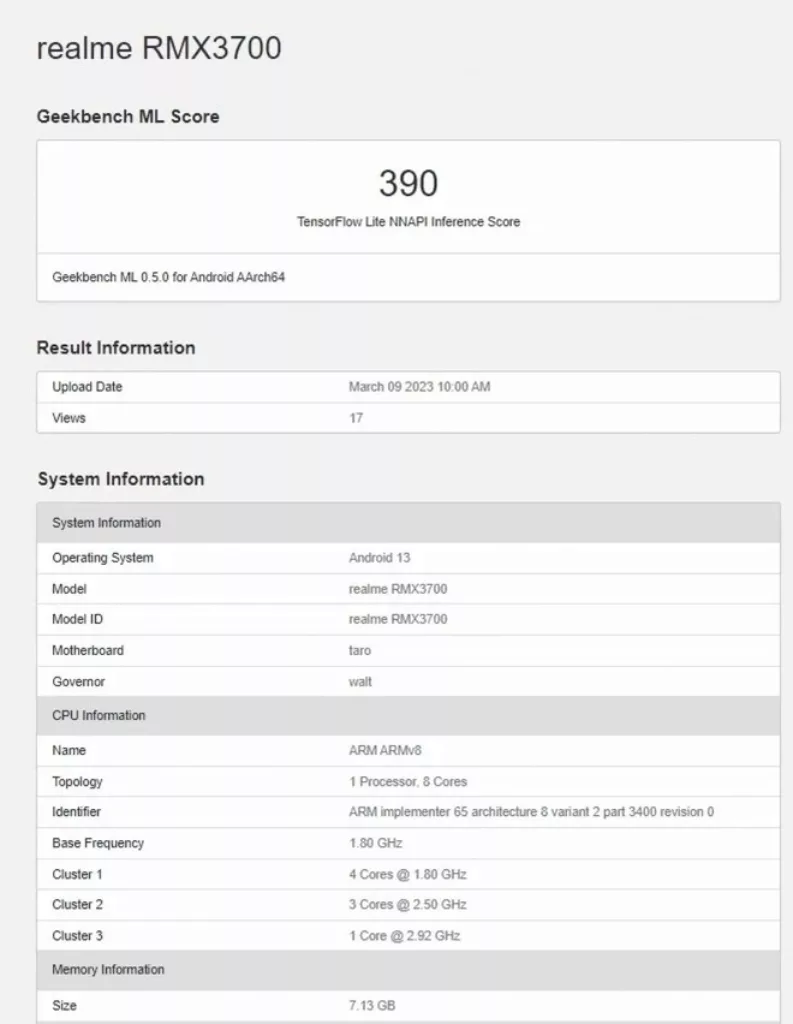 Although it seems a negligible detail, these months have shown that TSMC's production is more advanced and the resulting chips are less energy-intensive, especially in standby mode, and have more efficient thermal management. It is not the first time that a new smartphone has been launched with a weakened version of a latest generation chip. For example, the OPPO Reno9 Pro Plus has a Snapdragon 8 Plus Gen 1 processor with a slightly slower Prime core, but everything else is identical.
In the case of the supposed successor to the Realme GT Neo 5 SE, it seems that the frequencies are almost identical to those of Samsung's S8G1 chip, except for the Prime core which is slightly less powerful. At the moment, there isn't much information about the device, but it should have it same 144 ″ 6,74 Hz AMOLED screen as the Realme GT Neo 5, known as GT3. The benchmark also indicates 8 GB of RAM and the operating system Android 13, probably customized with Color OS software.
Will Realme GT Neo 5 SE be launched in April?
The device in question is the Realme GT Neo5 SE, which should be launched in early April. But we are not certain from this point of view: there is nothing left to do but wait, but it probably won't be long.
It also proves it certification on TENAA happened a few days ago.