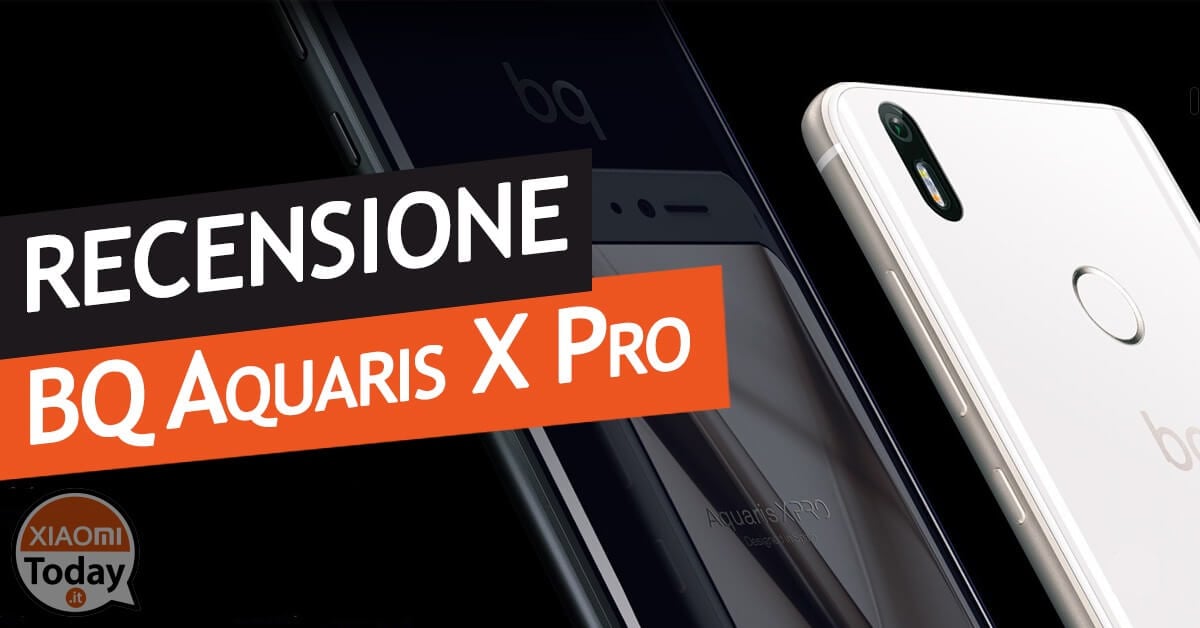 I often read about our groups dedicated to Xiaomi smartphones that we fans of the Chinese brand are too biased and that we can not even praise smartphones from other brands. Personally I think this statement completely unfounded but unfortunately the most famous producers now entrust their devices to reviewers much more famous than myself and sometimes the reviews that come out also seem slightly driven by virtue of the latest top of the range given during the convention presentation. But I do not want to raise controversy and so I proposed a challenge that was accepted by the BQ company, a leading company in the production of smartphone hot Spain, which has sent us its flagship test, theAquaris X Pro of which I will tell you in our full review.
Already from the package you understand to deal with a smartphone to which the company holds in a special way, in fact, the sales box is presented in an elegant carton of black color "drawer" inside which is naturally contained the Aquaris X Pro, the charging cable and data transfer USB Type-C, battery charger from wall with 5V / 3A output - 9V / 2A - 12V / 1.5A with support for the quick charge protocol Qualcomm Quick Charge 3.0 fast guide multilingual including Italian and finally pin for the extraction of the SIM cart. Unfortunately, the packaging sent in test has been running for quite some time among the various more or less established sector reviewers and therefore it is not entirely presentable, so I am attaching photos taken from a Spanish site.
BQ offers a smartphone with sophisticated materials and a very elegant design, in fact the Aquaris X Pro has a frame entirely made of metal which houses the on / off button and the volume rocker on the right side, while on the left one is placed the hybrid type trolley for the two SIMs in nano format or a SIM in nano e format micro SD card for memory expansion. The upper profile integrates the input jack from 3.5 mm and the second microphone for the reduction of environmental noise while the lower profile from voice to mono system speaker, USB Type-C input with OTG support and main microphone. On all 4 profiles we also find plastic inserts that help the signal reception to the integrated antennas under the body.
A back shell covered with a thin layer of glass that hides below the company logo and the name of the model impressed with golden characters as is the ring that surrounds the fingerprint sensor also covered with a thin layer of glass. Last but not least the rear camera with dual LED dual tone flash. About the fingerprint sensor, the latter proved to be reliable and precise in most situations but not very fast. In fact, in situations where the hands are slightly damp due to sweating or in any case not completely clean, the sensor struggles to recognize the impression and I think this is due to the thin layer of glass that covers it.
At any rate the phone is not slippery and the ergonomics are really good (dimensions equal to 146,5 x 72,7 x 7,8 mm and weight of 158 grams), also thanks to the edges on the rear slightly curved as well as del small step that is created between the body and the frame metal where a high quality milling is evident CNC machining.
Also on the front we have a Glass with 2.5D machining covering the entire surface characterized by alas pretty obvious frames which host the lower part i 3 soft touch keys distinguished by 2 simple dots for the back and menu functions while the home button is characterized by the company logo. Unfortunately the keys are not backlit and especially they are not invertible between them often causing confusion in the choice of the correct function, at least for me that I come precisely from a smartphone Xiaomi. It is possible to make the keys appear on the display through the navbar, however, useless function since the physical keys are not deactivated.
On the upper frame we find instead the proximity and brightness sensor, the frontal chamber, the ear capsule, a comfortable LED flash to get good photos in low light conditions and a small LED for RGB type notifications that can be customized according to the needs in order to distinguish at a glance which type of notification we received.
Finally we have a display from 5.2 inches with technology IPS LTPS LCD (10 touch points) with resolution FHD 1920 x 1080 423ppi e Dinorex protection (equivalent to a Corning Gorilla Glass 5 and chosen by other smartphone manufacturers like Meizu) I was surprised by the definition of colors and the sharpness with which he can play multimedia content. Also good brightness (650 nits declared) although not the highest I've seen so far, but in any case readability is ensured in every situation thanks to a good anti-reflective treatment. On the other hand, the oleophobic treatment, which will make the Aquaris X Pro panel a magnet for footprints and dirt in general, is rather inadequate.
It is also possible to activate the reading mode, awaken the display with a double tap or take advantage of the function Ambient Display so you have at your glance the latest notifications arrived without having to power all the panel of the smartphone.Pur coming from a board like the Xiaomi Mi Max 2, the display of the BQ Aquaris X Pro was able to satisfy me for the good quality performance of video and photos supported by the sound of the system speaker, which even if it is only mono, can give a gift really clean audio on every frequency range which lends itself to an excellent use even for hands-free calls. The only sore point is perhaps the volume that does not shine certain for the maximum levels offered.
And speaking of audio, also the one returned by the ear capsule is of excellent quality while on the other hand I found the reception of the signal slightly subdued. The integrated LTE modem of cat. 6 it does not disappoint in the city while it is weak in rural areas even if it is present the 20 band to 800 MHz and the same poor reception I could also see with WiFi connectivity in areas covered by public hotspots and this surprised me (in a negative sense) because the integrated WiFi module is a dual band (2.4 / 5 GHz). It is hoped that perhaps a future update can solve these small bugs. It turned out instead excellent Bluetooth 4.2 as well as the GPS really reliable in every situation. The presence of the FM radio that often many producers forget to include in their top of the range and the NFC sensor so you can also make payments with the systems that support it.
But BQ Aquaris X Pro is able to amaze us from a performance point of view?
In theory we expect good performances because under the hood we find a Qualcomm Snapdragon 626 processor octacore to 14nm and maximum frequency of clock to 2,2 GHz and a Adreno GPU 506 to 650 MHz. The 626 Snapdragon on balance is one overclocked version of the most famous and tested Snapdragon 625 with which, however, does not share the reliability at least for what concerns the overheating problems. In fact, if in the normal / medium use situations there are no lag or imputations when we start to stress our smartphone, installing for example applications, leaving a download in the background and trying to access a game with heavy graphics or even the simplest camera, then the heat in the processor's placement area begins to become apparent with the inevitable blocking of the terminal.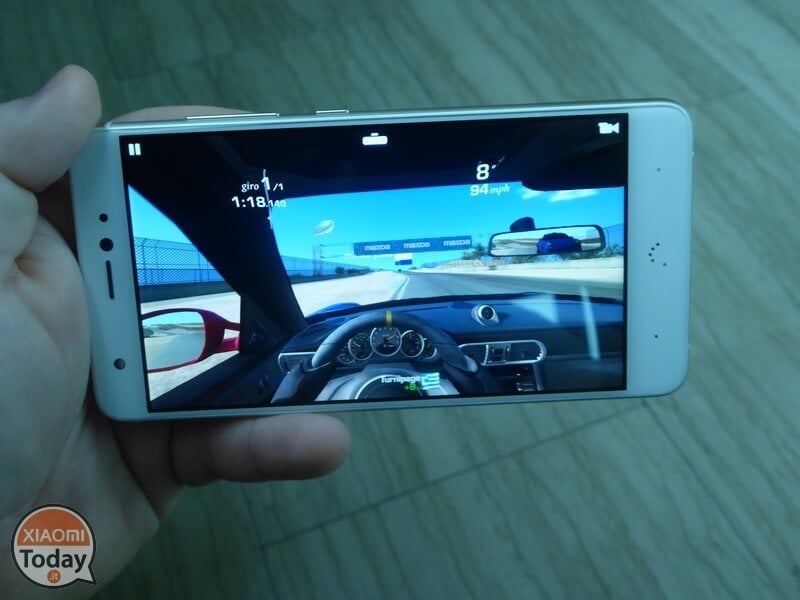 For charity maybe my experience was quite a situation on the edge, even if it is the same that I create for every smartphone in test, and it's really a shame because overall, the performance was adequate in most situations.
I do not think the problem is related to 4 GB of RAM memory and not even from 64 GB (actual available 54) internal storage available (expandable via micro SD up to 256 GB) and I do not even think that the problem is related to basic software is a stock version of Android 7.1.1 Nougat for which the Spanish supplier frequently releases updates and for which the release of the Oreo version is expected soon. I can not give you a logical explanation in this regard if not perhaps that until now my situation has not occurred or perhaps that the same has not been reported to the company that was not able to release a decisive update.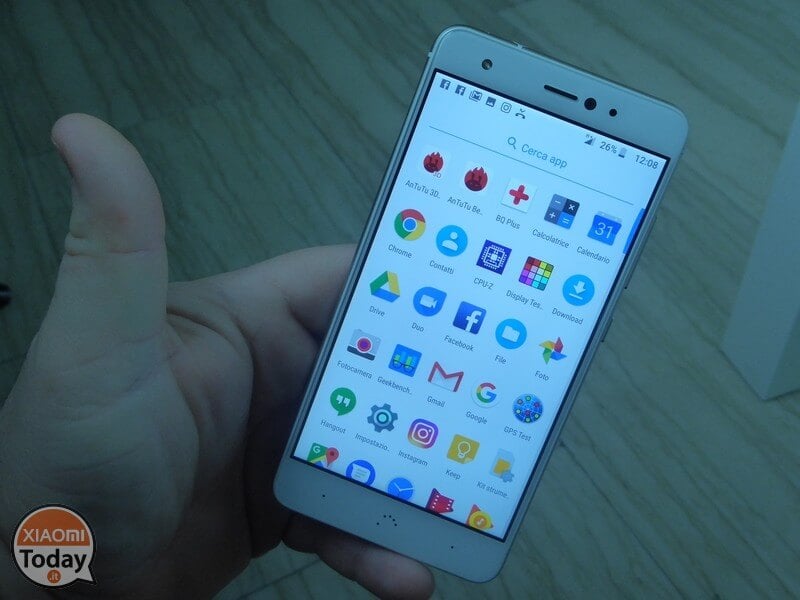 In fact we do not find customizations from BQ on the system if not those concerning the BQ Support application, 2 sole gesture, the ability to program on / off the device and for the camera. A camera that made me literally fall in love with this Aquaris X Pro composed of a rear module from 12 megapixel with Samsung S5K2L7SX sensor with Dual Pixel technology and opening f/ 1.8 (1.4 nm / pixel) to 5 lenses Largan and aided by a flash LED dual tone and focus PDAF.
The really amazing thing is not only given by the possibility of being able to record video with 1080p resolution to 60 fps or in 4K is 30 fps, excellent slowmotion to 720p to 120 fps or time lapse but it is given by video stabilizer with Vidhance software, one of the best viewed to date on a smartphone. Also you can benefit fromHDR + automatic and the possibility of shooting e save photos even in RAW format ideal for post production, but you can also manually control individual parameters such as exposure time, white balance, focus and ISO.
BQ for its Aquaris X Pro promises spectacular photos even in night mode or otherwise in low light conditions and I must say that he does not mind, in fact the optics with f / 1.8 aperture are able to capture really unique and bright photos. This does not mean that the background noise is absent but the details captured are really clear. I would not mind too much but this Aquaris X Pro allows you to print captured photos even with strong enlargements because even the smallest details are reproduced accurately.
Even the selfie camera is not far behind thanks to the Samsung S5K4H8YX sensor from 8 megapixel, opening f/ 2.0 (1.12 nm / pixel) to 3 lenses e assisted by an LED flash with the surprising ability to record videos with maximum resolution in Full HD to 60 fps. And this means that we will not take home shots or videos just for the classic social sharing but we will get a real WOW effect. Merit perhaps also ofcamera application entirely designed by BQ that allows you to take great photos, the so-called tip and shoot even the less experienced but at the same time providing a deep personalization like professional photographers.
Finally, an aspect that is as important as that of the camera and that often directs us on the purchase of a smartphone rather than another, that is autonomy. BQ Aquaris X Pro has one lithium polymer battery with 3100 mAh capacity, which could make one think of a lack of autonomy, while instead we are facing a good result net of a medium / intense use that has led to a total of about 4 hours and a half of active screen with about 1 day and a half of use. However, thanks to 3.0 Quick Charge support we will get a full charge from 0 to 100 in just over half an hour.
In conclusion BQ Aquaris X Pro is a smartphone that in some respects approaches the top of the range in circulation, in some situations it exceeds them while for others it has proved to be not very reliable. However convinces the really successful design, amazing camera and good autonomy, a triptych that really makes the Spanish smartphone competitive if it were not for the price, in my opinion, unbalanced upwards given the market segment in which it is placed.
At any rate it's a smartphone to watch out for and that advice as it is possible to find it through the official BQ store through the e-commerce site Amazon Italia in which you will find all the products on the price list, and therefore last-minute offers are not excluded. Finally, I thank BQ Italia through its Regional Manager Andrea C., has been able to get involved with us also hardened xiaomists, but we know how to recognize the quality of other brands, like BQ the Spanish Xiaomi.