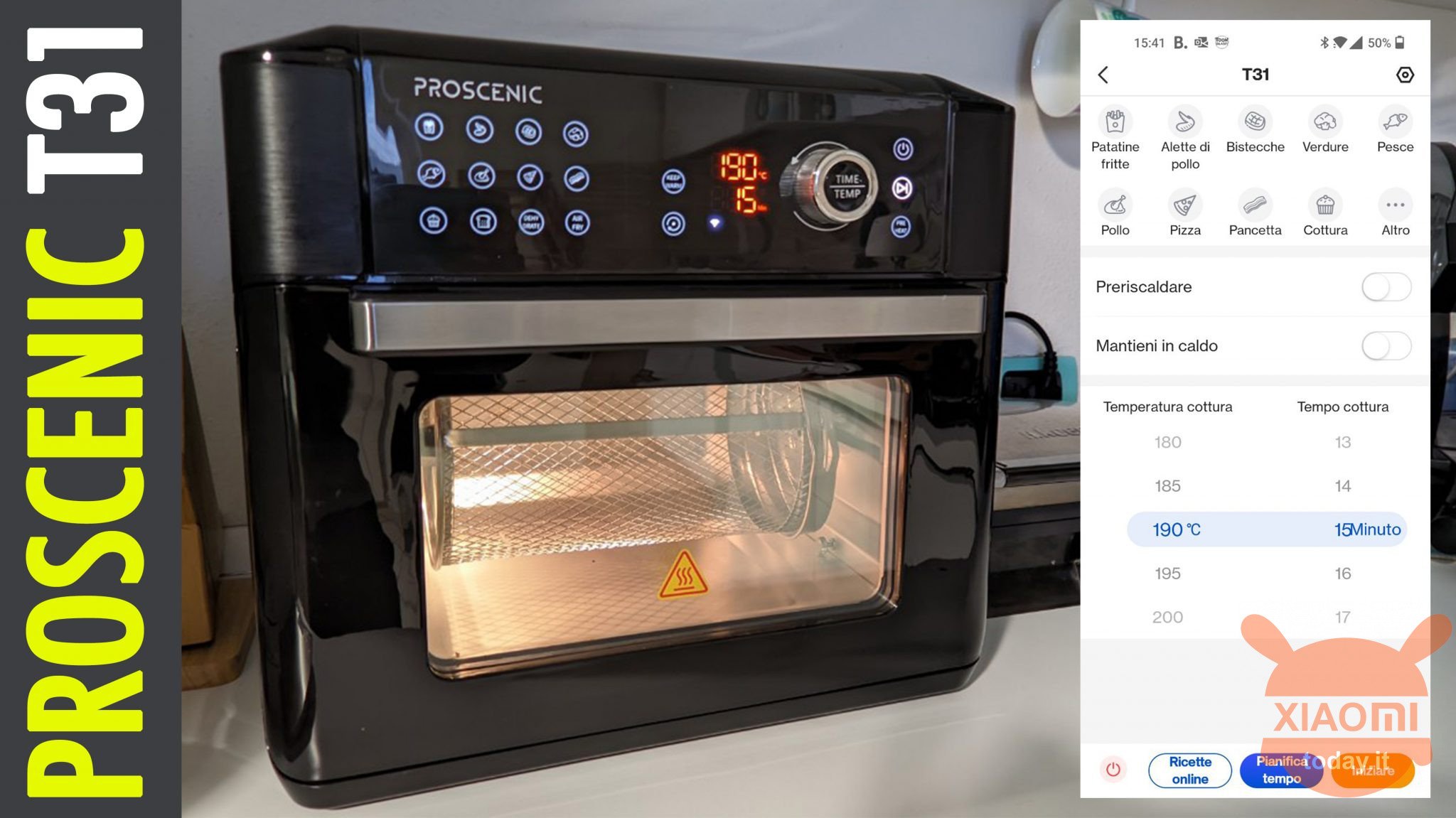 La Proscenic T31 is an "advanced" air fryer both in terms of size, functions and features. But exactly what are these appliances and how do they work?
Air fryers are basically small ventilated air ovens that they reach temperatures so high that they simulate the effect of the oil and obtain the typical crunchiness of a fry cooked in oil but much less greasy.
Features Proscenic T31
In the case of Proscenic T31 we are faced with an evolved product since, despite its small size (40,8 × 38,8 × 34,1cm) it has a large capacity of 15L which makes it much more versatile of the classics air fryers and allow cooking of a wide range of dishes in a quick and healthy way. We can consider it a middle ground with the traditional oven.
La power of 1700W allows to reach the temperature of 205 ° in just 5 minutes managed electronically through the preheating program.
In the package we find many accessories useful for different types of cooking:
2 perforated aluminum trays with non-stick Teflon coating, free of BPA and PFOA
Fork for rotisserie
Pliers to remove the rotisserie without burning yourself
Tray for the collection of scocciolo
Rotating cage for chips
Rotating support for cooking skewers + 8 skewers
operation
Operation is very simple thanks to the touch buttons available, it will be enough select the desired program among the many available: crisps; chicken wings; steak; vegetables; fish; grilled chicken; Pizza; bacon; cake; toast; fruit drying. Using the knob, we can change time and temperature to adapt them to our needs.
In the case of programs that include rotisserie (e.g. spit-roasted chicken), the rotation will start automatically, but we can still control it with the dedicated button.
On the other hand, in the case of programs that require the dish to be overturned, it will be activated the "shake" light to remind us.
In any case, it is possible to add a phase to each program pre-heating or a later one for keep food warm.
Proscenic T31 is a smart wifi oven
To expand the capacity of the oven, come the smart functionality of the Proscenic T31. Through the WiFi connection it is possible to connect the oven to theProscenic application which allows you to remotely control all functions and be notified when cooking is finished.
The function of is very convenient programming that allows us to start cooking even when we are not at home, so as to find dinner ready when we return.
There is also a handy section "recipes online"Where it is possible to draw on a large archive of ready-made recipes explained in Italian and set the oven already with the recommended parameters. It is also possible create your own recipes to be saved in the archive, and then recovered as needed.
Proscenic T31 can also be connected to voice assistants Alexa and Google.
Conclusions and Price
The Proscenic T31 air fryer has proved to be a well-made appliance, with great potential and capable of cooking a wide range of dishes.
Compared to the air fryers with the drawer, this greatly expands the possibilities, the usefulness and the quality of the cooked food, thanks to the high temperature that can be reached.
Finally, the smart features are really a plus that further simplifies daily use and encourages you to try new recipes every day.
The Proscenic T31 air fryer is available on Amazon at a price of 179 €, a figure absolutely justified by the quality and the specifics proposed.