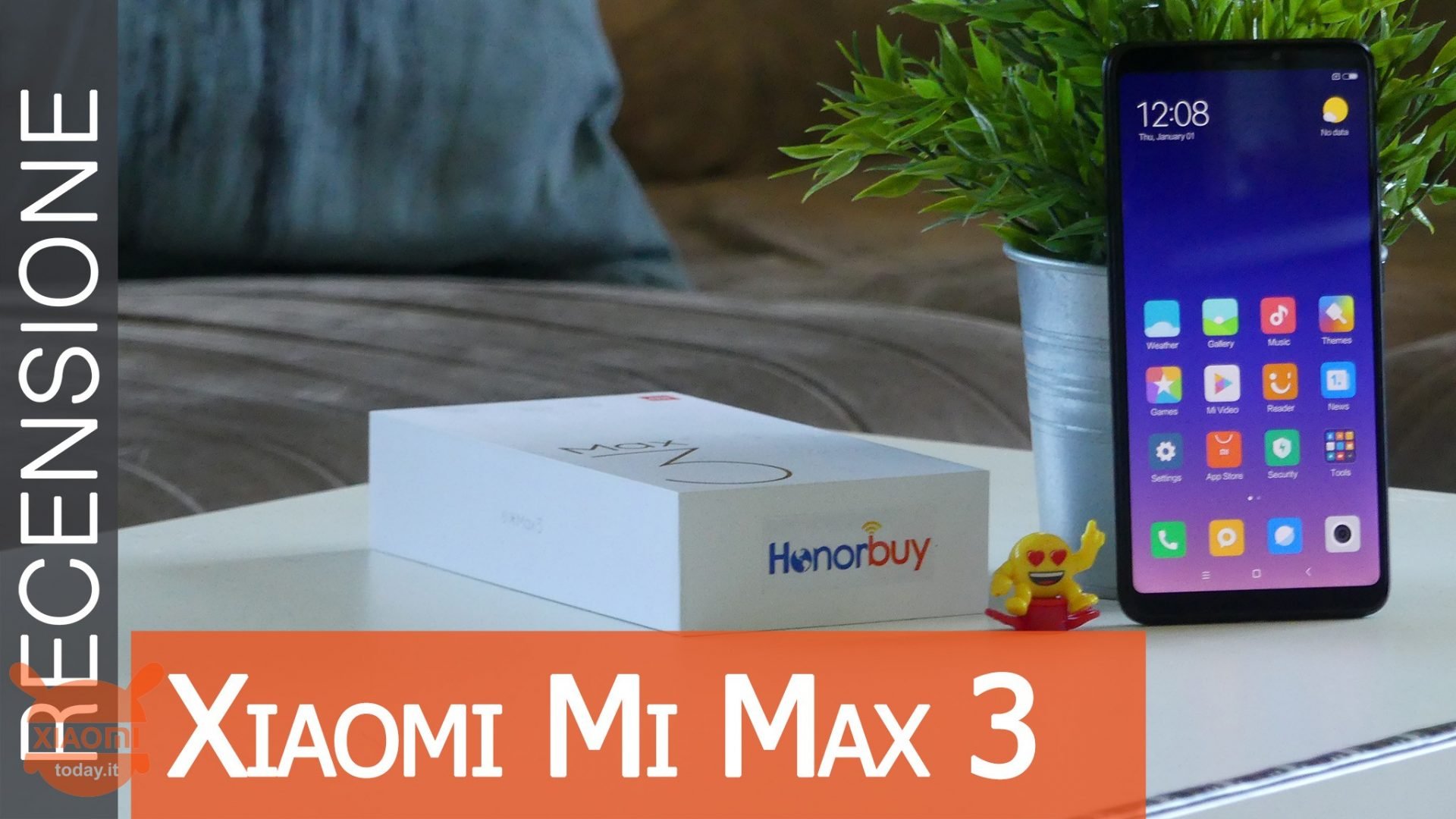 The trend of recent years is to adorn the smartphone of the moment with a display with increasingly generous dimensions giving life to big phones, the middle way between smartphones and tablets, the so-called phablets. But never has anyone been spintingor up to the extreme limit of the 6,9 inches in 18: 9 without renouncing ergonomics, at least until now. In fact, let's see together the Xiaomi phablet, the We are Max 3, in the full review made possible by sending the sample by HonorBuy.it.
unboxing
In the huge sales box in white color distinguished by a huge number 3 and the inscription MAX in gold color we find:
adapter for European outlet honored by the store HonorBuy.it
smartphone Xiaomi Mi Max 3
User Manual and warranty sheet in Chinese language
spillo for removing the SIM cart
loader from mains with Chinese attack and output 5V - 3A / 9V - 2A / 12V - 1.5A
USB Type-C cable for charging and transferring data
---
To judge the design of Mi Max 3 we could exclaim the sentence: "Big is beautiful", although in fact there is no truly distinctive element for this device, which looks like an A2 Mi in giant sizes. We speak in fact of 176,15 87,4 x x 7,99 mm for a weight of 221 grams that merge into a body completely made of metal interrupted by one dual vertical camera and dual LED flash, now almost iconic for the devices of the brand, and a fingerprint sensor. This could be said to be in the right place at the right time, as despite the large size of the terminal we always manage to find it on the first shot, also a slightly hollow seat in the body. The release is done in a very short time and above all without making a mistake, but what I really appreciated is the gesture associated with taking photographs, really useful for selfies in consideration of the titanic dimensions of the Mi Max 3.
Ergonomics is definitely good, thanks to the form factor in 18: 9 of the display that makes it narrower than it would be if it had a display of the same diagonal but in 16: 9. But I would have appreciated in a protective cover, usually present on other models, so I do not understand the absence in this case, where it would have been really justified. Really good construction, with lines taken from Mi A2, which make Mi Max 3 one small design work which hides the receiving reception antennas on the lower and upper profiles where they are located IR transmitter, the second microphone for the reduction of environmental noise and the input jack from 3,5 mm, while speculating on this we find the main microphone, the USB Type-C input for charging the device with OTG function and welcome the news possibility to recharge another terminal, and finally the system speaker. As for the previous generation we have a stereo sound, which is obtained from combined work of system speaker and earpiece, although this is limited to support since the volume level is not very high and above all almost free from the bass frequencies.
That said though the sound in general is of good quality, a very generous volume and I'm going to say ... coupled with the large display is a pleasure for watching multimedia content. But first I mentioned the bailer, a unit from 5500 mAh, that is confirmed one of the furnishing points of the Max series of Xiaomi, giving an almost impossible autonomy to be exhausted in a single day, on average almost always at least 2 days of semi-intensive use which translate into approx 7 hours of active screen. There is support for Quick Charge Quick Charge 3.0, but not with the charger supplied, although the full energy will take quite some time (about 3,5 hours), but with an autonomy of the kind this is the last of your thoughts in fact you can take advantage of your Mi Max 3 as a power bank and also load other devices.
Complete the perimeter design of the Mi Max 3, the on / off button and rocker on the right side of the volume and the cart for the SIM on the left. We can enter two SIMs simultaneously in Nano format or by renouncing the Dual SIM Dual Standby functionality we can expand the internal memory via micro SD card up to 256 GB.
But the size and weight of the terminal come to the background when we begin to admire the large display by well 6,9 diagonal inches, of type IPS with Full HD + resolution 2160 x 1080 pixels, 1500 contrast: 1, 520 nits brightness, 84% NTSC color range. And although the IPS technology will not allow you to better appreciate the color depth typical of black, the color rendering in general is really a sight for the eyes. And it is this display that tips the scales on the purchase of a terminal like that rather than a tablet: in short, with Mi Max 3 you will have with you a 2 device in 1.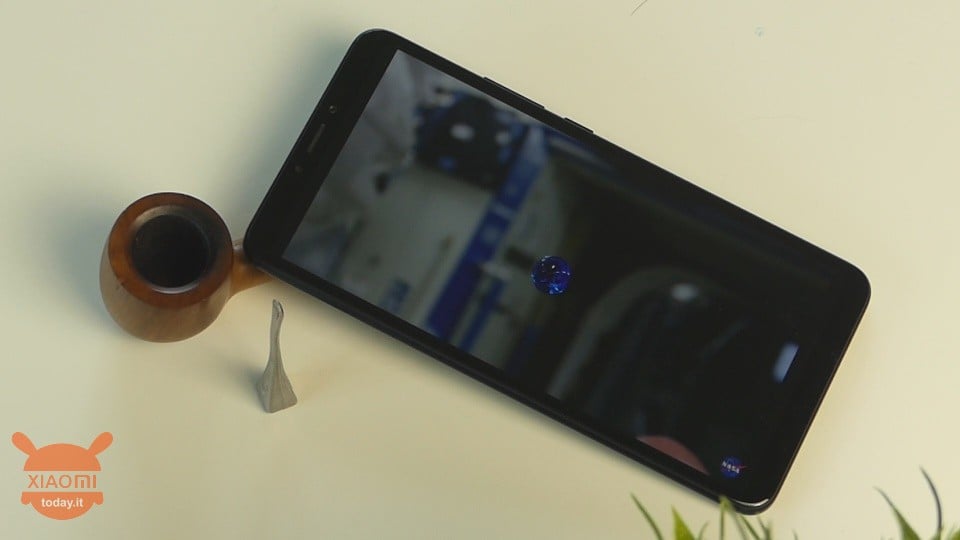 Finally, at the software level, Xiaomi provides the possibility to adjust the color temperature reading mode, activate the double tap to awaken the screen that under the direct sunlight enjoys good visibility. In the lower frame of the Mi Max 3 display we do not have any physical keys as they are inserted on the display, with the possibility of being inverted or eliminated by using the gesture on the screen, that, however appreciable the presence, in this case I have not found them particularly useful and maybe it's better to fall back on one-handed mode. Finally, the correct display bias ctherefore it can be safely used also with sunglasses with polarized lenses treatment.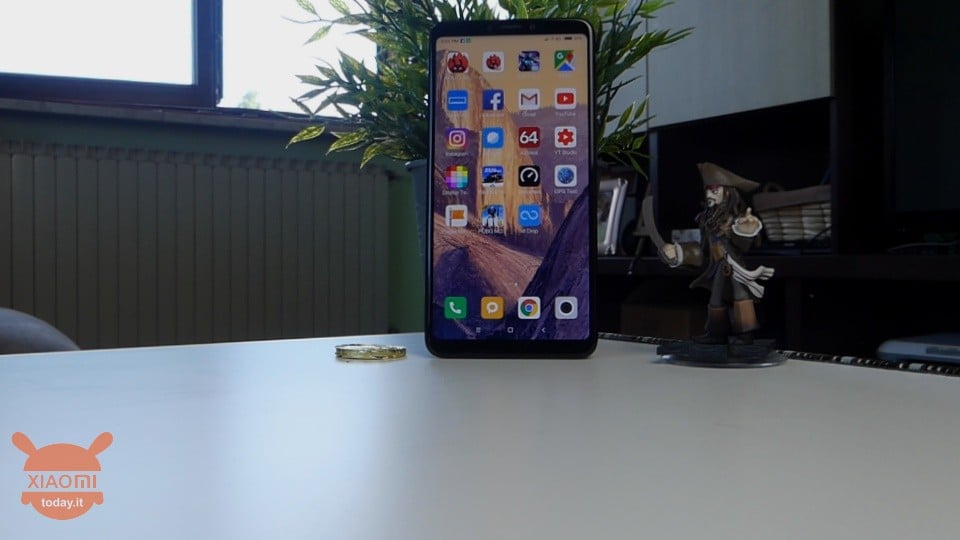 In the upper frame on the display instead we find the proximity and brightness sensors, the headset capsule and selfie camera, white monochrome notification LEDs and LED flash for nighttime selfie shots. But before talking about performance, I want to tackle the connectivity theme, because Mi Max 3 has the dowry 20 bandwidth to 800 mHz, this regardless of the phone version (China or Global). This means that we have no problem with receiving with any operator, being able to exploit the mode too Dual 4G, then LTE on both SIM slots. And in fact I have never seen signs of weak reception or "dancer" as the navigation has always been fluid and with 4G signal always present. The only flaw I could find is a call volume in capsule, strangely low, and I use the term strangely because my unit has already been used by other reviewers before me that do not seem to have detected the problem, which I could then attribute to a fall of the terminal with relative micro disconnection of the connectors. In any case nothing dramatic, but it should be in noisy environments during calls.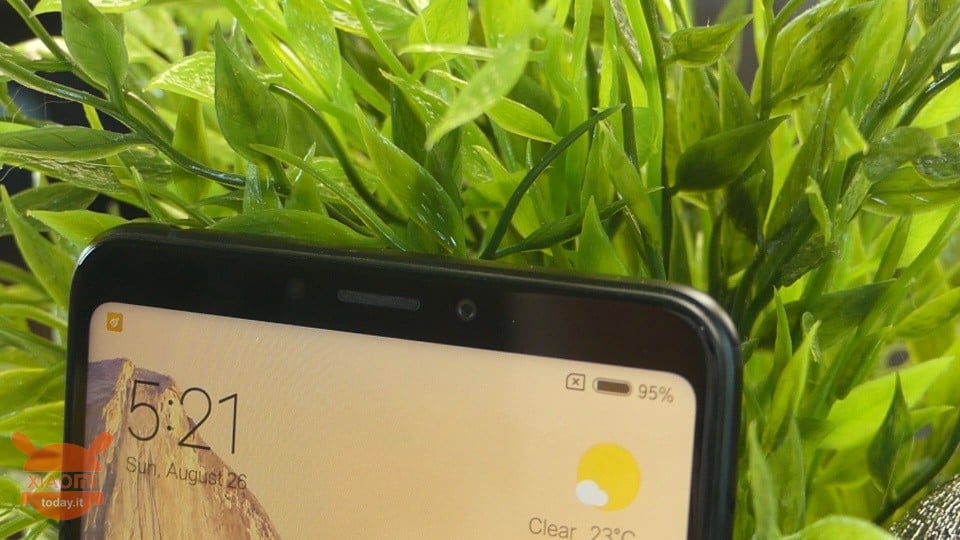 In addition, there is no form for the Xiaomi Mi Max 3 Bluetooth 5.0, 802.11 WiFi a / b / g / n / ac double frequency (2.4 / 5.0 GHz) with WiFi Direct support, as well as a module GPS / AGPS / GLONASS / Beidou reliable and precise in every situation. But let's face together the performance theme that on Mi Max 3 are guaranteed by the processor Qualcomm Snapdragon 636, octacore to 1,8 GHz to 14nm assisted by the graphics processor Adreno 509, 4 GB of LPPDR4X dual channel RAM and 64 GB of internal storage and XMM XMMUM. A budget that we could already appreciate in Notes redmi 5 Pro and that gave us great surprises and emotions at a performance level and that even in Mi Max 3 does not disappoint. There is no lack of fluidity and a good general speed in opening applications, while there are no lag and overheating in general even with stress peaks like gaming with the likes of Real Racing 3 and PUBG.
BENCHMARK
And the performances are also guaranteed by the interface MIUI which in this case leads to 9.6.9.0 China Stable version with 01 July 2018 security patch and 8.1.0 Android version. And no presentation is needed except the fact that I would have preferred some features to make the most of the large display, but apart from that I conclude by saying that I had no problems installing Google services which have all been fully functional, however much at the notification level you will have to set some parameters to make them always present and not "sleepers".
And here we are as usual to conclude this review with the photographic industry of Mi Max 3 that also in this case winks at that of Redmi Note 5. In fact on the back we find one double room with primary sensor Samsung S5K2L7 from 12 megapixel, focal opening f/ 1.9 with pixel surface from 1,4 μm, combined with a Samsung S5K5E8 "depth" sensor from 5 megapixel, aperture f/ 1.9 which gives excellent bokeh effects. One is also present super fast and precise focusing, Dual PD Dual Core Speed ​​Focus, while at the system level we find the function Automatic HDR, various filters in real time, panorama mode and automatic, the latter with the possibility to set the white balance, the focus with the function of PEAK ON / OFF, shutter speed and ISO and finally the beauty mode AI. Xiaomi, however, has promised that with subsequent updates to release the mode of recognition of the scene AI, much appreciated in terminals like Mi 8.
At the video level we can shoot video up to 4K to 30 fps but also Full HD to 60 fps, but in both cases the absence of the stabilizer is noted, while con 1080p 30fps resolution you get very good videos, which maybe with some not too elaborate editing they allow you to get out of work professionally, thanks to the digital stabilization that in this case is active and seems to work at best. Finally, for the sake of completeness, I would like to mention that we can also carry out this Time Lapse in Full HD and Slow Motion in 720p 120fps.
La frontal room the Mi Max 3 is instead assigned to a sensor Samsung S5K4H7 from 8 megapixel, opening f/ 2.0 and pixel surface 1,12 μm. Also in this case we have the possibility to get shots in portrait mode really not bad and shoot video in Full HD to 30 fps not stabilized. And the overall performance is not bad even in special situations, thanks to the LED flash that completely flips the photographic yield in poor lighting conditions. Finally it should be noted that thanks to the front room we can use the Face Unlock function, almost necessary in certain situations. The release takes place in fairly quick times even if the ambient light decreases, the recognition reliability is lost. On balance Xiaomi Mi Max 3 amazed me from the point of view of photographic performance in general: some flaw in low light situations but in the daytime the photos are really at the top, like top of the range as well as the videos in Full HD 30fps stabilized are something incredible, with an amazing audio capture.
CONCLUSIONS
Xiaomi Mi Max 3 is a particular smartphone, not for everyone, but not for the performance or functional capabilities but because of its titanic dimensions that many do not appreciate, indeed many hope to release a device under the 5 inches. Having said this, net of dimensions, Xiaomi Mi Max 3 is a terminal that could be well in the pockets of many and that over time could prove to be the ideal companion in everyday use, just make it a habit of its size. Furthermore, there is no need to underestimate it monstrous autonomy which combined with good construction and excellent performance, make Mi Max 3 the ideal phablet for travelers or for all those users who suffer from the fear of remaining dry autonomy during the day, and for what it costs a thought on the purchase it is really worth it. Are you convinced? Then you can find Xiaomi Mi Max 3 at the store HonorBuy.it with shipping from Italy as well as all-Italian warranty and assistance, but do not lie to me to use the XTWINT coupons.
XIAOMI MI MAX 3
Xiaomi Mi Max 3 because of the size could be snubbed by many, but believe me, once made the habit the Chinese phablet could be your ideal companion for everyday use without the thought of staying dry with the battery. Complete with 360 °, Mi Max 3 is a surprise also from the photographic point of view as well as the performances guarantee a super user experience.
PROS
AUTONOMY
CAMERA
DISPLAY
POSSIBILITY OF USE AS POWERBANK
GENERAL PERFORMANCES
CONS
ABSENCE OF PROTECTIVE COVER IN SUPPLY
Add your review
|
Read reviews and comments
Are you interested in bidding? Follow our Telegram Channel!
A lot of discount codes, some exclusive offers from the group, phones, gadgets and gadgets.