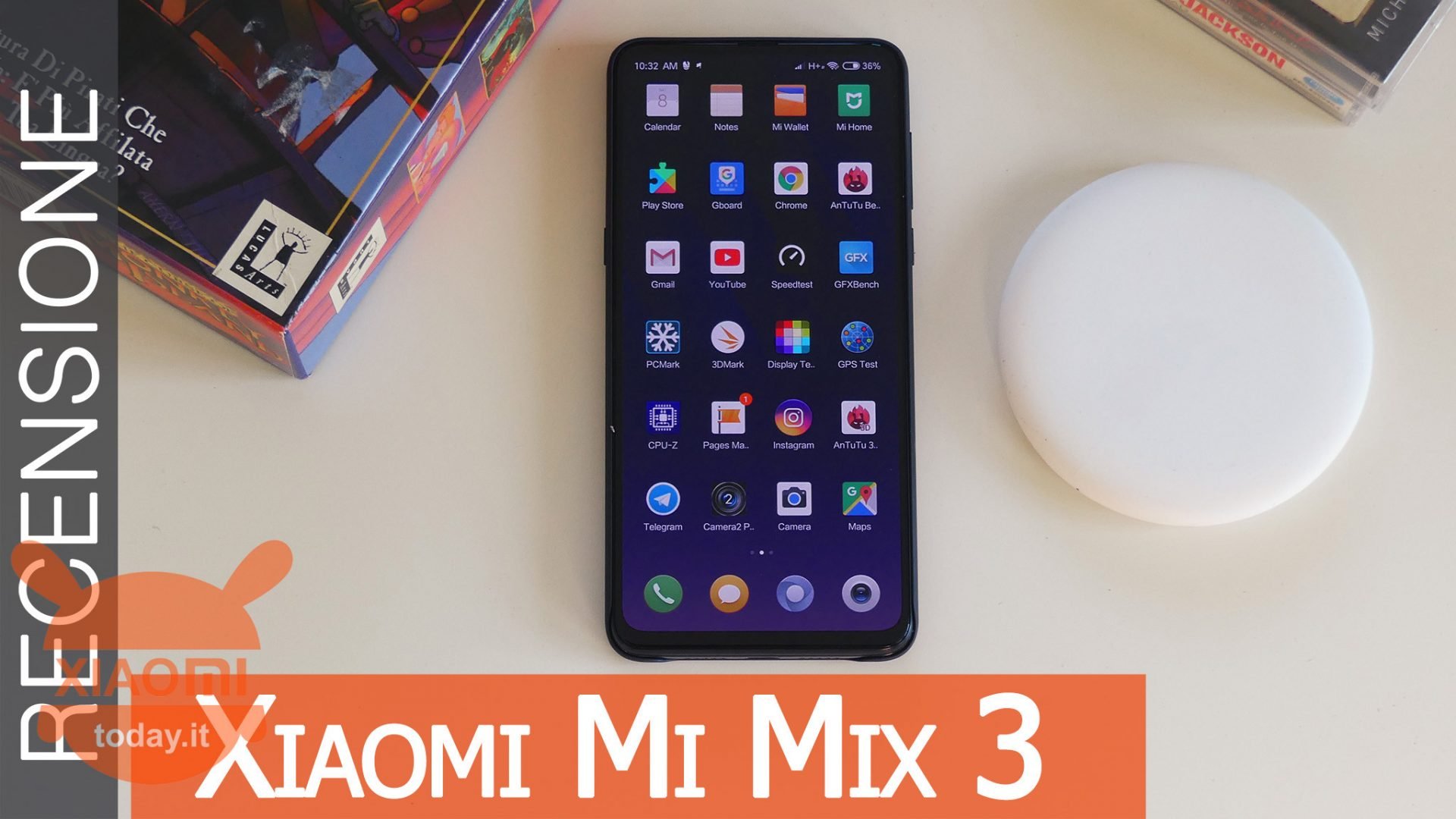 For us brand lovers Xiaomi every year the time comes to talk to you about the company's top of the range, not that Mi 8 (and all its variants) is not, but since Lei Jun's company pulled the first Mi Mix out of its technological cylinder, well undoubtedly it is he who holds this nickname. We have therefore arrived at the third generation of the Chinese concept phone, that is the Xiaomi Mi Mix 3 that today we're going to discover together in our full review.
🇨🇳 Standard Priority Shipping FREE (8 / 10gg, No customs) ✈ 🎁 Tempered glass + Cover + FREE film

🇨🇳 Standard Priority Shipping FREE (8 / 10gg, No Customs) ✈

🇨🇳 Priority Direct Mail Shipping (Delivery 10 / 15gg, NO customs) ✈
In our unboxing video we showed you the contents of the sales package, which already suggests that this smartphone has an edge over the rivals of the sector, offering a decidedly rich endowment, cared for and worthy of the top of the range title. Therefore I will briefly summarize the content of the sales box which consists of:
Type-C adapter to 3.5 mm jack for earphones
Pin for removing the SIM cart
Rubberized and opaque protective cover
Card with thanks of Lei Jun
User manuals (in Chinese)
USB Type-C cable for charging and transferring data
Wall charger with Chinese connection (you must therefore equip yourself with adapter for European sockets) with 5V output - 3A / 9V - 2A / 12V - 1.5A
Wireless charging base with 5V output - 2A / 9V - 2A
That's right, Xiaomi also includes the Mi Mix 3 wireless charging base, when more noble competitors at the cost of 1400 euros still insert a tiny 5V - 1A charger (meditate people ... meditate).
Xiaomi Mi Mix 3 Review - Top or Flop?
In this review, more than ever, we must start with talking about design, because the top of the range by Xiaomi is a pleasure for the eyes, because what jumps to the eye is a totally borderless aspect, thanks to a display exaggeratedly large and free of disturbing elements such as notch but we will address this aspect later. The back and profiles of Mi Mix 3 are made of ceramic, a decidedly premium and resistant material even if it is almost deprived of any oleophobic treatment therefore if you use the bare and raw device, you will be forced to always clean it because the fat of the fingerprints remains attached like a fly on honey. The black color gives a touch of elegance and the writing MIX BY XIAOMI placed on two horizontal lines in gold makes the terminal look like a jewel.
The back is only interrupted by the sensor for fingerprints almost flush with body, which is easily reachable but above all gives one Reliable unlock 100 times on 100 and super fast. To this you can associate gestures such as the photo shoot or use it to block unwanted access to certain applications, photos, etc. .. And it does not surprise me that Xiaomi on the fingerprint sensor has raised the quality and reliability, because you will often find yourself, too often, using it as the only security system.
Also on the back there is also one space dual traffic light camera in which the very powerful dual tone LED flash is placed centrally. The rear photographic compartment is protruding and this could create some problems if you go to use the display on the top left, creating dancers movements to the smartphone, so the use of the back cover supplied is recommended, which solves this and also increases the grip of the Mi Mix 3 which is definitely slippery due to the use of ceramics.
To look at it well the back looks a lot like that of Mi 8In fact, the corners are curved while the profiles with metal core are joined in a gentle way with the back cover. And it is precisely on the profiles that we continue our journey of knowledge of Mi Mix 3, where we find the SIM tray on the left, able to host two SIM cards in nano format but without the possibility of expanding the internal memory and a button of which I will talk later, while on the right we find the iconic power buttons and volume rocker.
On the lower side is the entrance Type-C for charging the device with OTG support, which will transmit the sound to the earphones if you use the Type-C to 3.5 jack adapter mm. In a symmetrical way, hidden by small holes, we find on the left the main microphone and the mono-type system speaker which carries out its work in an excellent way, returning a audio of a high volume level but above all well balanced, rich in shades even in low tones and that will not regret the lack of a stereo speaker. Always on the bottom we find two small vertical lines for the enhancement of the signal of reception of the antennas while on the upper profile the second microphone is present in solitude for the reduction of environmental noise.
But before you talk about the front, the real news of this Xiaomi Mi Mix 3, I quote the size equal to 157,89 x 74,69 x 8,46 mm for a total weight of 218 grams. A weight that at first sight seems exaggerated but that in everyday life is not felt at all thanks to an excellent balance of the same. Weight gain over previous generations is justified by the inclusion of a sliding mechanism on the front which allowed the miracle of a display practically devoid of embarrassing frames.
And whether it's useful or not, It is precisely the slider one of the protagonists of this new top of the range, anticipating what may be the "fashion" of the 2019. An idea perhaps not very original, recovered from old glories of the past, but in any case innovative. First of all, the slide mechanism is mechanical type and without going too far into technicalities I can tell you that sturdiness is guaranteed and absolutely not as "hard" as I have heard from some colleagues. Once the downward movement is made, the proximity sensor and the brightness sensor are inside the slider dual front camera and soft LED flash and finally the auricular capsule. A plaudit to Xiaomi must be done, because all the sensors work perfectly even though they are covered by the display, just as the sound coming from the earpiece during the call is always crystalline, thanks to a small grid positioned on the thin upper frame of the display in which there is also a seat Monochromatic notification LED in white color.
But the real pleasure of this smartphone is donated by a AMOLED display supplied by Samsung with a diagonal of 6,39 inches with 19.5 format: 9, resolution Full HD + (2340 x 1080 pixels), 403 PPI, 60000: 1 contrast ratio, 600 nits of brightness and chromatic fidelity NTSC 103,8%. So many letters and abbreviations to say simply that Mi Mix 3 is equipped with one amazing screen, with lots of support for HDR content. Excellent visibility even under direct sunlight, perfect viewing angles and absolute blacks. It seems almost useless to add that it presents the possibility of regular contrasts and temperature by means of software, or that there is the reading mode as well as the possibility of awakening it with a double tap or with the gesture of lifting the smartphone.
But it is right to emphasize how much it is Amazingly enjoy any multimedia content on this display covering the 93,4% of available area and which, in its own way, offers theAlways On Display (AOD), ie we will always have an eye on the information regarding time and date and any notifications, although with these it is not possible to interact without unlocking the Xiaomi Mi Mix 3. Finally, the good touchscreen digitizer feed should be noted in a positive sense, really good, giving a fast and pleasant writing of texts. The only flaw is the lack of support for streaming HD content from platforms like Netflix, because of Widevine certificate of 3 level.
Certainly the slider of Mi Mix 3 gives that charm that is difficult to explain in words, but that on balance I found little useful in everyday life, although it is possible to associate some functions. From the dedicated menu you can decide if opening the mechanism to open the camera for a sepia, open a sort of tools that includes some camera shortcuts, audio recording, timers, weather forecasts, notepad and payments with NFC etc .. We can also decide whether to open a specific application (for example Youtube) or no associated function. Furthermore we can decide whether or not to enable a sound related to the opening and closing movement, choosing between 5 predefined models, or you can make free downloads through a sort of dedicated market (at the moment only 6 sounds are available).
But why did I tell you that I find this mechanism of little use? Well, the 3 Mi Mix selfie camera allows the face to be unlocked, which I must say works excellently even in conditions that are particularly lacking in lighting, but unfortunately we should always act precisely on the mechanism in order to exploit this function. And becomes impractical for example if the smartphone is resting on a table, having to use the slider but also trivially the snapshot of a selfie becomes almost unnatural, because it seems to be missing the grip if you hold the smartphone with your right hand, and finally if you use a charging cable with a pronounced thickness, you must pay attention to the fact that the lower display part slams against the cable itself. It is undeniable, however, that anyone who sees this slider, wants to try it, expressing comments like "FICO" !!!
Xiaomi Mi Mix 3 we have said several times that fits in the category of top of the range, and as such can not offer a hardware noteworthy. Under the hood of this technological machine we find the SoC Qualcomm Snapdragon 845, Octacore with clock frequency at 2.8 GHz coupled to Adreno GPU 630 @710 MHz, but also 6 GB of LPDDR4X dual channel RAM memory e 128 GB of internal storage UFS 2.1 [there are also variants 8 + 128 GB (three colors available) / 8 + 256 GB (black only) and 10 + 256 GB (special edition)]. It seems almost obvious to say, Mi Mix 3 is perfect in every use: even rather challenging game sessions are dealt with without problems, the openings of the app are carried out in a lightning way, all without recognizing any kind of lag and / or particular overheating.
At the hardware level we also find an excellent one 802.11a / b / g / n / ac dual band WiFi to 2.4 / 5.0 GHz with support for WiFi Direct and WiFi Display, Bluetooth 5.0 with support for AAC / aptX / aptX-HD protocols and NFC sensor but above all a dual channel dual channel GPS L1 + L5, the same as Mi 8 but even more precise. Absent the FM radio but we find the full support for the 20 and 4G + bandstherefore you will not have to worry about compatibility with operators or other. Moreover, the reception of the signal, in all forms, has always been excellent, confirming once again that Xiaomi Mi Mix 3 is a real top of the range.
The smartphone we tested came with ROM MUI 10 China Stable with OS Android 9 Pie, which immediately received a firmware update that led to the version 10.0.12.0 and 01 October 2018 security patches. Unfortunately there is no TWRP recovery yet and therefore it was not possible to use the smartphone with Italian language and Google services already pre-installed (even if these are already present in the Chinese ROM). Not bad, because in five minutes the smartphone will be fully functional, synchronized and above all no problem in receiving notifications. Just download the Google installer directly from the Xiaomi market, while if you also want the Italian language on certain apps then you can do it by using More 2 room.
🇨🇳 Standard Priority Shipping FREE (8 / 10gg, No customs) ✈ 🎁 Tempered glass + Cover + FREE film

🇨🇳 Standard Priority Shipping FREE (8 / 10gg, No Customs) ✈

🇨🇳 Priority Direct Mail Shipping (Delivery 10 / 15gg, NO customs) ✈
The problem of Chinese ROM is linked exclusively to the fact that certain services, even quite interesting ones, are practically useless at our latitudes, such as the integration of the XiaoAI assistant callable via the button on the left profile. Probably in the Global version it will be associated with Google Assistant, or who knows if Xiaomi does not even want to export its virtual assistant here in Italy. Having said that the MIUI 10 interface, we now know it and its operation is decidedly optimized, fluid and lightning fast. In short, a device that has been able to amaze me even from this point of view despite the handicap of purely Chinese services. Finally to be honest, I did not find big benefits from Android 9 Pie compared to the usual Oreo, perhaps because of a strong customization by MIUI, but in any case it is a plus to have the latest OS of the green robot.
And before leaving with an interesting but sometimes thorny subject, that of the camera, I would say to get rid of the autonomy speech that Xiaomi Mi Mix 3 is very satisfactory, despite the battery has a capacity of only 3200 mAh. But thanks to the software optimizations of the MIUI and the combo CPU + GPU and memories the battery of Mi Mix 3 manages to bring us to the evening always with a good level of residual charge, eliminating any type of energy saving. In all honesty there is to say that these results are obtained with an average use while if we try to push the phone with games for example, in this case the autonomy drops a lot. Fortunately, there is the Quick Charge 4.0 quick charging support, but also the charger in QN 3.0 package from 18W can provide us with the full of energy in about 1 now and 20 minutes, but you can also think of creating a double charging point, for example one at home via the wall charger and one in the office using the wireless charging base, considering that only this accessory is so design that goes with all types of environment. I will not list the times of active screen, because in my week of testing I made a very abnormal use of the smartphone, but just by way of example I can tell you that I made about 4 hours and 30 minutes with the remaining 30% remaining charge .
Finally, we address a broadly important theme for a smartphone in general, and Xiaomi Mi Mix 3 offers its users even Well 4 cameras, of which 2 on the back and two for the selfie mode. In particular on the front we find a lens from 24 MP sensor Sony IMX576, opening f/ 2.2, pixel size from 1.8μm and technology Pixel Binning 4 in 1, which is accompanied by one 2 MP camera OmniVision sensor OV02A10, aperture f/ 2.2, pixel size from 1.75μm that only carries out the depth data collection function to give thebokeh effect both in photos and videos (only in HD resolution and duration of 30 seconds).
* NB: images in non-original resolution cause excessive size for the server
We have the opportunity to take advantage of theAutomatic HDR (only in normal shooting mode), set filters in real time but above all take advantage of AI technology able to recognize the type of scene in order to automatically set the best shooting parameters, finally we can in portrait mode also choose whether to enable a nice call function Studio Lightning, which will place a series of photographic backgrounds with light effects in front of the blurred background, a function that can also be recalled subsequently to the bokeh shot. Videos can be shot at full resolution in Full HD 30fps not stabilized even if the digital type function is present, but it probably does not work properly. Anyway the shots of this room are more than appreciable at least in conditions of good lighting, while at the end of this it is not so much the background noise to annoy but the colors returned that seem to be mixed.
CAMERA STOCK COMPARISON vs. NIGHT MODE
Things get interesting with regards to the rear where we find aWide-angle lens from 12 MP Sony IMX363 sensor, opening f/ 1.8, pixel size from 1.4μm, equipped with Dual Pixel autofocus really fast and soft in changing the focus point but above all optically stabilized on 4 axes. This is accompanied by one second unit from 12 MP sensor SAMSUNG S5K3M3 +, opening f/ 2.4, pixel size from 1.0μm that carries out not only the data collection function but also that of 2X optical zoom.
The software and the functions we have seen in part with the camera selfie but in this case at the video level we cannot get the blur effect but take advantage of resolutions up to 4K / 1080p to 60 fps, 4K to 30 fps, or 1080p to 30fps, the latter the only resolution to exploit the optical stabilization, but if we assume to associate it with a gimbal, then the cinematic effect in the videos is assured, considering the highest resolution.
The novelty also lies in the possibility of turning of the Slow Motion video at 906fps with maximum resolution Full HD, limited however to a duration of 10 seconds of which the first 2 are turned at normal speed. A function that certainly has an extraordinary aspect but that wants to be critical it is not perfect, because if we analyze the video from a PC monitor we notice a sort of "bubble" effect around the object in focus, a symptom that the software is not working very well. Another novelty concerns the inclusion by Xiaomi on the new Mi Mix 3 of the Night mode, which under certain conditions contributes to considerably increase the quality and clarity of the shots, especially if there are lights, neon and writing difficult to capture. Although it is a significant step forward by Xiaomi, I can not fully promote it because at the end seems to emulate the HDR + mode that we are accustomed with the various port of GCam, in fact, although not made any unlocking of the bootloader and permissions root I tried to install just the latest GCam release which integrates the Night Sight function.
Apart from the instability of the application due to the lack of modding steps to be performed before installing the APK, I managed to obtain decidedly better and brighter shots. Anyway the rear photo frame of Xiaomi Mi Mix 3 is promoted, able to compete with other top of the range perhaps exploiting the manual mode offered by the software that will allow us to set the white balance, the point of focus, the ISO, the shutter speed and finally decide whether to shoot from the tele lens or wide.
🇨🇳 Standard Priority Shipping FREE (8 / 10gg, No customs) ✈ 🎁 Tempered glass + Cover + FREE film

🇨🇳 Standard Priority Shipping FREE (8 / 10gg, No Customs) ✈

🇨🇳 Priority Direct Mail Shipping (Delivery 10 / 15gg, NO customs) ✈
FINAL CONCLUSIONS
Xiaomi Mi Mix 3 arrives on a crowded market of top of the range, and as always does so in a positive way, starting from price that is proposed, sometimes even half compared to other brands. You will not have to make sacrifices, e the experience of use in everyday life is certainly among the best in the smartphone sector. The slider can be useful or not, depending on the uses, but it is definitely a hallmark of this smartphone that offers one of the best completely borderless displays without forgetting the extreme clarity and auality of the image. In short, many people buy certain devices to make scenes, because they are recognized as status symbols, and Xiaomi Mi Mix 3 with its elegance and quality of materials and construction, as well as the WOW effect knows how to compete big at half the list price.
Perhaps a smartphone not for every budget, but worth saving some money for a future purchase, considering that the Global variant will be released soon and that the world of modding is already working to offer and bring out the best from this device . If you are therefore interested in purchasing you can click on the various banners scattered in this review.
Are you interested in OFFERS? Follow our TELEGRAM Channel! Many discount codes, offers, some exclusive of the group, on phones, tablet gadgets and technology.
XIAOMI MI MIX 3
Xiaomi Mi Mix 3 has arrived at a time when it is perhaps difficult to still amaze, and then the company has fished from the past something that has perhaps little innovation. In fact, although the slider is a beautiful design element, the practicality of use becomes limiting. But beyond that the top of the Chinese range wins from every point of view ... even this "defect" actually becomes a merit.
PROS
DISPLAY
HARDWARE
PERFORMANCE
BATTERY
AUDIO
DESIGN
CONS
LACK OF OLEOFOBIC TREATMENT
Add your review
|
Read reviews and comments