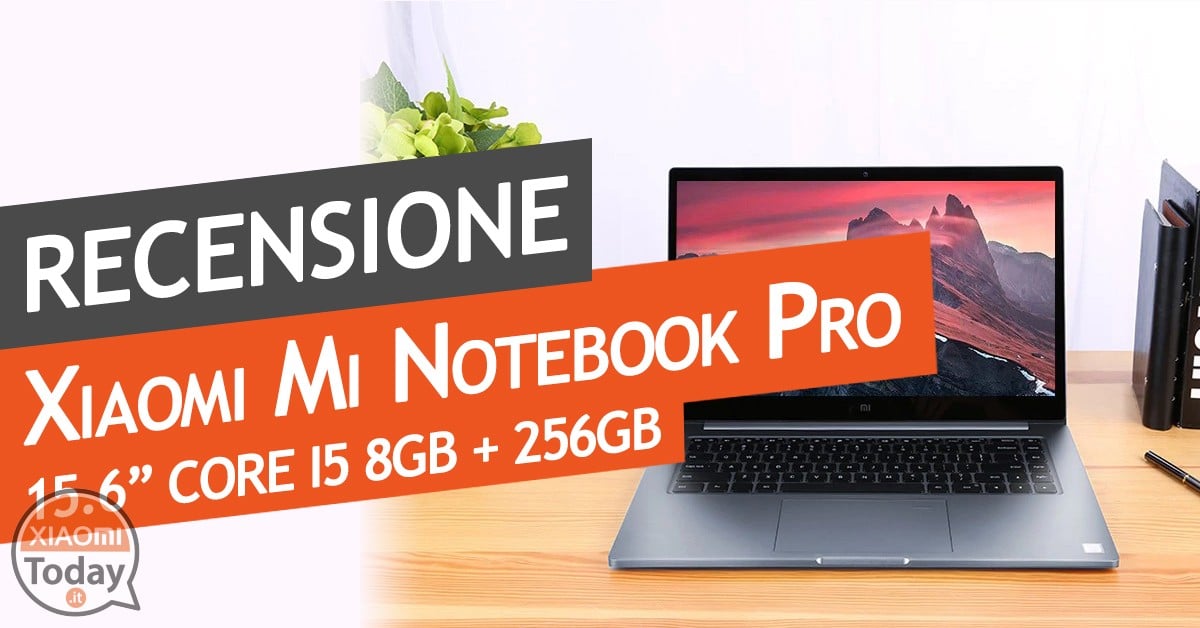 Xiaomi is also literally making its way into the world of portable PCs, and has recently introduced its own Xiaomi Mi Notebook Pro, a cross between Ultrabook and the most powerful PCs dedicated to the world of gaming, video editing and photo retouching. Reduce the previous review where we talked about it Xiaomi Mi Notebook Air 13.3 with fingerprint sensor, we are now ready to analyze this new technology gem thanks to Gearbest.com who made the sample available and who I recommend as a store to turn to for buying the best technology made in China and beyond.
The sales package does not differ from those of the previous editions, made of white cardboard with the image of the product in plain sight on the front, while inside the notebook we can find the manual in Chinese including warranty, loader with a Chinese socket (so you'll have to have a European adapter) with the exit 5 / 9 / 12 / 15V / 3A and 20V / 3.25A and 65W power, and finally the dual USB Type-C charging cable with a length equal to 154 cm. The charger is really compact, dimensionally similar to those used for smartphones, and can be further resized because the two metal slats can fold over themselves.
We start from price which is temporarily decided by the 760 to the 830 Euro approx based on ongoing bidding, and which, however, involves a small risk due to lack of assistance and warranty remains a great investment. Xiaomi's Mi Notebook Pro be imported from China and will arrive with you on board Windows 10 Home Edition operating system completely single Chinese language. But translating it into Italian is really in the reach of everyone, it will be enough to follow the our guide and within a short time you will have a fully performing car in Italian.
Make the premise of the Xiaomi Mi Notebook Pro the design of his predecessor follows in great detail, but inspired even more by the more famous Apple MacBook Pro, more than anything else with the adoption of deep gray coloration which gives even more the premium aspect to the device. The Xiaomi Mi Notebook Pro is the size of 344 x 193,6 x 16 mm with a low weight of 1950 grams and a frame made entirely of magnesium alloy, the company has increased the adoption of the 25% material making it even more robust the device, which results in a really top quality construction, integrating a large keyboard and a reactive touch pad, all enriched by a standard equipment of doors on both profiles really exhaustive.
Very good construction for this notebook confirmed by robust zipper display (unfortunately made of plastic) that covers almost the entire surface available, but also from the fact that the same is well balanced and calibrated as it allows us to open the display with one hand without the notebook flexing in any way, using the convenient groove on the front of the notebook.
Also for the keyboard the design is inspired by that of the MacBook Air, using buttons from 19.5 mm with a slight 1.5 mm stroke (curvature from 0.3 mm), optimally spaced from each other allowing a fluid and smudge-free writing, thanks also to the large area dedicated to the palm rests. Backlit keyboard (3 nits) with the ability to deactivate via dedicated button and that really is comfortable even in night use where we can not use artificial illumination (there are also additional extra functions associated with the F1 / F12 keys, such as volume control, mouse deactivation, etc.). Certainly the small handicap remains American physical layout (ANSI US) characterized by SHIFT key wide on the left and ENTER key on the right; It is possible to write via software in Italian, so you will have to remember the position of the special and accented characters by heart or find an alternative solution such as the purchase of dedicated stickers that could make you give up backlighting.
Also the mouse track pad has proven to be reliable and fluid, about 6 inches wide with full support for all the Windows 10 gestures, but the real peculiarity lies in theintegrating the fingerprint sensor which becomes an excellent ally for privacy, thanks to support for Windows Hello.
The Mi Notebook Pro display is aunited from 15.6 inches to 16: 9 (frame ratio 81,5%, frames from 6.52 mm) Full HD with IPS technology which enjoys excellent brightness (300 nits, 800 contrast: 1) especially in indoor use, but also outside you can enjoy the visual quality offered, without too many compromises. I am not an expert or a specialized technician, and I can appreciate its aspects as an end user, and as such I can certainly say that the quality of the display has proved to live up to expectations. Brilliant and faithful colors in extreme angles (72% NTSC color gamut, 142 ppi, angle 170 degrees view), and if I have to find a defect I find it in the glass that covers the display, a third-generation Corning Gorilla Glass, really reflective. At the top of the display we have a kit 1 megapixel camera with HD 720p resolution assisted by a double digital matrix microphone and a small status LED, which makes the experience of video calls and / or chats in general more than optimal, but also small shots to post on the various social networks.
Another point in favor of this Mi Notebook Pro is the audio compartment (Realtek ALC298 card) really amazing. We find in fact two loudspeakers from 2.5 Watt each with a resonance range offered by the brand Harman Infinity with system Dolby Atmos. The sound comes out of the bottom of the handset and from the space that is created between the display hinge and the chassis, resulting full body, balanced on each frequency range, without ever distorting even when the volume is at maximum (and the volume level is really high), resulting in a pleasure for the ears when listening to music and multimedia audio content in general.
As said at the beginning the Xiaomi Mi Notebook Pro will come with Windows 10 Single Language license in Chinese, easily translatable in Italian thanks to our guide. You may retain the license by logging in with the Microsoft account which will be provided with a digital license linked to your account. Anyway I did not find any bug or impoundment in the execution of various applications and programs. Personally I'm not a big user of Linux but know that for this Mi Notebook Pro there is full support with recognition of hardware drivers automatically allowing you to enjoy the potential of the machine without having to dim. So you choose whether to use Windows 10, a Linux distro or why not have both operating systems in Dual Boot.
BENCHMARK
The previous generation of Xiaomi notebook suffered in some cases of overheating but this time the Chinese company has worked really well using well two fans and heatpipe designed for a 45 watt notebook, one on 15 watts, that in combination they are able to work in an optimal way the heat generated by the CPU and GPU by properly cooling the ends of the heatpipe with the heat outlet thanks to the enormous ventilation grid placed on the back of the notebook. All this translates into excellent plant yield even in situations of high stress reaching maximum temperatures of 74 ° C per CPU, while for the Nvidia GPU we never exceed 60 ° C, however values ​​obtained under conditions of unreal use with CPU and GPU at 100%, while during normal use we touch maximum values ​​of 40 ° C .
These values ​​are obtained in part from the hardware optimization that Xiaomi has preserved for its Mi Notebook Pro which it uses a Intel Core i5-8250U processor Eighth generation Kaby Lake (increased 40% performance compared to the previous generation), a SSD NVMe by 256 GB of Samsung PM961 (Slot M.2 SATA Free), is 8 GB RAM DDR4-2400 MHz Dual Channel Memory and a Dedicated Nvidia MX150 GPU with 2 GB GDDR5.
We also find connectivity Wi-Fi dual 8265 / 2.4 GHz 5 ac Intel XNUMX, form Bluetooth 4.1, 2 USB Type-C ports of which an 3.1 that also allows to recharge the notebook as well as to be exploited as a video output, and the other 3.0 only data (1.5 Gb / s transfer speed) and for use by peripherals, 2 3.0 USB ports (5GB / s speeds), 1 HDMI input port, entrance jack from 3.5mm e card slot with triple support a SD / SDHC / SDXC.
In broad terms we do not find big differences with its predecessor from 13,3 inches if not precisely for the accompanying doors and the hardware that also houses a dedicated graphics card provided by NVidia with the MX150 model which deserves attention, as it permits big satisfaction with games with recent releasebut sacrificing the resolution to 720p while for the other titles at the highest resolution we get a perfect gameplay, considering that similar processor notebooks offer only integrated Intel HD graphics cards. This means that our Mi Notebook Pro lends itself to video editing absolutely, with 4K mounts at the baseline level while with 1080p tracks, rendering renders optimally and professionally.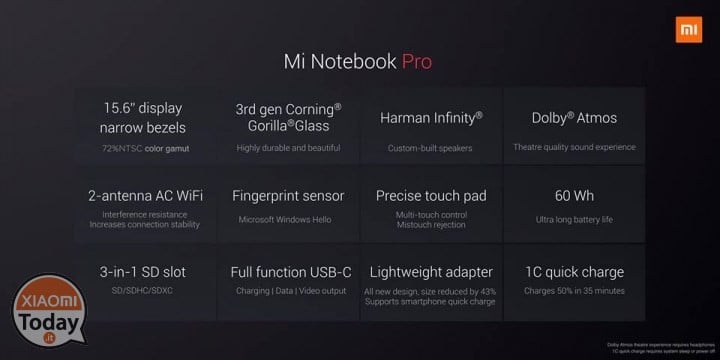 Finally we should talk about it battery which for this notebook is from 60 Wh with possibility of recharging via the included power adapter with USB Type-C from 65 watt 5 / 20V max 3.25A with support for fast charging reaching a 50% of autonomy in just 35 minutes. I repeat my not being a field technician and as a common user I could evaluate the battery life in both stressful situations such as video games and rendering, and in common use such as internet browsing, office document editors, music listening and content viewing multimedia, getting results that have led me to results ranging from 4 hours (stress situations) to 7,5 hours (common situation) with margins of improvement as the really bright display can also be set to an illumination below the 50%.
Although the appearance of the Xiaomi Mi Notebook Pro reminds one of a MacBook the product absolutely does not want to take its place but remains one a real alternative to the most respected Apple home notebook. Xiaomi has been able to optimize the hardware scrupulously, enriching everything with a truly premium design and connectivity, guaranteeing graphic performance and almost record autonomy, without any compromise resulting the right handset for all users. Therefore I recommend the purchase through the store Gearbest.com which offers the best technology at competitive prices, so don't miss the offer. Impossible to find better at this price !!!