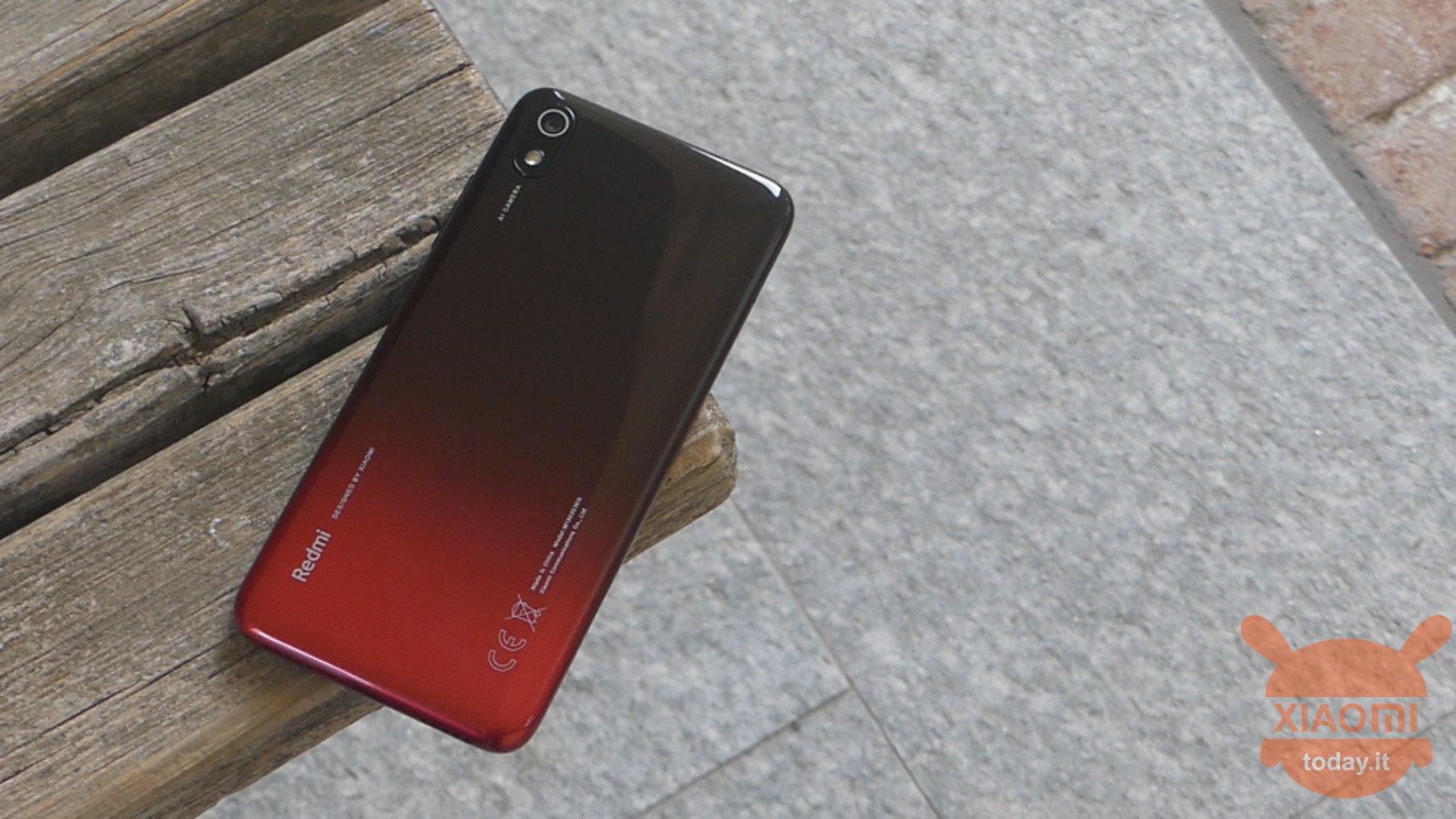 Find one smartphone under the 100 euro that it is worth the purchase is always a challenge that stimulates me very much. With Xiaomi it has always been a rather easy task to accomplish and now with the new entry level Redmi will be the same? The previous device redmi 7 we loved it and it is therefore time to try the "poorer" model. Let's find out the little one together Redmi 7A.
Let's start by saying that Redmi 7A does not want to surprise with high-level specs, nor with super-futuristic designs, but rather the target it is aimed at is slice of users searching for device reliability, excellent autonomy and ease of use on a daily basis.
It is therefore right to start with this review when talking about hardware, which in the case of Redmi 7A consists of a processor Qualcomm Snapdragon 439, octacore to 2.0 GHz accompanied by a 505 Adreno GPU. Nothing exceptional, though all operations at a daily level are carried out in a rather fluid manner and without exaggerated expectations in opening or reloading apps. You can also take advantage of games of the caliber of Real Racing 3 or PUBG, certainly with a considerable loss of detail, but still playable.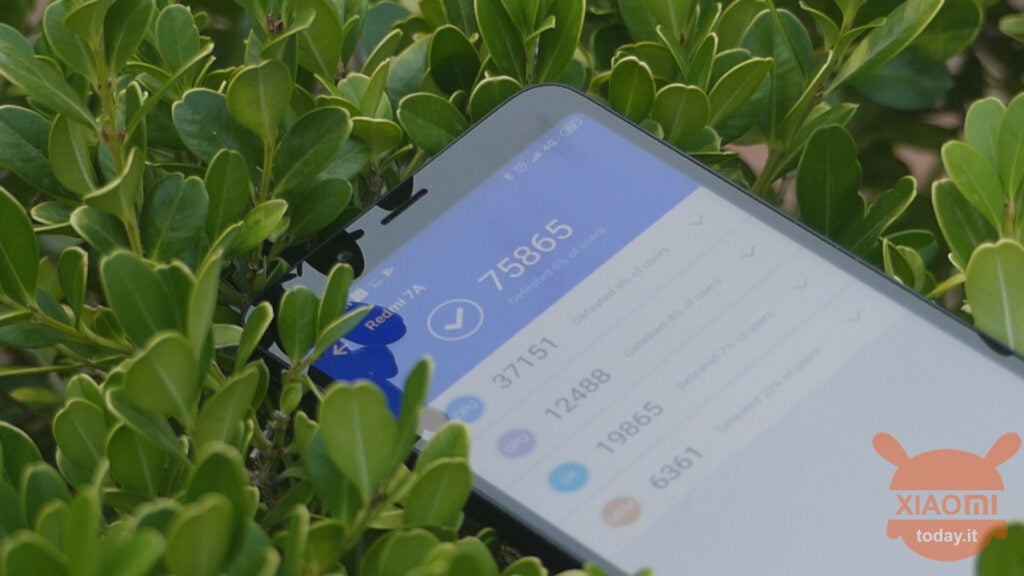 Strangely, on the other hand, I could not play the NOVA Legacy title in any way, a game optimized to be played on poorly performing devices. But the real problem is not so much this but rather the RAM cut. In fact we find Redmi 7A aboard only 2 GB of LPDDR3 RAM, that fail to support the load of applications in the background, often generating various recharges of the same, but also systematic obstacles and considerable lag.
Probably something can and will be improved on software level with future updates but 2 GB of RAM they are really too few in this 2019. At the level of internal storage instead we find 32 GB of type eMMC and can be expanded via micro SD with support up to 512 GB without giving up the Dual SIM Dual Standby functionality. Redmi 7A is currently only available in the 2 / 16 GB and 2 / 32 GB variants, but the company also lists the 3 / 32 GB variant, although at this point it appears in some sense unnecessary to buy if this device is placed in relation to Redmi 7.
But let's get to the interesting things about this device, which could prove to be the right purchase to do, perhaps giving it to your grandfather or why not as a good forklift to use for holidays or for work. First of all Redmi 7A is pleasantly surprising to handle thanks to its compact size 146,3 x 70,41 x 9,55 mm and a weight of 165 grams.
Everything is well balanced and the design, apart from the very cool coloring of our specimen (there is also a more sober black and a blue color) is rather simple, I would say old school. Back cover made of polycarbonate which accommodates the volume rocker and the power button on the right on the profiles, while the SIM tray capable of receiving is located on the left 2 SIM in nano format and a micro SD card to expand the memory. At the top of the device is inserted the jack from 3,5 mm and the second microphone, the opposite is the main microphone, charging input with micro USB OTG support and mono speaker.
On the back of the device we find nothing, if not the single rear camera alongside a dual tone LED flash. And the fingerprint sensor? We do not find it, and in a sense it could be an advantage. First of all because the design benefits, the final cost of the terminal but above all because if you think of the hypothetical grandfather to whom you want to give your smartphone, this could help considering that Redmi 7A offers the possibility of being unlocked with face recognition in 2D. And believe me if I tell you that the lock face ID works in a STRAIGHT manner, recognizing even in situations of total darkness. This magic is possible thanks to the excellent and wide range of brightness of the display on the device.
Display that offers a diagonal of 5,45 inches with resolution HD + with technology IPS without notches, holes or other devilries, thus allowing viewing of notifications in all circumstances. Also good visibility in direct sunlight, as well as excellent the various functions offered at software level such as reading mode, the possibility of calibrating the colors but above all the new dark theme that although it does not help to increase the already excellent autonomy, it is particularly helpful at night.
Even the front glass to protect the display is quite resistant: during the test days I always used the Redmi 7A without case and film, although I kept it in my pocket even with other objects, it didn't show any scratches. To complete the design overview, we don't find any soft touch button that will be emulated on the screen or you can proceed with the use of comfortable gesture. On the top of the display we find the ear capsule, the selfie camera, proximity and brightness sensor as well as a convenient and small monochrome notification LED. The frames are not particularly pronounced, thus returning a general pleasantness when viewing multimedia content. And to think that smartphones cost almost 1000 euro fail in this ... true Apple?
We have named it: yes, the new Chinese entry level can be considered a battery phone, thanks to a unit from 4000 mAh that combined with a low-energy SoC and the various optimization of the MIUI 10, is able to perform up to 8 hours of active screen with a rather intense use. So the classic user will be able to easily carry out his activities up to 2 continuous days.
On the software I will not spend many words, because the MIUI 10 we know better than our sister and above all to talk about it would also make little sense considering the new MIUI 11 that starting from mid-October will begin distribution in rollout for many terminals of the company. Having said that we find the system interface on Redmi 7A MIUI 10.2.5.0 with 2019 July security patch all based on operating system Android 9. Translated into simple terms, we have a clean and certainly enviable user experience compared to many smartphone competitors.
At the reception level, the device behaves in a more than satisfactory manner, net of one 4G connectivity to be exploited on both SIM slots, a form WiFi mono band, Bluetooth 4.2 and a GPS that although it does not shine due to the rapidity of the satellite signal coupling, it is able to offer stability and reliability in road navigation.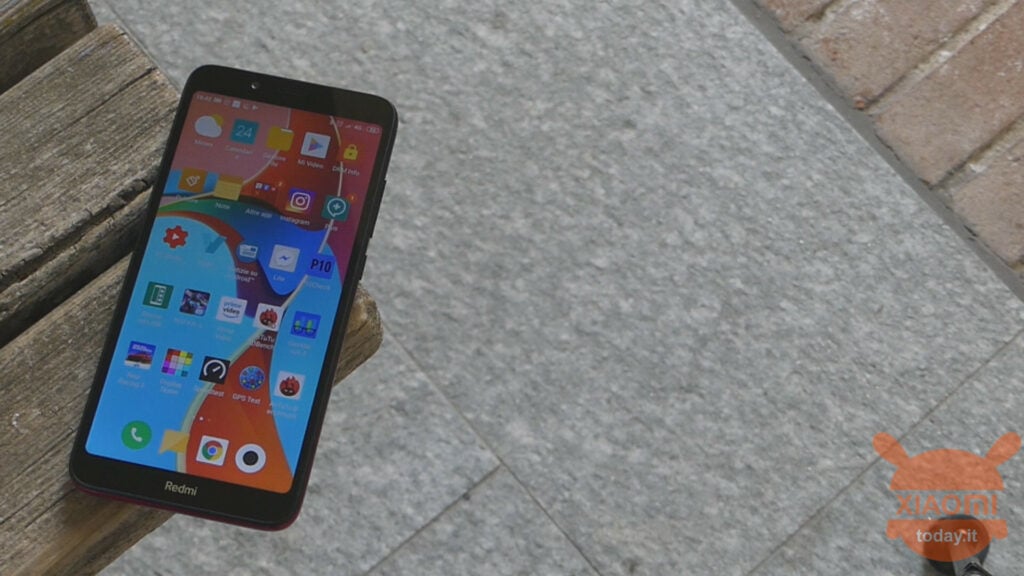 Also the microphones are noteworthy, offering a truly unique conversation quality, even for capturing audio during video recording. Finally the speaker, just mono, it doesn't shine for power in the bass but it manages to be appreciated for the high volume it releases without ever croaking or distorting the sound flow. The presence of the FM radio that can be activated even without earphones. A real treat, perhaps to listen to the Sunday game while walking your friend to 4 paws.
As mentioned a few lines above, Redmi 7A is equipped with a single back camera from 13 MP, Sony sensor IMX486 with focal opening f/ 2.2. The returned photos are of good quality with good lighting while they become particularly rich in digital noise when the ambient light does not help us. The colors, however, are not too saturated or deviate too much from reality and perhaps a night mode would have benefited the yield, considering that we have the basic CAM2API unlocked, which means that theoretically we could benefit from potential of GCam simply by installing a simple APK. Unfortunately however the support of the modding world is almost non-existent and at present no version of Google's camera seems to work for this Redmi 7A.
At the level of video we can record up to resolution Full HD 1080p to 30fps, but stabilization is practically absent in all forms, both digital and optical. However, we have software support forAutomatic HDR, la AI mode for scene recognition and then manual setting of the best photo setting, and possibility to shoot videos in Time Lapse. For the selfie camera I'll just say we have a form from 5 MP with focal opening f/ 2.2 which offers the possibility of take pictures with the classic bokeh effect, with good results. But if for the back room at night some shots can be used at least for social media, with the front camera we should trash everything.
Like any self-respecting review, I cannot fail to include the content of the sales package that does not differ much from what was seen with the older brother, finding:
Redmi 7A;
Power supply with 5V / 2A output and European socket;
Fast guide;
Cable for charging and micro USB data transfer;
Pin for removing the SIM tray;
CONCLUSIONS
Obviously Redmi 7A is not a best buy, as instead labeled by other fellow reviewers, but it remains an interesting smartphone considering the price. A little more than 70 euro (Coupon: BG7AE32EU) from the store Bangood, in Global version, are almost a gift for a device that makes autonomy its real strength. Excellent as a smartphone to leave in the car or inside the backpack to be used as an emergency device, or as a gift to people who do not have particular attention to technology.
To think that if you prefer the 2 / 16 GB version, this is available for the price of 63 € (Coupon: BG7AECL). Finally, the compactness of this smartphone net of the features offered is definitely a plus in comparison to models of the same price range offered by rival brands, or rather by the real "chinoisons" that too often dominate this segment of the market.