Let's start the day (and week) with not too good news for Xiaomi fans and the Redmi sub-brand. Lu Weibing, the general manager of the brand that became independent last January, would have just made it clear on the Chinese social media Weibo that the long-awaited flagship will not arrive today.
Lu Weibing shared an image that portrays several possible names for the device, namely X20, P20, K20 and T20. Then asking users to comment on which one they prefer among these options. Lu Weibing's request was also shared by the co-founder and CEO of Xiaomi Group, Lei Jun, and product director Want Teng Thomas.
Redmi Flagship: Lu Weibing asks for suggestions on the name, will it be K20?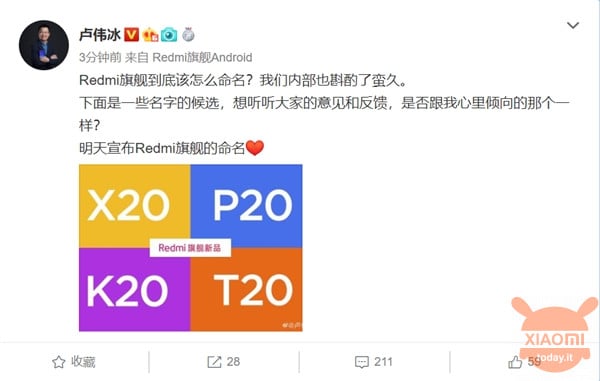 Users responded either ironically, asking why they should start with the 20 number, which seriously, choosing in most cases the name K20.
Why K20? Well there are different reasons. There are already smartphones that start with "X" produced by Vivo, smartphones that start with "P" like those from Huawei and finally those less known to us than the Smartisan brand that instead have a "T" in the name.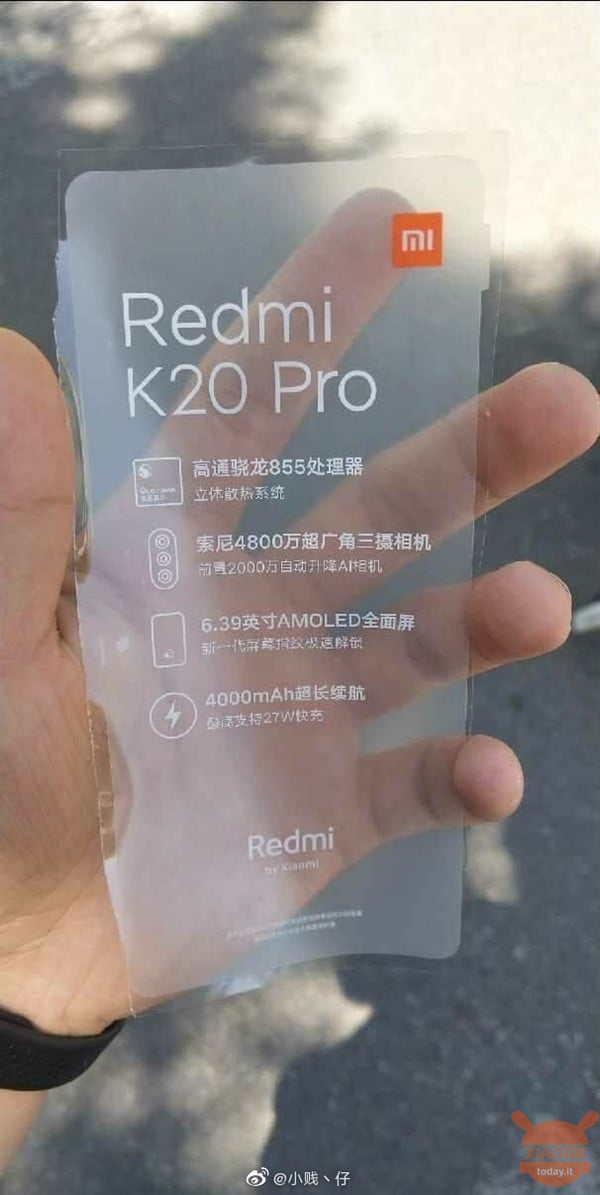 So, in fact, K20 is the only real option among those shared by Lu Weibing. To this we add that K20 could also be understood as the "Killer" of the Honor 20, a smartphone produced by a brand not too nice to Xiaomi, also not long ago, it was leaked the photo of the film of such "Redmi K20 Pro"
In any case, Weibing has made it known that the official name will be revealed tomorrow. Now we don't know what other details will be communicated by the general manager, but today's news would confirm the presence of two incoming devices, a "Redmi K20" and a "Redmi K20 Pro".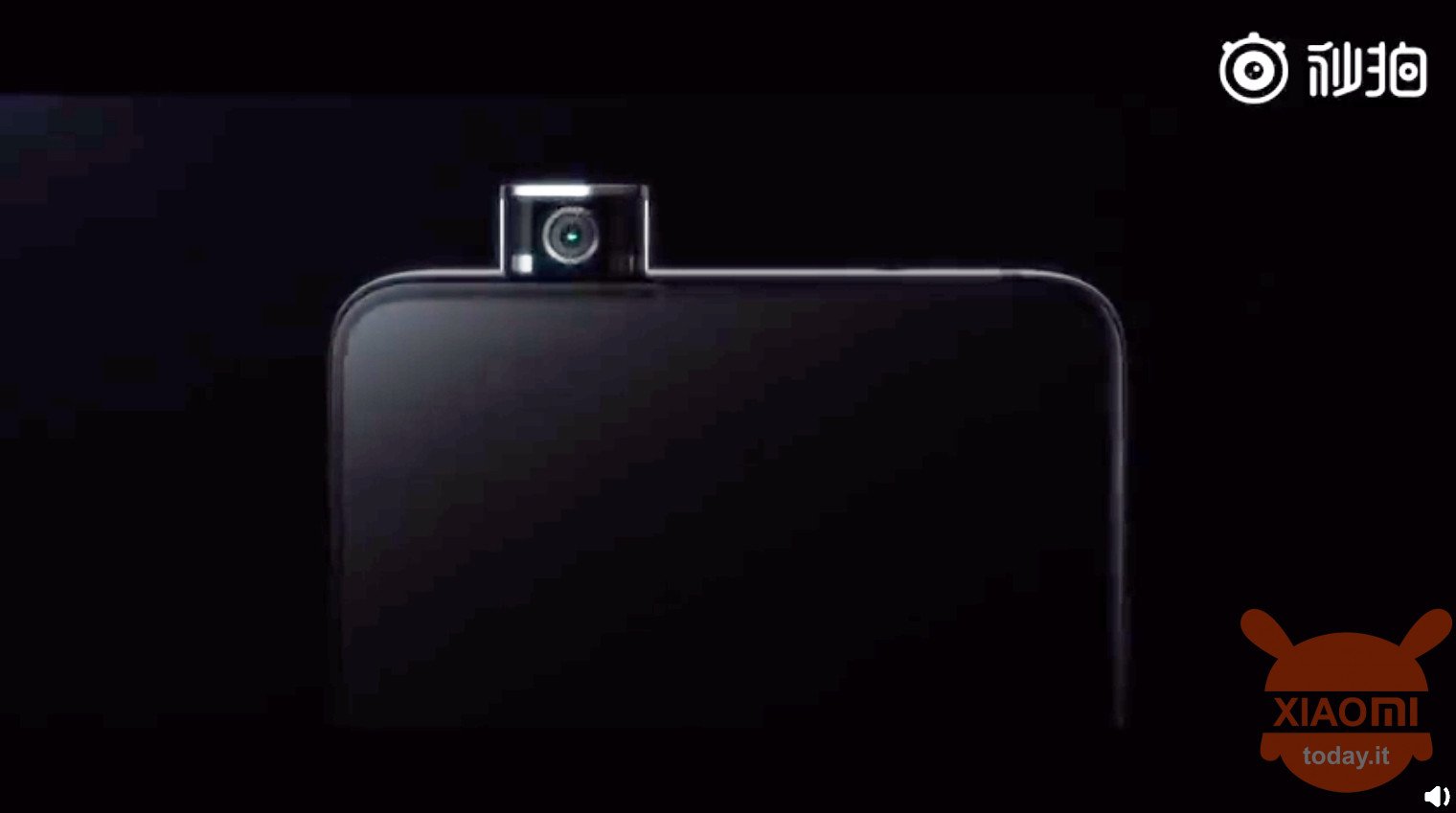 The latter's specifications will almost certainly include the most powerful mobile processor on the market, namely the Qualcomm Snapdragon 855, up to 8GB of RAM and 256GB of internal memory. We also know that the smartphone will also equip an audio jack from 3.5mm and an NFC module for electronic payments etc.
As for the characteristics not yet confirmed but very likely we have instead sfrom 6,39 Full HD + chickens of type AMOLED with fingerprint sensor under it, three cameras on the back including one from 48MP, one with a telephoto lens and one with an ultra wide-angle lens, a front camera from 20MP and a battery from 4000mAh or beyond.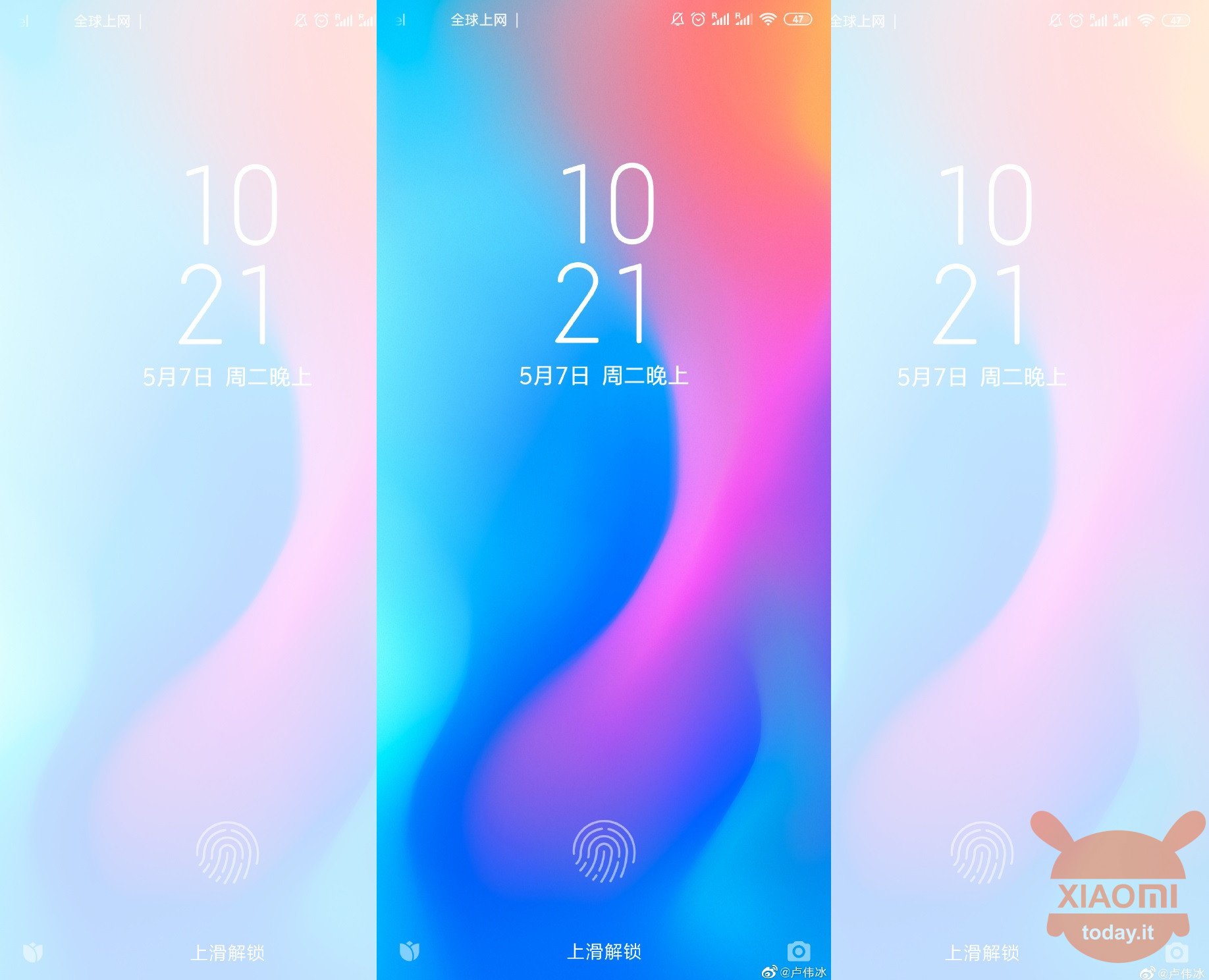 Needless to say, I was a little disappointed with the missed presentation, but in reality both Xiaomi and Redmi had never officially announced the event. We are confident however that within a week something will change as Redmi will have to put the cards on the table to curb the hype behind some competitors (of OnePlus and Oppo) arriving in the days to follow.
-34%

Sale
🇨🇳 Priority Direct Mail Shipping (6 / 14gg, No Customs) ✈
-32%

Sale
GRAT FREE Priority Line Delivery (10 / 15gg, No Customs) ✈
-32%

Coupon
🇨🇳 Standard Priority Shipping FREE (8 / 10gg, No Customs) ✈
Buy
Use discount codes:
XTGS5
Are you interested in OFFERS? Follow our TELEGRAM Channel! Many discount codes, offers, some exclusive of the group, on phones, tablet gadgets and technology.