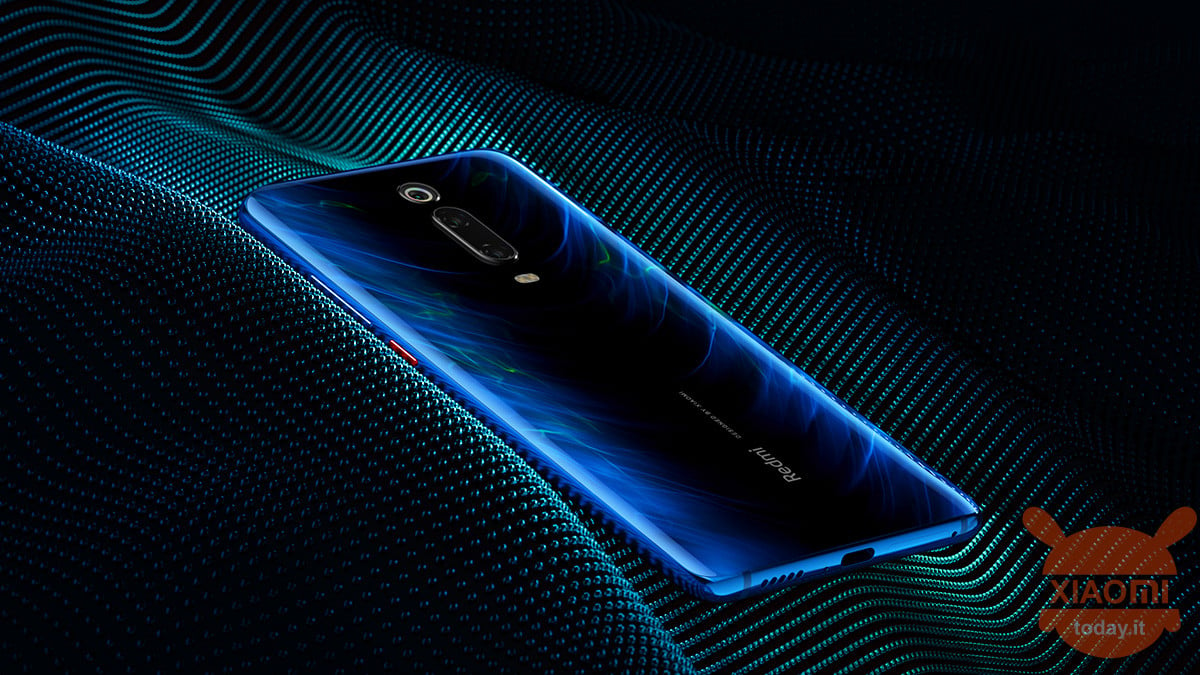 Il Redmi K20 Pro presented in China just over a month ago it quickly became one of the most successful smartphones of the brand that became independent last January.
Although the terminal has a specific ratio / price to be the envy of the best killer flagships in history (we refer to the first OnePlus) and one of the most modern designs on the market thanks to the presence of a pop-up camera and lack of notches or holes on the screen, the Redmi device could have been even more complete with some additional "tricks".
Redmi K30 Pro: It could come with IR emitter, dual speaker and optical stabilization

What are we talking about? Well, according to the Chinese fans of the brand and probably also many of our own, the smartphone should have equipped an infrared ray emitter, two front speakers for stereo sound and optical stabilization on the main camera.
Well, today Xiaomi Group vice president and general manager of the Redmi brand, Lu Weibing, responded to fan requests with a rather peculiar comment. Lu Weibing has indeed responded to the nth request with a simple, but very promising, "OK".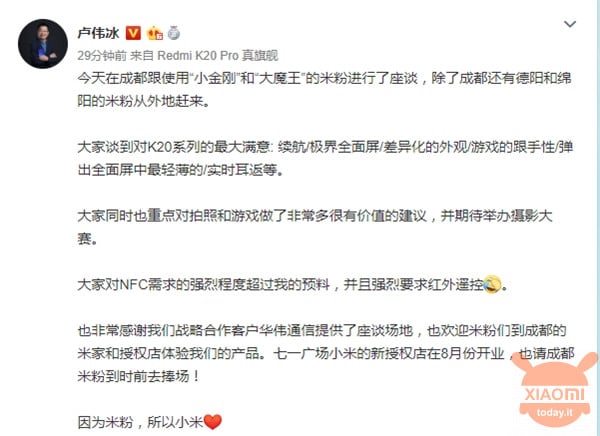 This "OK" goes hand in hand with another rumor that was born a few days ago after a video always posted by Weibing in which he suggested the arrival of many "surprises" in the second half of the 2019. With "surprises" many have actually understood the likely presentation of a new flagship device, so let's talk about the successor to the Redmi K20 Pro, which should be called Redmi K30 Pro unless there are new course changes.
What to say, if the Redmi K30 Pro really equipped the three required features while keeping the rest of the hardware currently on board the K20 Pro, this could become the "perfect" smartphone, at least for many Chinese brand fans. We remember in fact that the last Redmi Flagship Killer already incorporates the best processor on the market, the Snapdragon 855, up to 8GB of RAM and 256GB of internal memory, AMOLED screen from 6,39 inches with fingerprint sensor below, 3.5mm audio jack, a large 4000mAh battery, fast 27W charging and much more.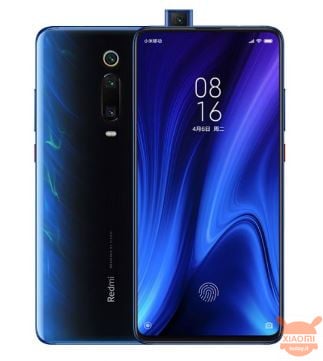 As for the Redmi K20, or the device with Snapdragon 730, known in the rest of the world as XIaomi Mi 9T, even this one could benefit from these three features
Now tell us yours, what do you think of the possible Redmi K30 Pro with all the specifications listed in this post? Would your smartphone be perfect? Let us know in the comments section below!
Are you interested in OFFERS? Follow our TELEGRAM Channel! Many discount codes, offers, some exclusive of the group, on phones, tablet gadgets and technology.