Among the luckiest smartphones of those recently released by Xiaomi laboratories, certainly Redmi K50 is what surprised most of all. It is no coincidence that for AnTuTu it is the most powerful mid-range of April. A truly remarkable quality-price ratio, which has made inroads in many Chinese users. As we will see in the next lines, the device in question has obtained a resounding success.
More than a million units shipped: Redmi K50, a real crack!
The data related to this device is incredible: over one million units sold, relatively in poco time, are exceptional numbers. In a market, that of the mid-range, very difficult to conquer, Redmi K50 has become the most popular in Asia.
Here he arrived in disguise, or with the moniker POCO F4GT (it would be the Redmi K50G, or the Gaming Edition). With a premium processor Snapdragon 8 Gen 1 at 4nm and a processor octa-core to 3.0 GHz, POCO F4 GT has all the requisites to conquer especially gaming lovers. Powerful Android chipset increases CPU performance by 20% and GPU performance by up to 50%; and at the same time, POCO The F4 GT offers full LPDDR5 RAM with up to 6400Mbps for shorter load times, along with an updated UFS 3.1 ROM.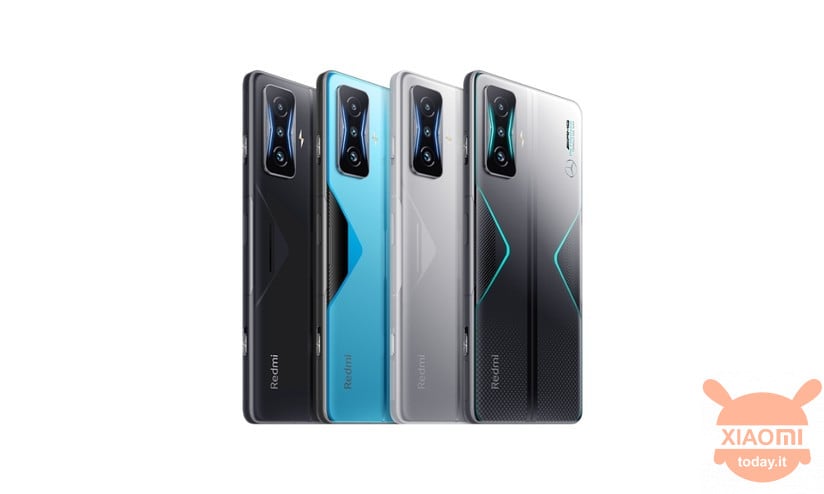 The real test for a mobile gaming smartphone is heat management. Asking a small device to run for extended periods can lead to lower performance. For this reason, POCO F4 GT is equipped with the latest Liquid Cool Technology 3.0, one of the most advanced cooling systems in the industry. The 4.860 mm² dual VC cooling system manages to bring down high temperatures, creating a powerful and optimized device for performing intense gaming sessions.
To feed his own power, POCO F4 GT is equipped with the first charging system HyperCharge at 120W di POCO and a battery from 4,700mAh, which can be fully charged in 17 minutes. Also, if gamers need extra mid-game energy, POCO The F4 GT can charge its battery to 100% in just 27 minutes (data declared by the company itself).
I pop-up magnetic triggers embellish the configuration, ensuring stability and reactivity. In addition, to ensure an even more premium gaming experience, the CyberEngine, one of the best linear motors available on Android smartphones, offers greater varieties of vibration. Outside of gaming mode, the triggers can also be used as a ploy for quick access on the go, or a shortcut to activate the camera, screen recording or flashlight. And anyway, in general, POCO F4 GT is also excellent for everyday use and not just for gaming.
Display chapter: the smartphone in question is equipped with a flat panel AMOLED from 6,67 " and 10-bit TrueColor, with 120Hz refresh rate and 480Hz sampling touch. Whether it's a game or streaming content, the true-to-life color spectrum exits the screen, while POCO F4 GT works simultaneously to maintain color accuracy in low light settings and to protect its users' eyes during video marathons thanks to PWM high frequency dimming. The display of POCO The F4 GT has set and equaled 15 performance records from Display Mate and is rated as an A + screen.
To express maximum power, POCO has also added another service to the initial features of its latest device: users can enjoy a premium after-sales service, which offers a free screen repair within the first 6 months after purchase; YouTube's subscription service, YouTube Premium, will be pre-installed on POCO F4 GT: Customers will be able to enjoy it for free for two months, benefiting from ad-free offline viewing and uninterrupted access to video and music content across the YouTube platform.
On Amazon you can buy it for the price of 699,90 € in the 12 + 256 GB top version.
POCO F4 GT 5G - Smartphone 12 + 256GB, E4 120Hz 6,67 inch AMOLED display, Snapdragon 8 ...
36 used by 481,23 €
631,02

€

699,90

€
available
5 December 2022 18: 26

Amazon.it
Price updated on: 5 December 2022 18:26