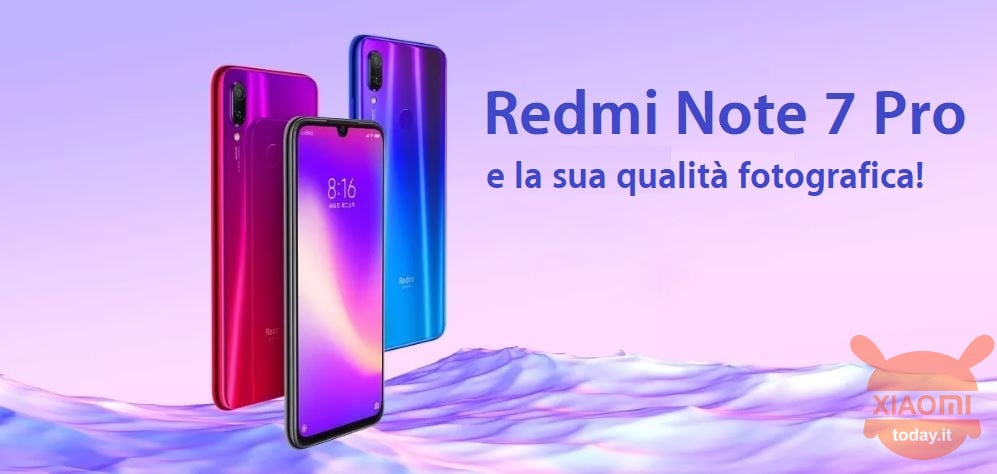 Surely one of the leading products of this first quarter 2019, in the smartphone panorama, was the best buy Redmi Note 7 which, thanks to its incredible value for money, has defeated all competitors. But today I want to talk about the photographic qualities of his "different twin", a phone that Redmi has unfortunately only conceived for the Chinese market (it is in fact devoid of the Global version of the 800Mhz band or the infamous 20 band), Il Redmi note 7 Pro !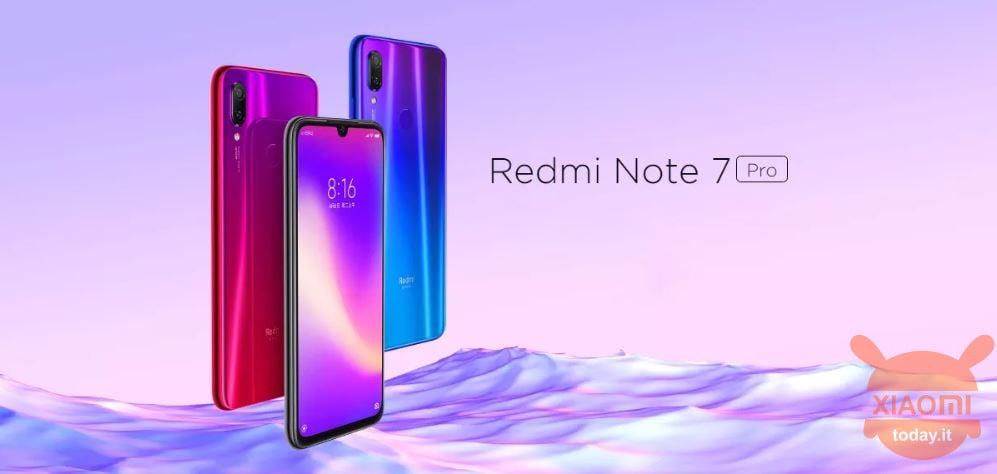 But what are the differences between the Redmi Note 7 and the Redmi Note 7 Pro?
In reality, few but essential for the multimedia sector.
On the Note 7 we find a Qualcomm SD 660 processor while on the 7 Pro an SD 675. What does this difference mean? Very little in terms of daily use, to say nothing. I have not noticed substantial differences in the opening and management of applications. What you hear instead are the Ram 6Gb present on the Pro that allow excellent multi tasking management, in my case I never had a reload of an application in the background. What instead happened with the Note 7 (it must be considered that the model tested by me was the 3Gb). On the aesthetic and constructive side there are no differences, the 2 phones are identical!
But let's get to the pivotal point of this article, the camera! The sensors mounted are different and in detail: Samsung CMOS GM1 for the Note 7 and Sony IMX 586 for the Note 7 Pro both accompanied by a 5Mpx to manage the depth effect. Assuming that I do not agree with this choice (as a second cam I would certainly have preferred a zoom or a wide one), I must say that both smartphones, considering the price range, really take very good photos and the Note 7 Pro also excellent!
So yes, in my opinion the difference between 2 is seen and felt especially when we take our photos on the PC and see them zoomed in to 100%.
But let's get into the detail of the note 7 pro which provides a software camera interface identical to the Note 7. Since, as I told you before, the Pro does not have a Global version, I have installed the Xiaomi.EU Rom with which all the shots I will post to you have been installed on my sample.
But first I want to talk about the most important ways you can use:
Shooting at 12MP: The main cam will combine 4 Pixel and via sw will generate a very sharp photo with almost perfect focus. With this mode, which is the default mode, you will be able to use artificial intelligence and the HDR option. The combination of these 2 software will give you a shot with a sure wow effect. For lovers of "no filter" photos it will certainly not be appreciated, but for those who share their photos on social networks to get many likes they will surely be manna from heaven; they won't even need Snapseed.
Shooting at 48MP: With this mode you will have pure shooting without software modifications. The generated files are huge, on average 30Mb! Of course the detail will be very high, but from what I could hardly see the photos will be sharp and in focus like the 12MP mode. I recommend it when the subject is not close and could serve an important crop.
Portrait shooting: this mode uses the second cam and will allow you, in post-gallery production, to modify the focal aperture so as to focus the whole photo or blur everything except the subject in the foreground. In addition to the focal length, other nice effects can be applied: trails of light and studio lighting (I'll give you some examples below). These modes are not present in the "portrait" shot with the selfie cam. Studio lighting effects will only be available to people as subjects.

Night mode: for photos with little light from good results, not to levels of that present on Huawei devices but certainly appreciable. Recommended for evening shots outdoors or indoors with poor lighting. I also tested the Gcam for this mode and the results are obvious: with the stock camera it tends to warm shades while the gcam is cold shades. Both give good results, it will be up to you to choose according to your tastes. It seems to me that the colors closest to the real scene are those of the stock room. I remind you that the Gcam can be installed without even having to root the device.
Pro mode: for those wishing to shoot by modifying the classic parameters that can be set with pro cameras (white balance, 100 scale, exposure, iso)
As regards the video, you can record up to the 4k definition to 30fps, FullHD 60 / 30fps, HD, Slow Motion (120fps) and Time Lapse. Unfortunately, the audio quality is poor and not customizable, it arrives around 96Kbps.
La selfie cam from 13MP f / 2.0 is slightly better than the one mounted on the Note 7 f / 2.2. Not being a lover of car shots I cannot express myself on the absolute quality of the product, which, however, appears to be good, even at a much more expensive smartphone level.
But no more talk, here's a bit of shots that will help you evaluate this beautiful smartphone. The photos were uploaded outside the site, on Flickr, to appreciate them in actual size without downsizing.
48MP VS 12MP comparison
In this first album you will appreciate the differences between 48MP and 12MP shots (HDR Auto + AI activated), first and second photos of each subject. All points and clicks.
ALBUM 48Mpx Vs 12Mpx
Sample 12MP
In this second album you will find some 12Mpx shots with AI and HDR active. The only one at 48Mpx is that of my little dog, a little distant, where you can appreciate the zoom.
ALBUM Miscellaneous 12Mpx
Sample Night Photography + Portrait
In this last album I propose you some night shots, with the difference between camera stock and gcam, and a portrait with various effects. I would say good night photos and excellent portrait.
ALBUM Sample photo Night Scene + Portrait
Conclusions
Does it make sense to buy a Redmi Note 7 Pro since there is no Global version? In my opinion it is absolutely OK to satisfy these two conditions:
1) have a minimum of familiarity with modding to unlock the bootloader and install the xiaomi.EU rom version
2) use as operator H3G or Iliad that do not require the 20 band. If you use another operator, you may miss them.
-34%

Sale
🇨🇳 Priority Direct Mail Shipping (6 / 14gg, No Customs) ✈
-32%

Sale
GRAT FREE Priority Line Delivery (10 / 15gg, No Customs) ✈
-32%

Coupon
🇨🇳 Standard Priority Shipping FREE (8 / 10gg, No Customs) ✈
Shop
Use discount codes:
XTGS5
Are you interested in OFFERS? Follow our TELEGRAM Channel! Many discount codes, offers, some exclusive of the group, on phones, tablet gadgets and technology.