Last time we talked about this we also said that we rarely hear smartphones that catch fire on their own. It hardly happens even if there have been episodes in recent years: it happened to Samsung with its Galaxy Note 7 in the 2016 and it happened to Redmi two weeks ago with the Redmi Notes 7S (device released exclusively in India). A second episode, however, happened today, in China, and concerns the absolute champion of collections Notes redmi 7 Pro. Enumerated by all as the best buy before his successor Redmi Note 8, he decided to go in spontaneous combustion also like his indian brother. Let's see the details.
Redmi Note 7 Pro catches fire but is not a quality problem
The affair took place in China two days ago and involved a citizen named Song Yujie. His Notes redmi 7 Pro literally went into spontaneous combustion, but unlike the case of some time ago, does not appear to be a battery problem. Indeed does not appear to be a smartphone problem according to Xiaomi customer care service.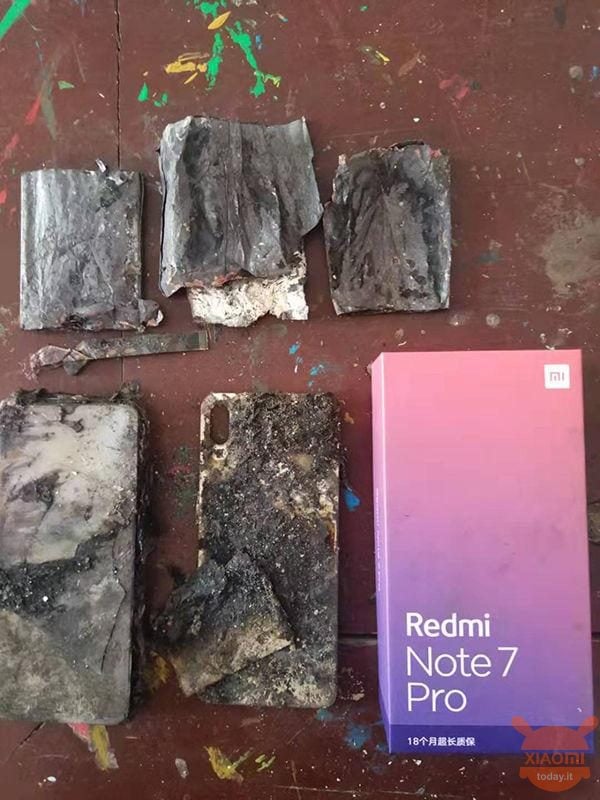 In the picture you can admire the gruesome conditions of the device after the accident. After more than three months from the purchase (and therefore widely within the official warranty period), while the user was using the smartphone to watch videos, he felt a strange smell coming from it. In a few seconds it smartphone caught fire

, it is literally burst into several parts and has burned the quilt where the user was using it, as well as his fingers. Fortunately, the damage to people was really insignificant but evidently it was not the same for the credibility of the brand that we saw in a short time two devices go into spontaneous combustion.

Mr. Song Yujie immediately questioned the build quality of the Redmi Note 7 Pro and went to an official service center of the brand to enjoy the guarantee but this time, like last time, the user found himself in front of a wall. In fact, as confirmed by the same after-sales service to the newspapers the next day, it was found that the problem did not concern construction quality of the smartphone but it was caused by an external factor. In this case the warranty does not cover the product and poor Sung found himself without a smartphone.

As reported by sources, the device was purchased the 24 in July and therefore the guarantee would still have been valid if the after-sales service had not decreed that the problem did not derive from the device itself.
FIMI PALM Gimbal 4K 30fps Camera
🇨🇳 Priority Direct Mail (No Customs) Shipping ✈
Are you interested in OFFERS? Follow our TELEGRAM Channel! Many discount codes, offers, some exclusive of the group, on phones, tablet gadgets and technology.