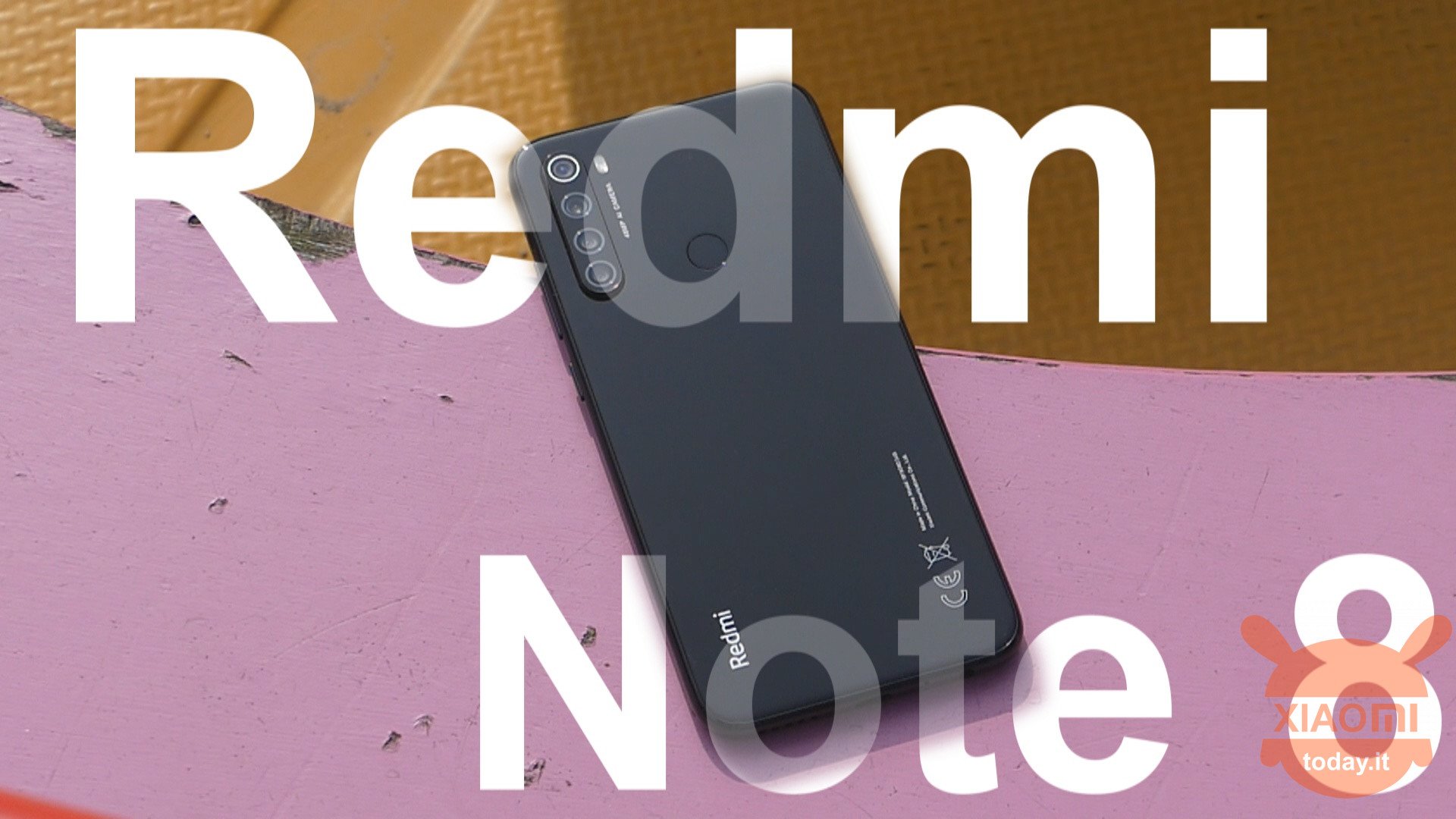 Xiaomi in this 2019 has given itself really a lot to do in the presentation of new smartphones, so much so that many have wondered if they were all really useful. Among these is certainly the Redmi Note 8 that will spoil you immediately, it's not a simple update of the acclaimed Redmi Note 7 and that today we discover together in this review.
Outwardly we are faced with a smartphone that does not differ much from the previous model except for some details not always visible to the naked eye. The profiles as per tradition host on the right the power button and the rocker volume while on the left it is inserted slot for SIM cards with memory expansion possibilities via micro SD card without losing the Dual SIM Dual Standby feature. This is the first novelty of this Redmi Note 8 which will allow us to insert 2 SIM in nano format and Micro SD card in the tray which on the terminal also offers a sort of sheath for waterproofing the product, although no certification is present.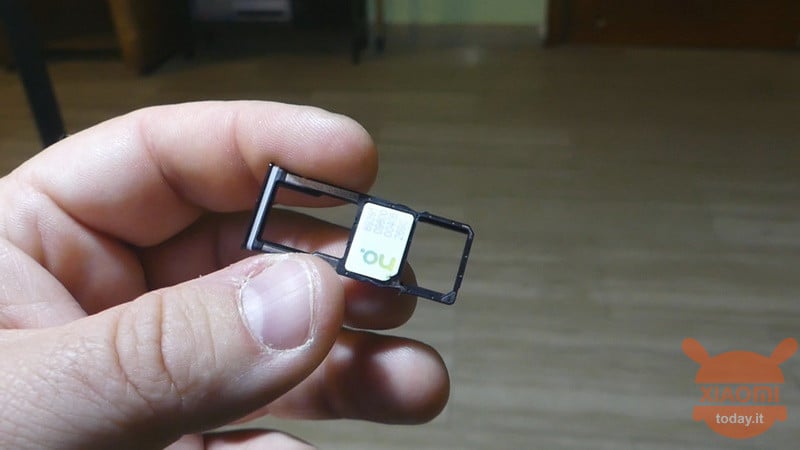 The upper profile is embellished by IR transmitter and from the second microphone while on the lower one we find theAUX input from 3,5 mm, main microphone, input USB Type-C 2.0 with OTG support and the speaker system is mono type but really powerful and powerful. Let's talk about a 1217 linear speaker, with sound cavities wider than the common equipment, returning in fact a clean sound, strong (power 150 mW) and above all rich in bass.
Excellent assembly quality, thanks also to the presence of glass Corning Gorilla Glass 5 on the front and rear of the device, where we find a performant fingerprint sensor almost flush with the body but perfectly accessible with the index finger, making it very fast and precise in carrying out its task, as well as a decidedly protruding camera block which consists of well 4 units which is also associated with a LED flash. In terms of unlocking the terminal, there is also the Unlock Face 2D which, although less secure than the biometric one, has proved to be reliable and really fast in almost all ambient light conditions.
Redmi Note 8 is definitely not a compact smartphone, but definitely ergonomic despite its size 158.3 x 75.3 x 8.35 mm and a weight of 190 grams well distributed along the entire surface than on the frontal to vent to a display from 6,3 inches embedded in decidedly reduced frames and that given the price range they also disfigure 11 iPhone. On the chin of the terminal there is no physical key but rather the company logo is stylized while the keys are emulated on the screen or you can take advantage of the comfortable gestures made available by the MIUI 10.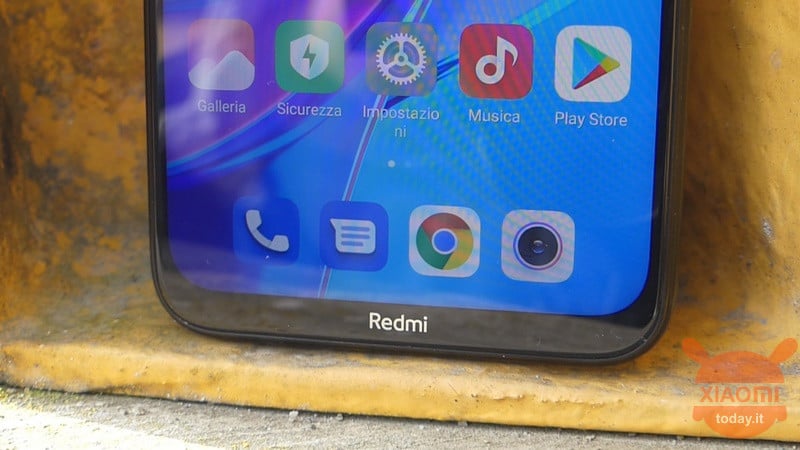 The display integrates a notch to drop in which the camera selfie is inserted and above it a wide ear capsule, as well as brightness and proximity sensors and finally a small LED notification monochrome. Unfortunately because of the notch yet there is no possibility to display notification icons permanently but in future updates everything should be solved, as for China ROM this "bug" is not present. Also point out to all that the proximity sensor works so egregious and therefore also during listening and / or recording of vocal notes on Whatsapp / Telegram you will not have the interruption of the same as instead erroneously reported by some colleague "distracted" by the desire to get first in the product review. instead the brightness sensor is slightly conservative in low light conditions.

Redmi Note 8 Pro is equipped with a LCD display Which size 6,3 inches diagonal and offers Full HD + resolution (2340 x 1080 pixels) in format 19,5: 9. The visual experience we get by looking at this screen is certainly rewarding, enhanced by an overall quality above the market average.

Color balance and enviable viewing angles, with a good legibility even in direct sunlight thanks to a very wide range of brightness. Unfortunately we do not have HDR technology, but we can still enjoy high definition content from streaming platforms like Netflix thanks to Widevine L1 certification. Finally, at the software level, besides the possibility of calibrating the color temperature and contrasts according to one's own tastes, it is possible to take advantage of the dark mode made available by the MIUI 10 and the reading mode to better lighten the weight of light radiations on our eyes, thanks to the TÜV Rheinland technology.

Let's talk immediately about the cameras that in this Redmi Note 8 are even 4, indeed 5 considering the front one. In a large rear traffic light there is a main sensor from 48 megapixel, pixel size from 0,8μm, opening FOV 79,4 °, f / 1,79, Pixel Binning 4 in 1 (12MP / 1,6μm), the same that we saw on Redmi Note 7, ie the good Samsung ISOCELL Bright GM1. Next we find one second 8 megapixel camera with wide-angle lens (pixel dimensions 1.12μm, FOV 120 °, opening f / 2.2).

La third lens with 2 megapixel sensor serves to gather information on depth of field and the fourth camera also offers a resolution of 2 megapixels (1.75μm pixel size, aperture f / 2.4), but has one macro lens. Someone called this room useless, advancing the stupid argument that it makes more sense to take a photo of 48 MP and crop the photo to get a better photo in greater detail. Partly true perhaps about the detail of the photo, but the macro lens allows you to take unique shots that the standard optics would not be able to capture, since the macro lens allows us to focus from extremely close range, even lower than 2 cm. The real limitation lies in the fact that the sensor is very small and the lens is not very bright. For this reason it is good to limit the use of the macro to optimal light situations.

Similar speech regarding the camera with wide angle lens. Results are good when shooting in a good amount of light but degrade quickly in the evening. However, the presence of this perspective is certainly a plus, which in certain scenarios really makes the difference.

In general the photos are noteworthy especially in daylight where the detail is rather quality especially when it is the main room to give vent to its qualities. Basically we get shots at 12 megapixels and to get photos of 48 MP we should activate the appropriate mode. Even in the evening we can come up with good photos using the night mode that the company has perfected over time, with good exposure in all situations.

But thanks to the native support of CAM2API we could enjoy the famous GCam simply by installing an APK.

The qualitative difference in positive, for many situations is really abysmal and with the right imagination and perseverance you will succeed in pulling out photos worthy of a professional reflex.

DOWNLOAD GCAM FOR REDMI NOTES 8

At the software level, the inevitable AI mode for recognition and optimization of shooting up to 27 scene, Automatic HDR, customizable watermark, real-time filters, PRO mode and much more. We come now to selfie camera, a 13 megapixel (1.12μm pixel size, aperture f / 2.0), which takes good quality photos in most situations with more than enough details. A specially made selfie room designed for social sharing, as can be seen from the feature in the "Short Video" mode where the possibility is given add Tik Tok and music filters, in short, a real must for Instagram stories.

Finally, let's talk about the videos that can be shot at the maximum resolution of 4K 30 fps. Optical stabilization is lacking but we have an electronic stabilization, which must be refined and which will probably be done with the next update that should also bring the possibility of shooting videos in Full HD 8 fps on Redmi Note 60. Good focus and exposure adjustment speed. Also present are the Time Lapse and Slow Motion modes, although for the latter function the flickering effect makes it unusable. We hope for a future update.

Redmi Note 8 is also revolutionized in the technical data sheet, which net of lack of NFC chipset provides a SoC Qualcomm Snapdragon 665, octacore with maximum clock at 2.0 GHz which is accompanied by a Adreno GPU 610. A winning combination to rely on for all daily operations but also for the most demanding ones. I, who am not a big fan of mobile gaming, found myself spending hours in front of this Redmi Note 8 with rather high titles, like Call Of Duty Mobile, without noticing signs of slowing down and above all zero overheating.

In our case they are also accompanied 4 GB of RAM and 64 GB of storage of type eMMC, not very fast but that guarantees a rather high data transfer speed, helping to make the system more responsive.

We therefore find a fluid system, with rapid application opening and good management of the same in the background. In short, no problem of use for this Redmi Note 8 that alongside super top of the range will disfigure many specimens. We also find a Dual band WiFi, GPS, FM radio, 4G + connectivity on both SIM slots and full support for the 20 band. The reception is very good, the signal is quickly hooked and maintained without problems and also the capsule returns a good sound on call with faithful timbre and adequate volume.
And the Bluetooth? Well, if all my esteemed colleagues have actually declared a BLE 5.0 form the company has provided an 8 Bluetooth module for Redmi Note 4.2. You can find out from the technical data sheet on Chinese official website and the global one but at a "scientific" level we have irrefutable proof. Without making too many technicalities you need to know that for 5 Bluetooth there are 3 variants of PHY, which is the acronym of Physical Layer, that is the chipset. At a minimum, the 5.0 dedicated Bluetooth chipsets must support 2M / s defined speed as PHY 2M. So by exploiting an application I could verify that Redmi Note 8 has an 4.2 Bluetooth module comparing the results with a Mi 8 Lite (Bluetooth 5.0) and an Oukitel C17 Pro (Bluetooth 4.2).
Redmi Note 8 bases its user experience on Android in 9 version with interface MIUI 10.3.2.0 Global Stable e August 2019 patch. MIUI is either loved or hated, but in my opinion it is the most complete in the smartphone panorama, however I don't dwell too much because the mid range of the Redmi house will receive the brand new MIUI 11 and most likely with the coming year also Android 10. It should be noted that the dominant "Google" is increasingly present, in fact at the level of telephone dialer e app messages we will not find those to which we are accustomed with MIUI but rather those stocks of Android and therefore Say goodbye to the possibility of recording calls.
A mature and well-organized interface that marries beautifully with the hardware of the device, surprising in terms of autonomy. There battery from 4000 mAh, with support for fast charging from 18W, allows to get to get over 7 active screen hours with a fairly intense use. You will arrive in the evening without problems even if you have stressed your smartphone, while if you are a more relaxed user, then you will certainly be guaranteed two full days of use. Unfortunately in the package we find only a standard 10 W loader that will allow to charge the battery completely of this Note 8 in about 1 now and 35 minutes.
Like any self-respecting review, I cannot fail to include the contents of the sales package that does not differ much from what was seen with other models of the brand, finding:
Redmi Notes 8;
Power supply with 5V / 2A output and European socket;
Fast guide;
Cable for USB Type-C charging and data transfer;
Pin for removing the SIM tray;
Soft silicone protection cover.
CONCLUSIONS
In conclusion, some reviewers would have certainly given the best buy tag for this Redmi Note 8, but to be honest some of the gaps are justifiable in the price range. Anyway Redmi Note 8 is a complete smartphone for the vast majority of mobile users, offering a user experience that perhaps only devices with more than 1000 euros can offer.
Redmi Note 8 is a handyman: a gaming phone, a battery phone and with the viagra for photos, that is the GCam also a camera phone. It is really hard to ask for more from this terminal that has managed to beat the excellent quality / price ratio of the previous generation. So if you wonder if it makes sense to switch from a Redmi Note 7 to a Redmi Note 8, the answer is YES. Imagine if you come from a Redmi Note 5 or a Note 6 Pro.