As we say on certain occasions, with this we have tried them all. Oh yes, because after having reviewed the mediocre Redmi Note 9S and subsequently the "poor" Redmi Note 9, today it is the turn of Notes redmi 9 Pro which could be the right choice among the lot of the Note 9 Family. Let's find out together, in this complete review, if the most gifted of the series will be able to challenge the competition.
Xiaomi Redmi Note 9 Pro Global 6 / 128Gb from EU warehouse
🇪🇺FREE Fast Shipping from Spain (NO customs) ✈
18 January 2021 19: 55

Amazon.it
Price updated on: 18 January 2021 19:55
SAR values ​​(limits: 10g for head and body / 2,0 W / Kg - 10 for limbs / 4,0 W / Kg):
- Head: 0,662 W / Kg
- Body: 1,021 W / Kg (5mm distance)
Unboxing - Redmi Note 9 Pro
Inside the sales package we find the following equipment:
Redmi Note 9 Pro;
silicone cover;
USB data cable - USB Type-C;
wall power supply with European plug and max output of 33 W;
pin for the SIM slot;
instruction manual.
The examination of our copy starts right from the design and its construction that we could shortly define as elegant but massive. It starts from the back covered with a thin glass Corning Gorilla Glass 5, very resistant but which does not have a good oleophobic treatment against fingerprints and dirt in general.
The body lines are interrupted only by the Redmi logo, the various phone certifications but above all by a centrally positioned photo module, with 4 really protruding optics where in a black band we also find the single Flash Led accompanied by the writing 64 MP - ROOM. Even the photographic module is protected by Gorilla Glass 5 glass, but honestly the feeling that it can be scratched when placed on a surface, the smartphone flat, is so great, therefore better to take advantage of the supplied cover that eliminates any difference in height, protecting our Redmi Note 9 Pro both on the edges and in the slot of the Type-C entrance thanks to the dedicated silicone flap.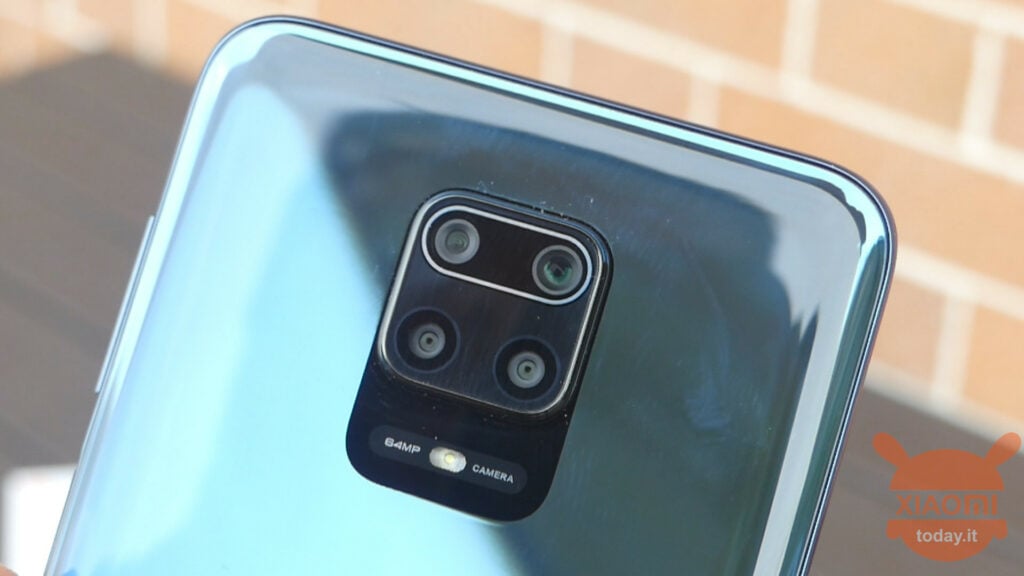 The perimeter frame of the phone is made of aluminum with satin color, in contrast with the gloss of the rear body, giving a character of modernity and elegance at the same time. On the upper part we find the indispensable IR transmitter and the second microphone for the reduction of the noises in call, while specularly the company delights us with the presence of the jack from 3.5 mm for wired earphones, charging port Type-C with OTG support, main microphone and mono system speaker, which is very powerful in volume without ever distorting, also integrating a good dose of low tones harmonized with the rest of the sound frequencies. However, the sound is also good as a speakerphone.
On the left side we find the small hole to access the slot, where we find it 2 compartments dedicated to SIM cards in Nano format with support for 4G + on both slots, as well as a compartment dedicated to the insertion of a micro SD to expand the integrated memory with support up to 512 GB, without therefore renouncing the Dual SIM Dual Standby function.
On the right side instead we have the usual volume balance positioned just above the inlet that houses the Power button with built-in fingerprint sensor. Compared to the "different twin" Redmi Note 9S, in this Pro variant, I found the position more uncomfortable and therefore sometimes imprecise, but once you have identified the correct position, you will have no reliability problems. However, this is not the only way to unlock Redmi Note 9 Pro, as we can take advantage of the Face Unlock, as long as you use it in well-lit environments as reliability and accuracy are less with the fall of the dark.
Overall, the Redmi Note 9 Pro is really well built and despite its size of 165.75 x 76.68 x 8.8 mm and a weight of 209 grams, the ergonomics are guaranteed as the daily usability, thanks to slightly narrower shapes than for example the old phablets of the MAX series, making themselves appreciated for the rounded lines and not at all angular that facilitate the grip. Special mention should also be made to P2i coating against splashes and splashes of water as well as the gasket inserted at the end of the SIM tray.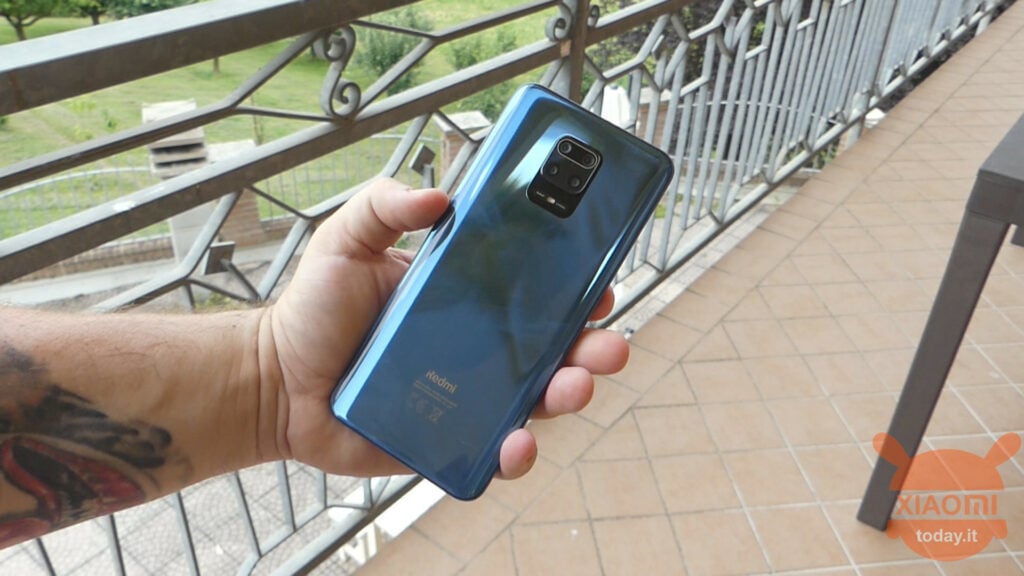 The design revolution of Redmi Note 9 Pro compared to the past, however, does not only pass from what has been told so far but also through the use of a display designed to fascinate the user, Thanks to a hypnotic central hole where the selfie camera is drowned, surrounded by a black border that most likely prevents the display backlight from causing interference.
The panel used uses classic technology IPS, has a diagonal of 6,67 inches and resolution Full HD + (2400 x 1080 pixels) and excellent brightness allowing a excellent visibility even in direct sunlight. The panel also enjoys the protection of a fifth generation Gorilla Glass, however, protection from the presence of one pre-applied plastic film but what catches the eye are the small size of the frames, of the chin and the upper band where there is a large ear capsule in which depth, light and even a small sensor have been placed Monochromatic notification LED.
However, compared to previous generations, the sensors work wonderfully just as it is wonderful and priceless to have a Notification LED, refined and discreet, without disturbing at night. We do not find physical keys but only those on the screen, which can also be eliminated via software thus taking advantage of the comfortable ones gesture made available by MIUI.
But let's talk about the performance of this display, which could arouse suspicion because of the hole dedicated to the selfie camera, and instead I can tell you that you will get used to it in a few minutes. This allows us to deal with a panel practically full screen able to give unique emotions with certain multimedia contents, also thanks to the support for contents HDR and Widevine L1 DRM, being able to take advantage of HD videos from streaming platforms such as Netflix and finally also Amazon Prime, one of the few Xiaomi / Redmi to enjoy this privilege.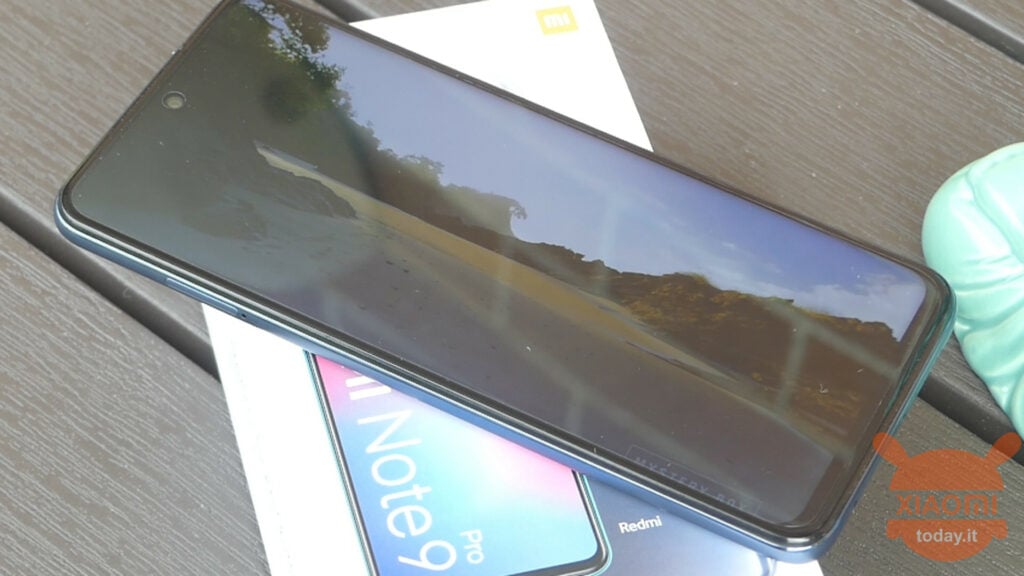 Anyway i colors, contrasts and chromatic nuances are really appreciable on this large panel, without suffering from fading in strong angles, qualitatively superior to many other devices of even higher price range. A quality that we can even more appreciate in the gaming phase, an activity that does not suffer in terms of performance on this Redmi Note 9 Pro, thanks to the use of a processor Qualcomm Snapdragon 720G, octa-core with 8nm production process, Kryo 465 structure of which 2 Gold cores a 2.3 GHz and 6 Silver cores at 1.8 GHz, which are accompanied by one GPU Adreno 618 @ 750 MHz, 6 GB of LPDDR4X RAM and 128 GB of UFS 2.1 storage, at least in our case as the 6/64 GB variant is also available.
At the level of connectivity instead we find Double-band WiFi, Bluetooth 5.0, FM radio, form GPS with hooking of Galileo and also satellites the NFC sensor for mobile payments.
Basically we have the support for 20 bandwidth, therefore zero problems with any national operator, just as I have not encountered any problem in the connection of the signal 4G +, although honestly I had some difficulties navigating at home with the Iliad operator, while the same card on other devices and at the same point did not give reception problems.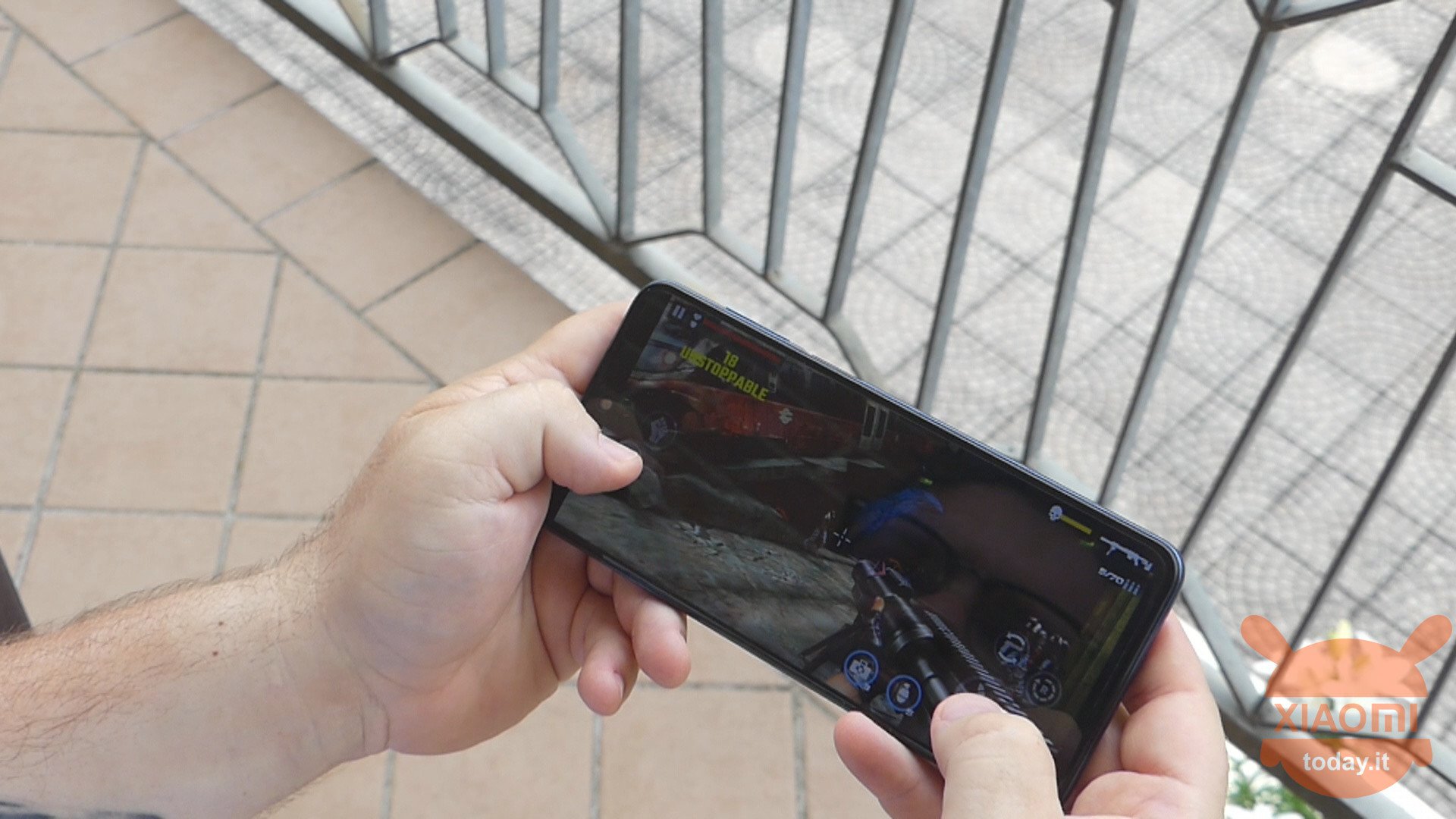 Going back to the performance chapter instead, the hardware used in Redmi Note 9 Pro is more than promoted for satisfy every situation of smartphone use, from single internet browsing, to social media, to chats, to the use of multimedia content, to use in hotspots, photos, videos, Gaming, often with frame rates a 60fps even with titles like PUBG and Asphalt 9, thanks to the presence of the modality Game Turbo by MIUI. However, it should be noted that in conditions of intensive use, the smartphone begins to overheat creating discomfort to the hands.
In short, a complete 360 ​​° device, although perhaps the software is still immature, as on several occasions I have been able to witness the crash of applications such as the camera but overall a super functional user experience, made even more pleasant by the interface MIUI 11 which basically takes advantage of the functions of the operating system Android 10 with security patches of April 2020. We quickly go beyond the software chapter as shortly also Redmi Note 9 Pro will receive the new MIUI 12 that could upset everything. I only point out that that as regards Dialer and Messages we find those provided by Google, excellent as anti spam but goodbye possibility of recording calls (at least for the moment).
Particular mention should be given to new haptic vibration motor which translates into faster tactile feedback. The best typing experience I have experienced on a smartphone, providing up to 150 types of vibration for different types of notifications.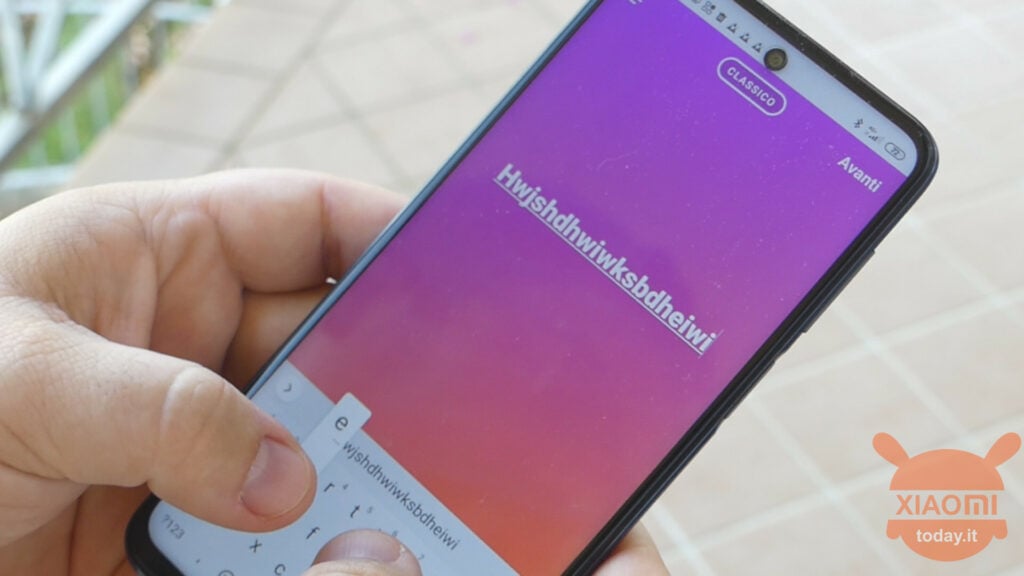 One thing we really can't fault is theautonomy offered by this Redmi Note 9 Pro, which integrates a large battery from 5020 mAh, capable of exceeding all expectations. Practically with moderate use we arrive safely at 2 days of use. In my case without ever hooking WiFi signal, as I don't have one, I managed to get to about 6 hours and 35 minutes of active screen with still 19% of remaining charge, a more than excellent value if we consider a great use of the hotspot function, a real battery killer. There is also support for fast charge at 30 W, however without buying separate chargers, as the one supplied also offers a 33 W output. Charging takes about 1 hour and 20 minutes.
And finally we came to chapter camera, which in the case of Redmi Note 9 Pro consists of well 5 modules, of which 1 on the front and 4 on the rear, set in a square and composed as follows:
the camera in the upper right is the primary one with a sensor from 64 MPfrom 1/2 ″ to 6 elements, super pixel 4 in at 1.6nm, pixel surface at 0,8nm and focal aperture f/ 1,89. (SAMSUNG S5KGW1 SENSOR)
the camera in the lower right is the one dedicated to the collection ofdepth data, resolution from 2 MP, 1,75nm pixel surface and focal aperture f/ 2,4. (SENSOR GC02M1)
the lower left camera performs the function of Macrowith resolution a 5 MP with automatic focus up to 2 cm, 1,12nm pixel surface and focal aperture f/ 2,4. (SAMSUNG S5K5E9 SENSOR)
finally the camera in the upper left is ultra wide-angle lenswith FOV 119 ° and focal opening f/ 2,2 and resolution 8 MP (SENSOR GC8034)
La selfie camera instead it offers a resolution from 16 MP, 1,0nm pixel surface and focal aperture f/ 2,48. (OMNIVISION SENSOR OV16A1Q)
Without the necessary presentations we can certainly say that for the price range to which our Redmi Note 9 Pro is placed, the shots obtained are more than satisfactory. What amaze me are Macro photos that seeing the sensor more resolute than the previous generations, are a positive surprise in terms of definition and sharpness. Compared to other models of the brand, the rendering of photos taken in mode has also been improved Ultra Wide, getting shots with colors that are quite faithful to reality, abandoning the washed out effect that we had seen on Redmi Note 9S.
Also good i video, which can be shot with maximum resolution 4K is 30 fps, with the benefit of digital stabilization (even in 1080p 30fps) which performs quite well, as well as the audio captured by the microphones was almost perfect.
You also move forward with the shots taken in Night mode, this time refined so as to allow noteworthy shots and with little digital noise, as they are positive the selfie shots with the aid of the virtual flash. Lastly, there is no shortage of registration methods Slow Motion up to 960 fps, Slo-Selfie at 120 fps, Time Lapse, Cinema function, filters, Kaleidoscope mode as well as the Pro mode with which to bring out the best of the photographer in you. Anyway stay connected because we are preparing a nice comparison between the shots obtained by the stock camera app and the Gcam Mod...
CONCLUSIONS
In conclusion Redmi Note 9 Pro, is perhaps the only valid choice regarding the Triptych of the Note 9 Family, composed of Redmi Note 9S, Note 9 and precisely Note 9 Pro. If I had to define this smartphone with an adjective I would use BALANCED, just for due to the excellent quality / price ratio net of the functions offered and excellent performance. A smartphone destined to last over time and with which you will not have to give up anything, because it really has everything.
Xiaomi Redmi Note 9 Pro Global 6 / 128Gb from EU warehouse
🇪🇺FREE Fast Shipping from Spain (NO customs) ✈
Xiaomi Redmi Note 9 Pro Global 6 / 128Gb from EU warehouse
🇪🇺FREE Fast Shipping from Spain (NO customs) ✈
Buy on Amazon
Xiaomi Redmi Note 9 PRO -Smartphone 6.67 "FHD + DotDisplay (6GB RAM, 64GB ROM, Quad Camera, 5020mah Battery, NFC) 2020 [Italian Version] - Interstellar Gray color, Xiaomi
Buy on Amazon
Stats
| | | |
| --- | --- | --- |
| Current price | 269,00 € | January 18 2021 |
| Highest price | 269,00 € | August 24 2020 |
| Lowest price | 199,90 € | November 20, 2020 |
Since 19 August 2020
Latest price changes
| | |
| --- | --- |
| 269,00 € | December 14 2020 |
| 219,90 € | December 8 2020 |
| 269,00 € | December 1 2020 |
| 199,90 € | November 20, 2020 |
| 229,90 € | November 12, 2020 |
Are you interested in OFFERS? Follow our TELEGRAM Channel! Many discount codes, offers, some exclusive of the group, on phones, tablet gadgets and technology.
REDMI NOTE 9 PRO
I don't like to abuse the best buy title, but Redmi Note 9 Pro is one of those smartphones to bet on if you want to have everything, without sacrifices and above all at a really cheap price. Every aspect evaluated in the review came out with head held high, with particular emphasis on autonomy and super engaging display. Don't miss it.
PROS
HD CERTIFICATION FOR BOTH NETFLIX AND AMAZON PRIME VIDEO
COMPLETE CONNECTIVITY (RADIO, IR, JACK, NFC etc ..)
AUTONOMY
DISPLAY (color and size rendering)
CONS
IMPORTANT DIMENSIONS
OVERHEATING UNDER STRESS
Add your review
|
Read reviews and comments