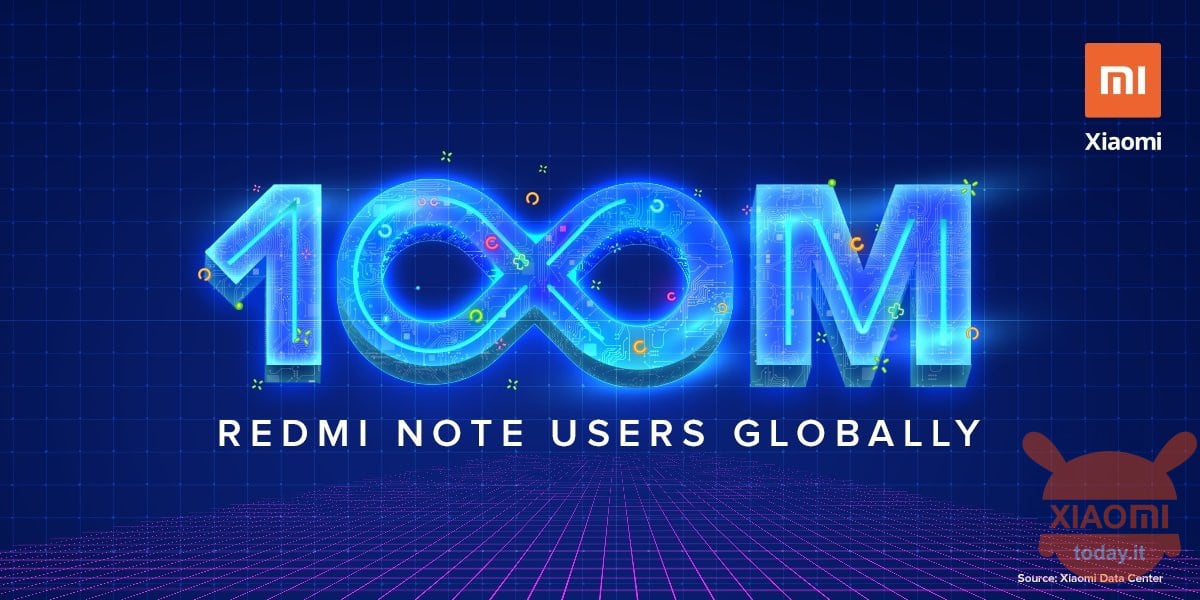 The Xiaomi Redmi Note series is undoubtedly one of the most loved by fans of the Chinese brand. This is because the line has always represented the perfect specific price ratio, bringing smartphones with mid-range hardware at ultra-competitive prices.
Redmi Series Notes: Sold over 100 million units worldwide
Well, apparently we are not the only ones to think so. The general manager of Xiaomi India and vice president of Xiaomi International has in fact just announced that the Redmi Note series has surpassed the 100 million units sold.
As some of you may know, the Redmi Note line was created with the aim of bringing terminals with a larger screen (it is still a "Note") and interesting specifications at a lower price than other competitors.
The last device of this successful series is the Redmi Note 8 Pro, a smartphone that equips the high performance Helio G90T processor, a screen with well 6,53 diagonal inches and a body covered in Corning Gorilla Glass 5. The Note 8 Pro is no joke even from the photographic point of view with four rear cameras, one of which has 64MP resolution (Samsung ISOCELL GW1 sensor).
To precede the Redmi Note 8 Pro we had one of the most successful smartphones of the Xiaomi sub-brand, the Note 7. The terminal broke several sales records, with over 15 million units sold in the month of July, a record then beaten again at the end of August, that time it was instead exceeded 20 million units.
We end with a little curiosity from China. In the Asian country the Redmi Note series has practically given birth to the category of devices with large screen and a price of around 1000 Yuan (on the 130 € at current exchange rates). Later many other Chinese brands tried to copy this format, but no one has ever approached the success of our favorite brand!
And what do you think? Do you own a Redmi Note? If so, which one? Let us know in the comments section below!
Redmi Notes 8 Global 4 / 128Gb
🇨🇳 FREE EU Priority Line Shipping (No Customs) ✈
Are you interested in OFFERS? Follow our TELEGRAM Channel! Many discount codes, offers, some exclusive of the group, on phones, tablet gadgets and technology.